The USA

I dropped the CR-V off at Guildford and after a night's sleep I took the £10.50 bus ride to Heathrow from Guildford railway station to catch American Airlines Flight 87 to Chicago.
I met Daren at Heathrow, and we were off to our next adventure with the airliner departing the runway at 11:40 BST.
Customs and border entry at Chicago O'Hare was quick, we only had carry on bags, and we were soon on the train to the next terminal with an easy walk to the hotel.
A room was booked at the Hilton Chicago O'Hare with a window on the airport.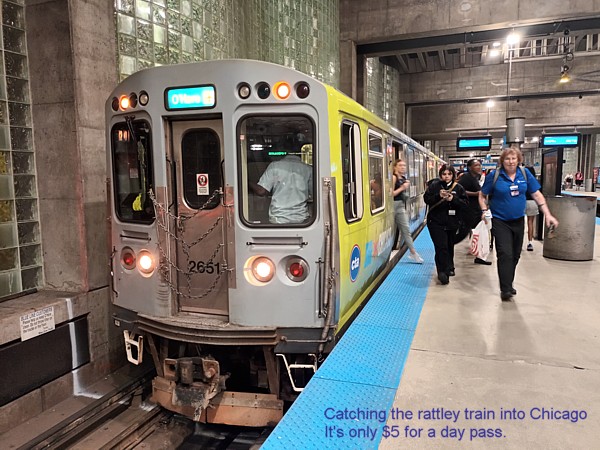 The next morning (17th) I took the blue train by myself into Chicago from under the terminal building. This cost something one way ($3.50?) but only $5.00 for a day ticket... You can travel all day around Chicago for Five Dollars, it's a bargain.
But this no doubt contributes to the decline in the railways' condition as urgent maintenance together with 10 mph periods was ongoing. When the train occasionally got up to speed it rocked and rattled to the point I worried it would come off the tracks.
I went on one of my walkabouts, first to Bar Louie where I had lunch and then to the shore and along to the Navy Pier, around the Pier, and then back to catch the rattley train back.
Beware of dead ends if walking in Chicago, I went down a few!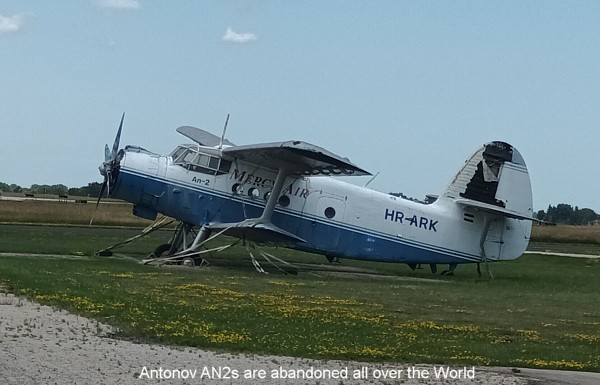 Our journey to Oshkosh took in several airfields along the way.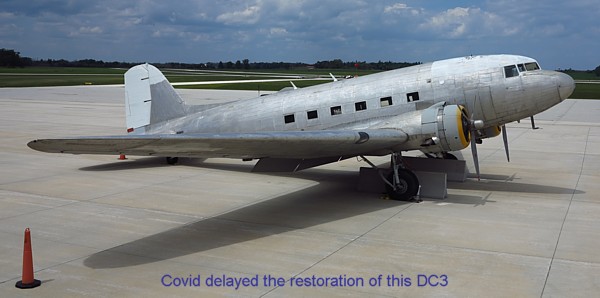 Aviation Heritage Center, Sheboygan Falls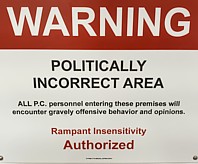 Hartford Municipal Airport
We were on the lookout for aeroplane rental opportunities, and in this we were out of luck.
There was a ropey Cessna 172 available for hire at Fond Du Lac, but there were no instructors there to check me out.
We went to Cub Air at Hartford Municipal Airport where one could rent a J3-C85 (90?) Cub, but not now, far too busy, and closing up for the Oshkosh Fly-In.
The boss had a good attitude and was running my sort of flying school/club, but alas, nothing available for me to fly.


Oshkosh, Wittman Regional Airport
We finally arrived at Oshkosh and checked in to the Fairfield Inn & Suites by Marriott where the rooms were reasonably priced until Sunday night when they would more than double their cost to $499/night!
If you travel to EAA Air Venture at Oshkosh it is difficult to do anything on a budget. The entrance cost, the parking cost, the hotels, food and beverages all cost much more than one might anticipate.
Though Oshkosh is a fantastic experience, it comes at a price. I am glad I have done it this time, but I won't regret not going again, I can never afford it again.
The cost is slightly concerning as EAA is supposed to be about bringing affordable flying to the masses, but like a certain church, it removes a lot of money from it's disciples.
Youths aged below 18 get in free, but I think that it is a mistake to not give 20+ year old adults, fresh out of college or university with a load of debt to pay off, some sort of discount. These are the people you need to enthuse to keep what we love to do going.
The local non aviation population go to the show once, it's brilliant, but $98 per person, $25 parking, and inflated food costs add up to put people off recurring visits.
In conclusion, attending Oshkosh is an expensive proposition.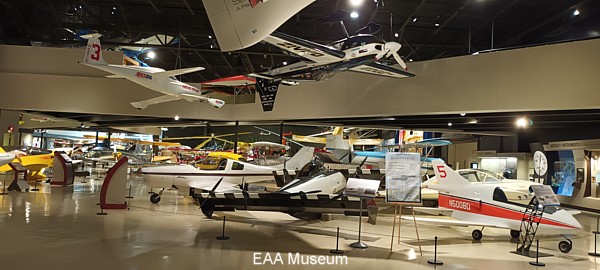 The EAA Museum is excellent, well worth a visit any time of the year.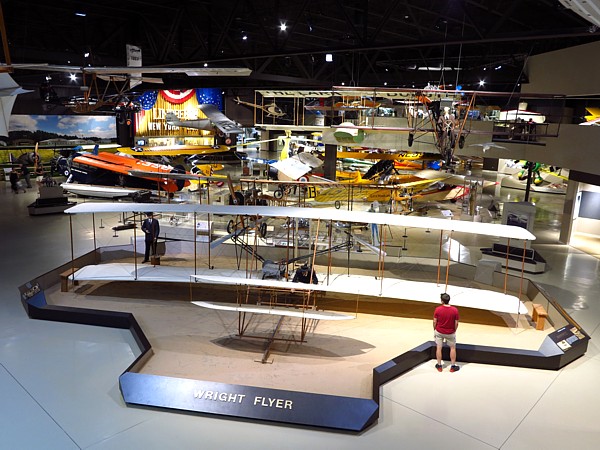 Fly In Lunch

Near Iola Wisconsin
Perhaps more in the spirit of what I like to do was a Fly-In for lunch at the Iola - Central County Airport on Friday 21st July.
There were classic cars including an immaculate MGB as well as a field full of classic aeroplanes.
Only a Bonanza stood there to represent the other sort until a Cessna 172 arrived.
The Cessna 172 parked across the other side of the runway between the trees... Like the Bonanza, it had a nosewheel!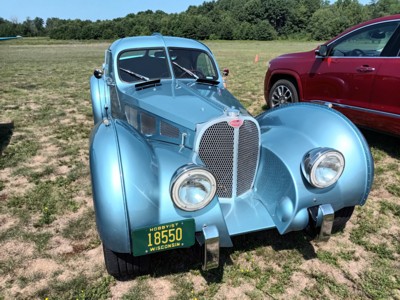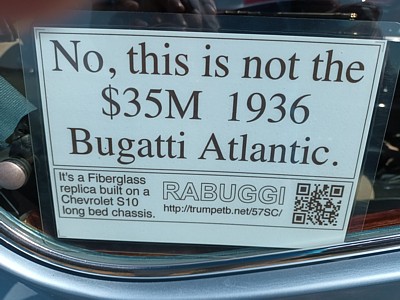 This kit car (from a truck) was stunning, I'm not so sure about the URL, Wisconsin is certainly a 'Trump zone'.
Image gallery


Real aeroplanes in attendance.



Daren photographs the Dornier DO28A-1




A lot of aeroplanes had expensive footwear.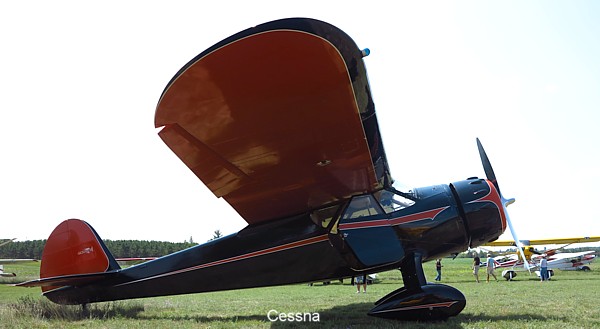 Elegant Cessna Airmaster from when pilots did not need training wheels
This communal event was very friendly with everyone cheerful.
Lunch was $12 per person and very good value.
The people as well as the aeroplanes,and the food, made this the place to be on a Friday.