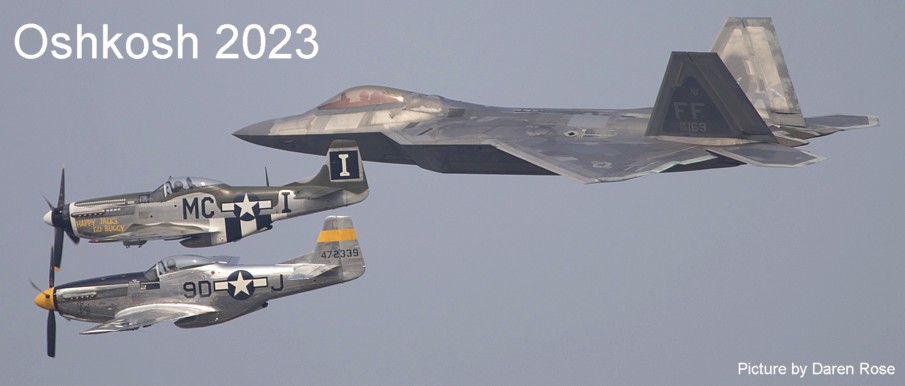 For the duration of the show we stayed at the Travelodge by Wyndham, Appleton, with one night at the better, Double Tree by Hilton hotel in Appleton beforehand.
The Travelodge was undergoing repairs and restoration... The first room we were offered smelled of tobacco and so we rejected it... All in all it was a hotel with much to complain about especially when the rate was increased for EAA Air Venture week. We left three days before our booking was up and returned to better accommodation in Chicago.
Across the road in Appleton was the Texas Roadhouse restaurant where we had a good meal with jovial company. There were a lot of visiting pilots.
Later we would try the best Thai food restaurant in Appleton: 'Thai Ginger Bistro'; it was awful, really awful. I ordered my favourite, Kao Soi Gai... I've only had one bad Kao Soi Gai and that was at a restaurant serving "the best Kao Soi in Pai" in northern Thailand which was almost as bad.
Fortunately, later on in this journey I was able to go to Ban Chok Dee in Langley BC where they make excellent Kao Soi Gai and it restored my taste buds.


Personal single seat B17 Fortress bomber for sale.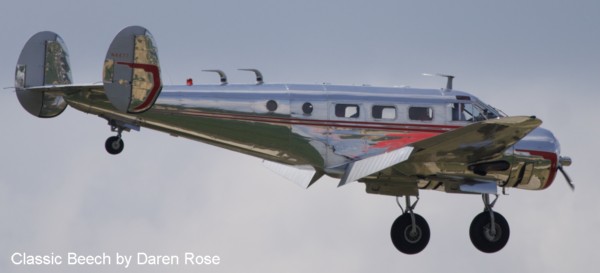 Daren and I have different priorities.
His is to photograph aeroplanes and so here are a few from his collection of arrivals.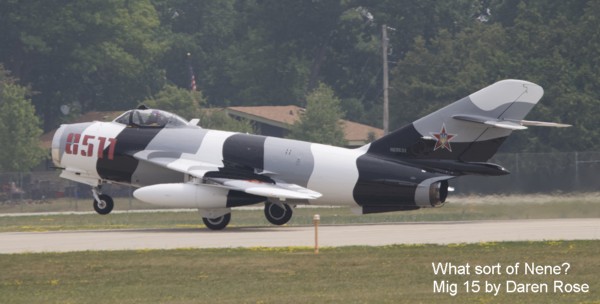 Digital photography makes it possible to take photographs economically.
I still have a ton of film slides of aeroplane pictures from my past, a lot of money spent!
Likewise I have a lot of digital images from Oshkosh, too many to place on here, and so I have had to be selective.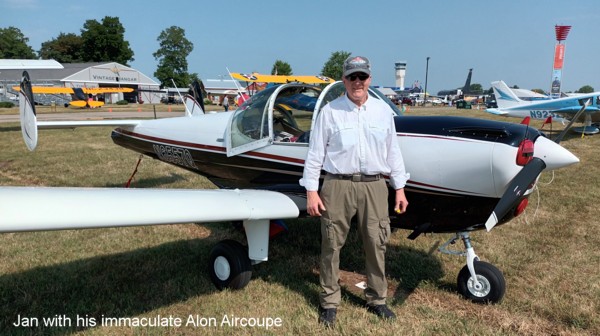 Air Venture is a collection of thousands of aircraft and you can never possibly see them all... Daren gathered thousands of pictures as they all arrived and so he has seen and recorded many more aeroplanes than me.
Onmy first trip I entered the Fly-In passing hundreds of Cessna 170 aeroplanes celebrating the 75th anniversary of the first flight of the type.
Walking amongst some fantastic aeroplanes I came across a very smart, no expense spared, Aircoupe.
The first thing I noticed was the fact that static wicks had been added to the ailerons... These are fitted to IFR equipped aeroplanes that fly in clouds!
The aeroplane has a full suite of Avidyne avionics and is fully Instrument Flight Rules compliant.
Why not?
An airframe is an airframe, it is a method of conveyance that lasts a very long time, so why would you spend a lot of money on a new airframe when you can upgrade an existing one?
Aeroplanes are scrapped when their engines reach TBO due to their values after engine overhauls not being more than the cost of those overhauls. Better to make use of that engine and keep the aeroplane.
I have no qualms about upgrading to new, non traditional engines (A65 to Rotax 912), instruments (glass), and digital avionics... Keep the old stuff for when the aeroplane goes to a museum.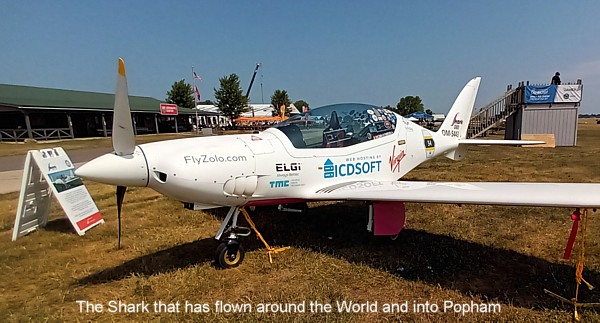 Zara and Mack Rutherford brought Zara's RTW aeroplane to Oshkosh.
I spent some time with Chris Horsten of Sport Aircraft Canada who is the dealer for Shark aeroplanes. A long chat, and then I helped clean the dew of one of the aeroplanes on his stand. He gave me a Shark model made on his 3D printer as a reward.
The Shark is attractive and a performer, and has been proven by the two Round The World flights, and the short cross ocean flight from Belgium to Oshkosh.


On walkabout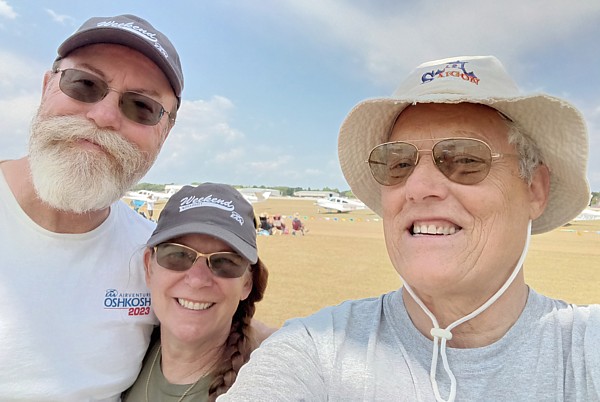 Jay and Mary Honeck who both had rides around Highclere Castle with me in the Aircoupe.
Wifi was available around most of the Oshkosh show and so I was able to be in touch with Jay Honeck while at the show.
There I was talking to a former Canadian Airlines pilot when I was invited to their tent on Row 504... "Where's Row 504?" I asked. "This is Row 504" was the answer; how convenient!
In the USA I had become used to not being able to fly and so for once I had a beer with my friends even though it was 'Day VFR'.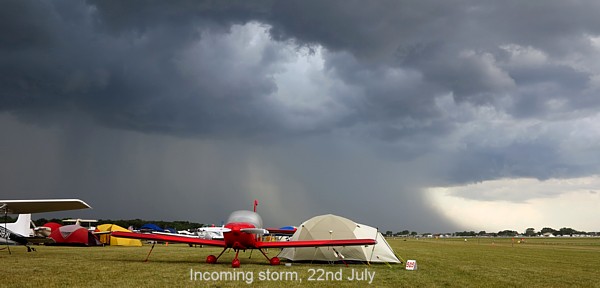 A storm brewed and attacked the field while sending aeroplanes scattering for cover under clear skies elsewhere.
For us it meant closing the flaps and holding the tent against the strong shifting winds while the rain lashed down hard upon us.
We were rounding the Horn in a storm while on the ground at Wittman Field.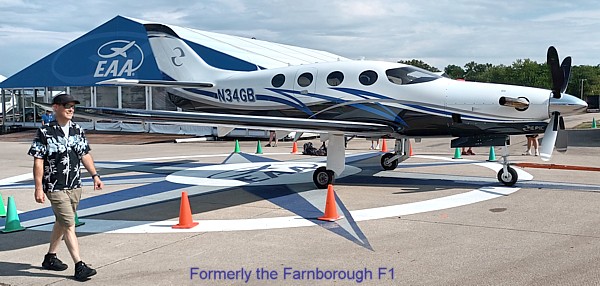 I was surprised to see this Epic E1000 which is remarkably similar to the Farnborough F1.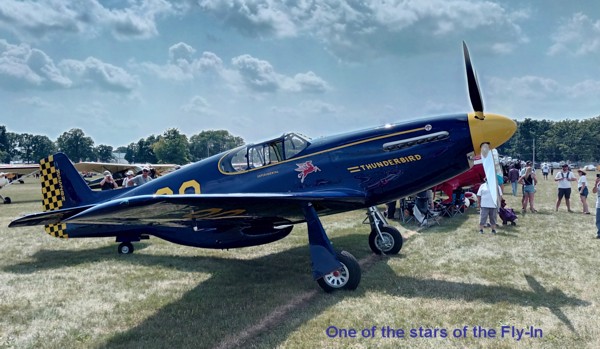 A real classic without camoflage.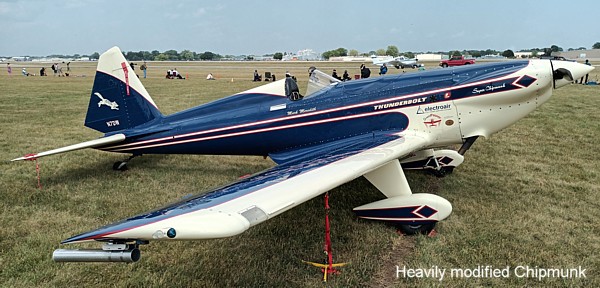 This SuperMunk flew a great night show which I watched later on television.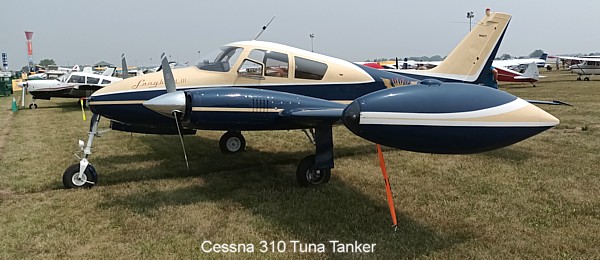 The Cessna 310 and 320 are attractive twin engine aeroplanes.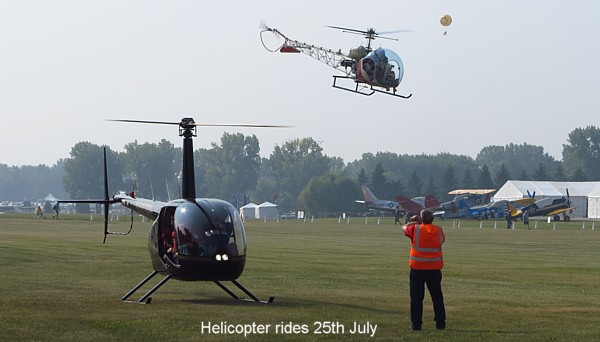 We parked in a car park close to the Pioneer Hangars.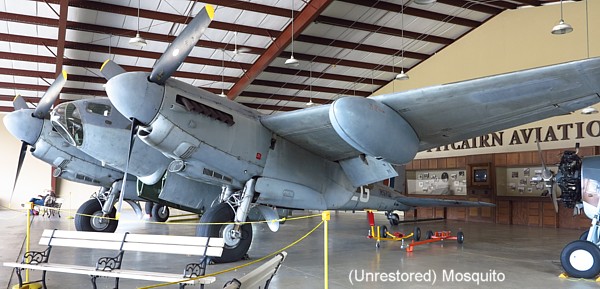 The Twinmunk is a brilliant aeroplane.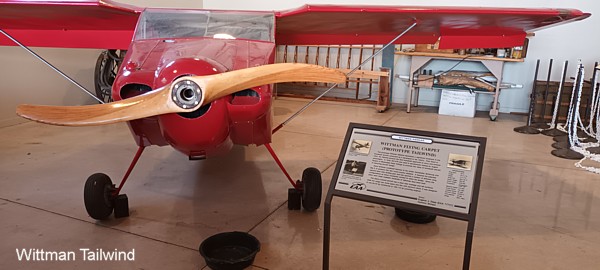 Years ago I flew an AJEP Tailwind from Biggin Hill, this was a pioneer in the homebuilt movement.


Chatted to Ercoupe, Aircoupe, and Mooney Cadet owners.
These are popular aeroplanes, well liked by their owners.
G ARHB is still for sale, I will be sorry when it is finally sold.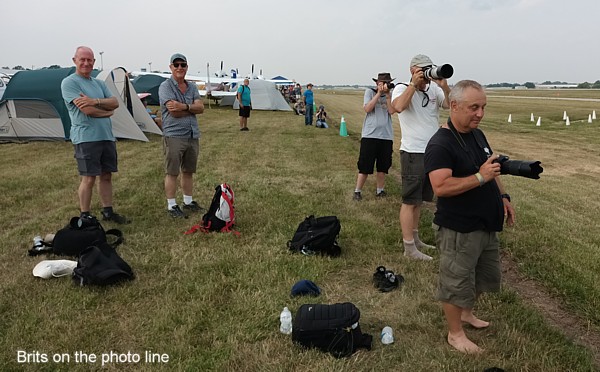 There's no doubt of the enthusiasm of Brits for many things, including aeroplanes.
Here at Oshkosh you also meet the many enthusiasts from North America and some of them are not grey (gray).
One evening I went to the The Hangar Bar and Grill nearby the airport and had dinner with a bunch of chaps from British Columbia.
I also met up with Brad and his daughter Daisy who flew to Oshkosh from Boundary Bay in their newly overhauled Cessna 172M.
Brad is an engineer who as a job teaches at BCIT, but as a passion he maintains aircraft while taking old Cessna 172s and restoring them to as new.
We went offsite to Friar Tucks' bar-restaurant where a good meal could be had for a normal (not inflated) price. It's always good to meet friends.
Previously I had had lunch at Friar Tucks' with Jay and Mary and another friend so I knew how good it was.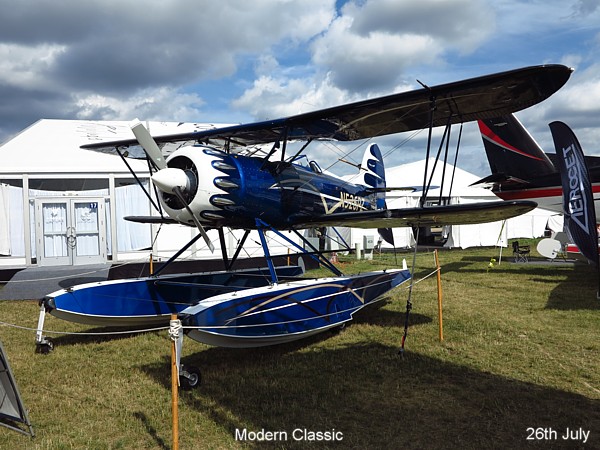 Waco Biplanes are still being made.
Recent years have dulled my enthusiasm, especially after those Covid lockdowns which stopped income and flying, we're still in recovery from that.
My enthusiasm was somewhat restored at Oshkosh and I once again enjoyed the company of my fellow aviators... This is two sided however as people who might accompany me get annoyed at my distraction.
Daren went his way and I went mine and we both had a good time for the most part.
There were incidents of rudeness, and some petty Hitlers riding around in authority, but these were few in comparison to the overall friendliness of people here.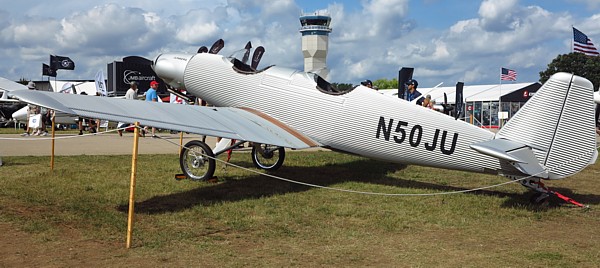 Achtung, Junkers resurgence.
26th July was my last day at Oshkosh, we were heading back to Chicago the next day... No I hadn't seen it all, even a full week you probably could not see it all, but there were other things to do and see.
And so we drove back to Chicago and moved in to the superb Weston Chicago Northwest hotel which is set in very attractive landscape grounds with a walk around four large ponds.
What's there for me to do for six days before my American Airlines flight back to London?
I'll go to work.


Du Page Airport Chicago.