Back to flying in BC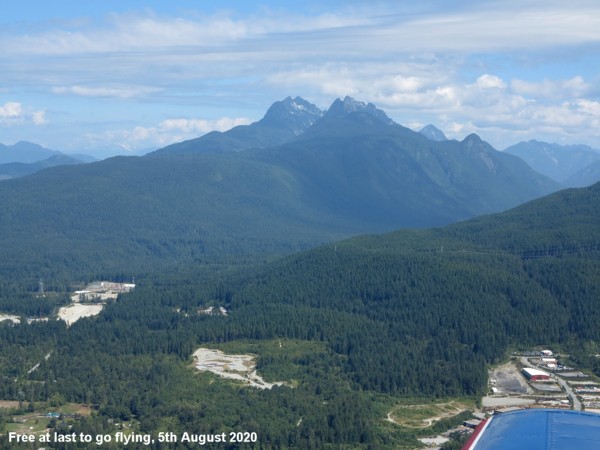 First priority was to fly the Chipmunk
Daryl, my current landlord, drove us down to Langley where I primed the oil system and prepared the Chipmunk for flight.
Flew for 23 minutes into the Glen Valley for a few turns, and a barrel roll to break the ice flying in the Lower Mainland again.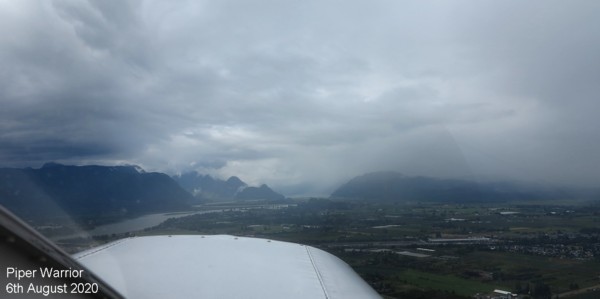 Emidio needed a check out in the Piper Warrior as he joined the Vancouver Flying Club (yvrflyingclub.com)
We went into the Pitt Lake Practice Area for a few turns, slow flight, and stalls, and then into Pitt Meadows for four circuits.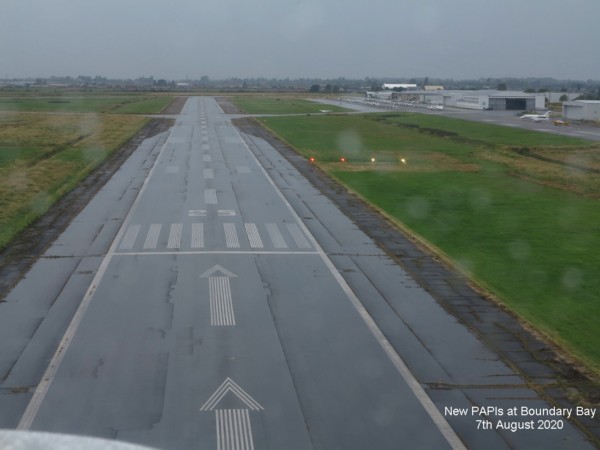 Flew with Brian in his Cessna 172M for some Commercial Pilot Flight Test exercises.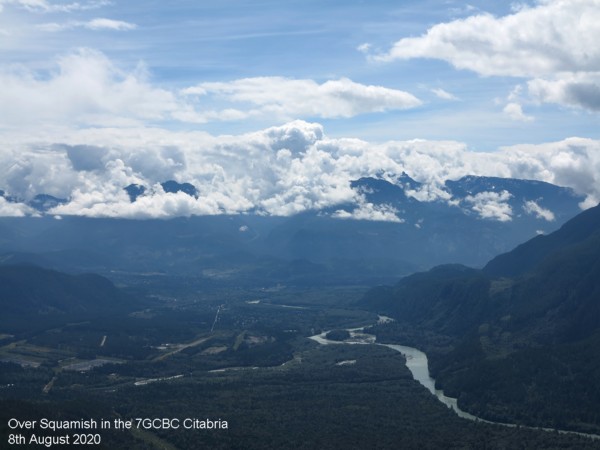 Flew with Ali in the Citabria for recurrent tailwheel flying and a little bit of airwork and spinning.
Then with Erik in a Cessna 172 for instrument training over Howe Sound.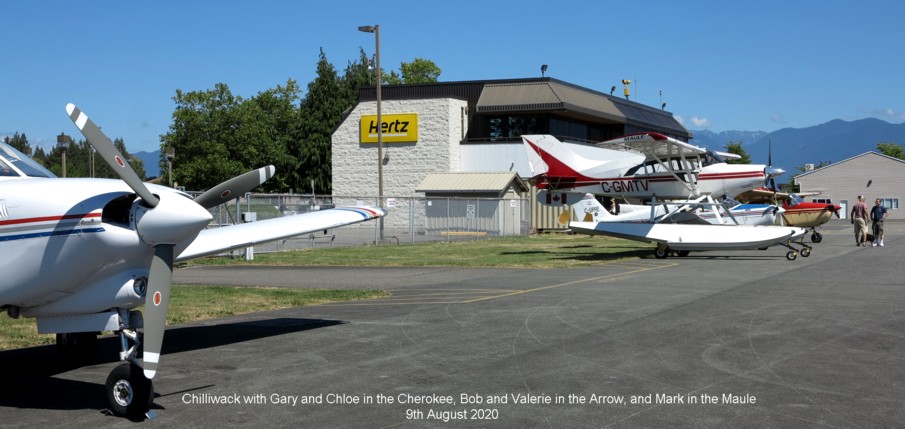 Three aeroplanes flew to Chilliwack for lunch.
Then Mark flew me to Chehalis Lake for a splash... We taxied to the spit to land on the stoney shore for a walk between the campsites to check the other shore for possible beaching places.
We sailed backwards with the breeze to clear the shore before starting the engine and departing from the shaded lee bay.
I did this takeoff followed by a splash in Stave Lake, and a splash on the Fraser River, before landing the amphib like a four poster bed on Langley's runway 25.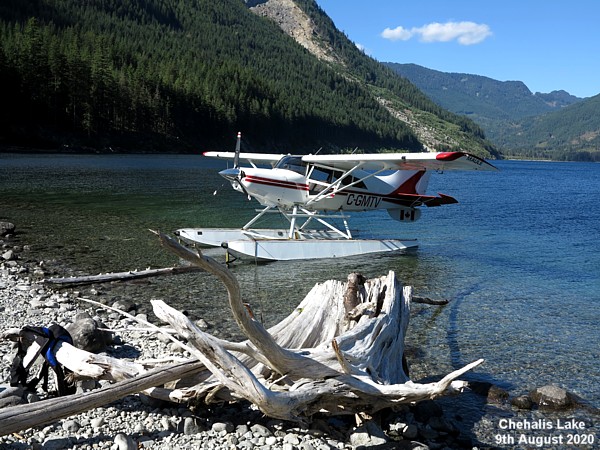 Boundary Bay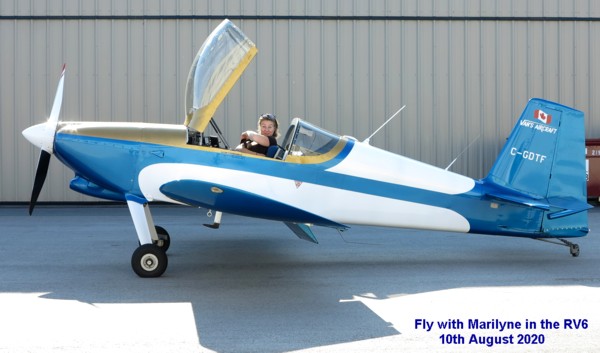 I soloed Marilyne in a Diamond DA20-C1 as a task on one of my trips, and she subsequently finished her PPL.
Now, after moving up to a tailwheel RV6 she would like her Commercial Pilot Licence and so we began with VFR manoeuvres in the Pitt Lake area.
Later I did an instrument flight with Brian in the Cessna 172M. It is easy for me to be busy here.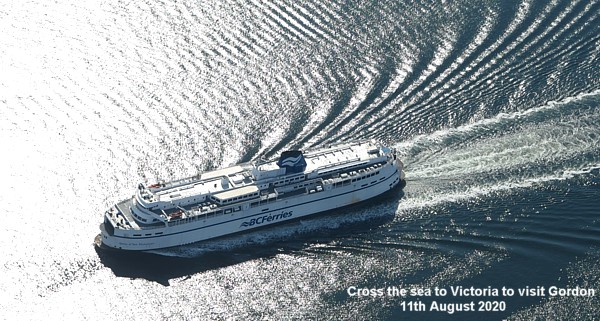 Gordon was probably the first person I flew with here in British Columbia, back in 1981 if I remember correctly.
We flew in the Druine Turbi then operated by the RAA Chapter 85 at Delta Air Park.
Gordon was apparently witness to my first trip to an airfield, Burnaston where Derby Airways was based with DC3/C47s, and Argonauts.
I remember seeing an Auster and a Chipmunk there on the grass, I was six or seven and attending Ravensdale Junior School in Mickleover, it was a school trip.
Sadly Gordon has cancer now and is living near Victoria Airport, and so four of us who know him took the Airvan there to visit him and Hanna.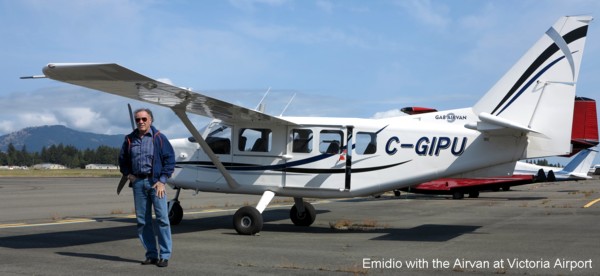 After the visit my three friends went to the excellent Mary's Bleue Moon Café while I had my lunch at the Victoria Flying Club.
I took the opportunity to do another CPL training flight in the RV6 with Marilyne, she is based here.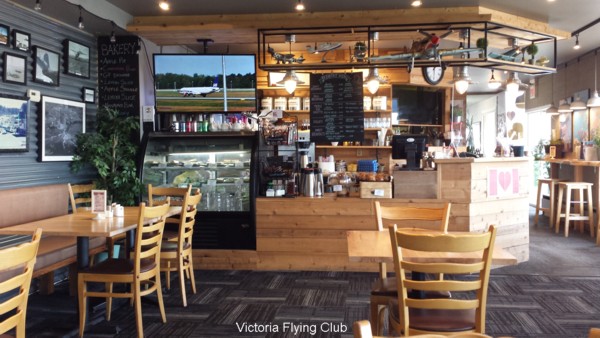 Good food and a bright Asian smile await you here.
Brian mentioned that he'd like to land on grass sometime, before we departed for a CPL training flight in the 172.
Landing on grass is a novelty here, and so on the the way back to Boundary Bay we dropped into Delta for a stop backtack and go.
Marilyne was next with a soft field takeoff in the RV6 to go and do practice forced landings, and a precautionary landing.
We ended up having lunch and a debrief at Chilliwack and then did some instrument flying on the way back.
I routed her to Stave Lake, and down Alouette Lake to stay well clear of the Glen Valley Hornet's Nest.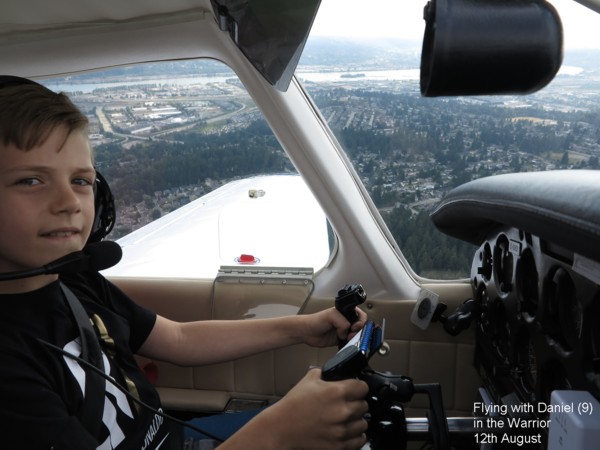 Emidio's great nephew is enthusiastic about flying and has many hours practice on the desktop computer flight simulator, so now he had a chance to put what he knew into practice.
I gave him control soon after takeoff, and later helped him with the landing. He did very well flying the Warrior though I had to help a little with the rudder as my feet reach the pedals.
Daniel found his house and circled it before we flew into the Pit Lake area, and then over Pitt Meadows as we returned to Boundary Bay.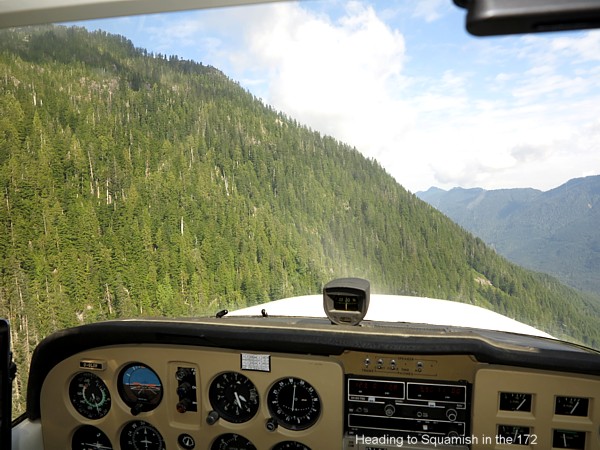 13th August; Brian gave me a lift to Squamish in his Cessna 172. Here we are using the gentle updraught along the mountainside.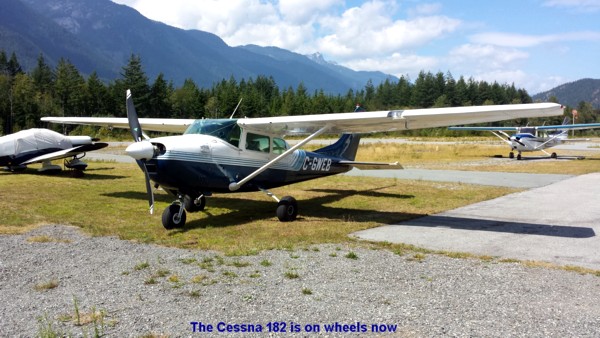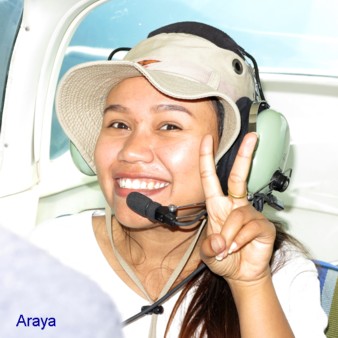 The objective in Squamish was to do a couple of flight with Tom in the Cessna 182. The first flight was with Brian in the back to do some stalling and get the figures for this.
The Cessna 182's wings have been extended for operation with amphibious floats and so the stall speeds are somewhat slower than a standard 182, and so is the approach speed.
The second flight ws to be circuits, and Araya who is visiting from Thailand, sat in the back... 'Always good to see a Thai smile.
Between and after the Cessna 182 flights I flew two sessions in the 7GCBC Citabria in the circuit.
This aeroplane has been labeled as a Scout, but a Scout has a 180hp engine, bigger wings, and longer undercarriage legs.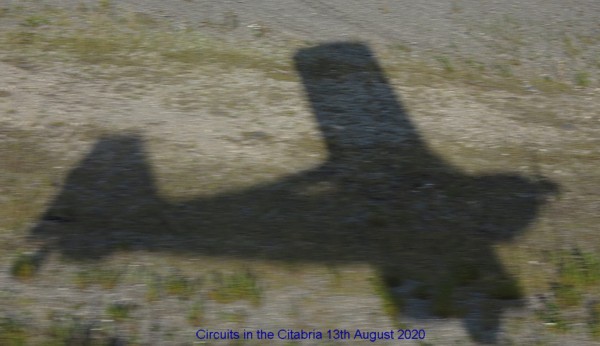 Finally for this page, I flew circuits with Daryl in the Piper Tomahawk.
The Sun was in our eyes approaching runway 25, and so as we took off for the first circuit I asked for runway 31; this was denied.
Several times traffic was asked to extend down wind for arriving aircraft, and this means climbing to a thousand feet to overfly Delta.
A couple of times the Cessna's lost their way as they could not see Boundary bay Airport for the Sun in their eyes.