Thailand Travels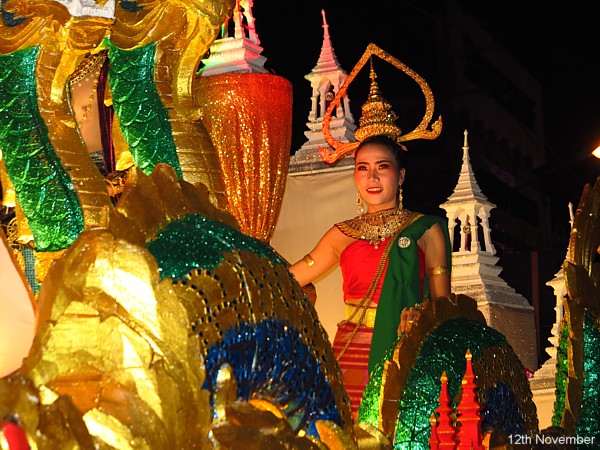 Loy Krathong this year was a much more pleasant affair as there were fewer fireworks.
There were bangers of course, and roman candles, but no rockets being fired across the road.
Lantern Balloons were also restricted to areas clear of the flight paths in and out of the airport.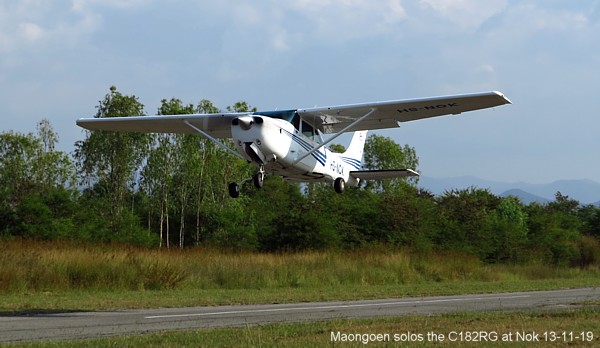 Soloing at Lampang was a confidence boost to be followed by training on the tighter runway at Nok.
Just a few circuits and a trip out to San Kamphaeng Hot Springs and back and off he went solo.
I sent him off to the Hot Springs on his own, I wanted to see the gear go up and down, local
navigation, work with ATC, and then a few circuits to full stops, with backtracks before going again.
Check flying completed.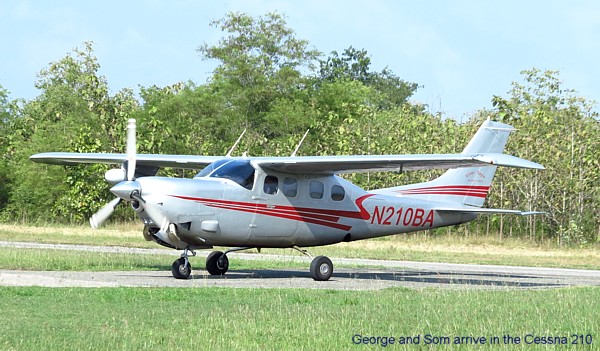 George Macak recently brought ths turbine Cessna 210 from California via the North Atlantic.
Thailand Tour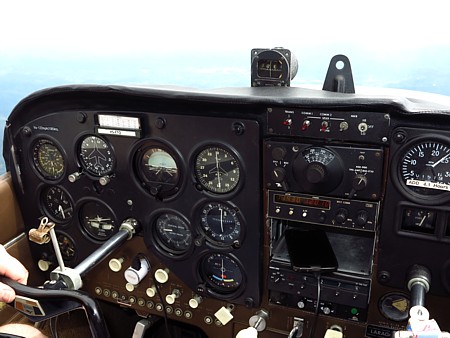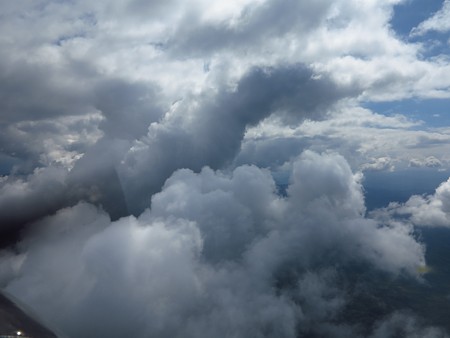 Classic panel, with a poor range radio and a Galaxy G4 for navigation. - The usual afternoon cloud build ups over the mountains on the way to pass Lampang.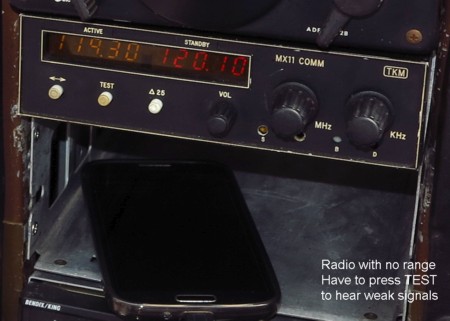 Huge difficulty maintaining communication with this poor radio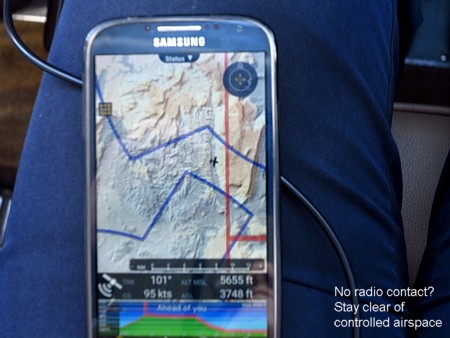 Air Navigation Pro crashed frequently on my phone
It was go back to the map on my iPad without GPS
But the aeronautical maps here are from 1984!
I have had an Axxera GPS150-E receiver that when it worked connected to the iPad and provided for navigation. But mine did not work reliably and crashed frustratingly often. So much so I binned it.
Frequent failures are worst than one complete failure, like an engine that stops and starts and fails at a bad time while a complete failure might result in a safe forced landing.
I have borrowed Stratux, Garmin Glo, and Pilot Aware units that work superbly, but I do not own one of these units. Often I can't have what I need when I need it.
The Trip
15th November
I am a believer in the I'MSAFE check before flight with the S standing for "Stress" being of note. Stress can show in many ways, but it often manifests itself as inaccuracy in one's functions.
And so it was that as we climbed out from Nok on our flight plan to Udon Thani that Chiang Mai Approach informed me that I had filed the flight plan as HS NOK and not as HS FTO!
Responding on the radio with a call sign used often recently rather than the one for the aeroplane you are flying is common. I had filed HS NOK over the phone when I meant HS FTO, I'd even written HS NOK on the pad as I wrote out the flight plan format to read out. This was 'not thinking', operating subconsciously on 'autopilot' rather than paying attention. It is a sign of stress.
All other information, Cessna 172 and not 182, cruise 95 Knots, endurance four hours, was correct.
I did not make this mistake again.
We do not always fly in proper accordance with "I'MSAFE", and so the importance of doing one's checks is paramount to the safe progress of a flight. It is always important to be AWARE of how you feel, and to make sure you compensate for your current state of being.
The FREDA check, Fuel, Radio, Engine, Direction, Altimeter check was done regularly on this flight.
First radio calls are often made at 30NM from Thai airports both inbound and outbound, but the radio was no good for this, and so I listened out with the TEST button pressed to un-squelch the radio receiver, then transmit and press the TEST again. Sometimes I'd get a weak acknowledgement just barely discernable, but enough for a clearance into controlled airspace... By 20NM the reception was usually good.
Approaching the Loei zone, with mountainous territory between us, I could not get a clearance from Loei Approach and Focal Military on the standard 127.0 mhz was not responding either, and so I routed clear of controlled airspace, diverting well to the south and around until first I regained contact with the military, and then I established contact with Loei. (See picture above).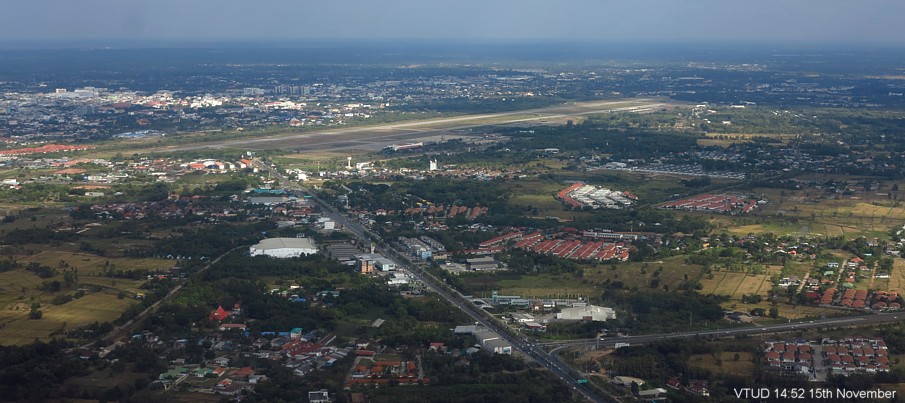 The run from the Loei zone to Udon Thani is over low lying mostly level ground, and faint radio contact was made with Udon Thani, with a clearance into their zone. The radio reception rapidly improved as we neared 20 NM to go.
There were two primary tasks besides simply flying around Thailand for fun. One was to play Pool, and the other was plane spotting!
On arrival at Udon Thani Daren was delighted to see a squadron of Singapore F16s together with a C130 Hercules support aircraft that had arrived shortly before we did.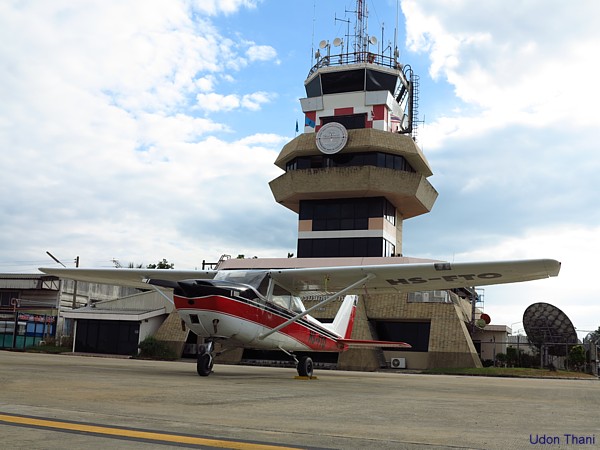 I dipped the tanks, the O-300 had consumed 8.2 US Gallons per hour. We had flown 2 hours 53 minutes, takeoff to landing
We stayed in the Centara Hotel for two nights.
That first night a bar girl wanted to go back with me, but I do not do bar girls, nor prostitutes. Regardless of what you think I get up to in Thailand, the sex industry is not something I participate in.
But she did say it would be her birthday the day after next (28 years old), and that I should bring her a present the next night... This I did, I bought her a scarf at Central, not a cheap one, one of good quality, had it gift wrapped, gave it to her, and stopped for a small bottle of Tiger beer. (I don't drink a lot either).
A feature to be aware of is that buying oneself a small beer at 68 Baht is small compared to buying a bar girl a drink at 150 Baht each. 'Fortunately' I could only afford two bar girl drinks, after which I left as I do not have the funds to stick around such bars.
I was hungry, 'went in search of food, couldn't decide what to eat, and so I bought a DQ dipped ice cream cone for a whole 20 Baht.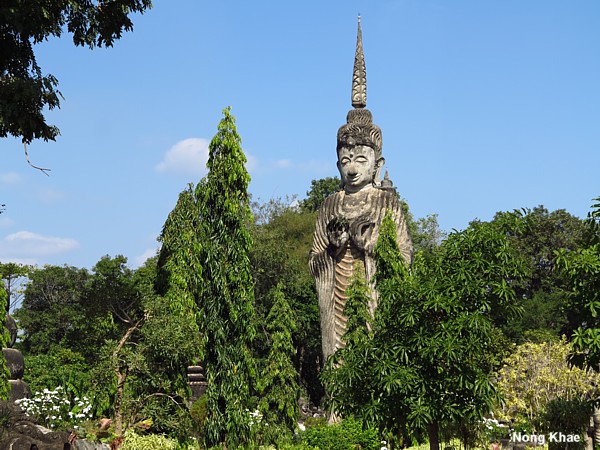 (16th) Daren and I took a taxi ride out to see the statues at Nong Khae where the history and practice of Buddhism is shown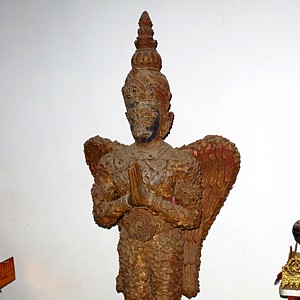 In early history many religions shared their beliefs. One can see the Oxman in early Greek religious belief as well as in Babylon and ancient Egypt
Buddhist philosophy also shows up in Christianity. Look at the bird-human diety with 'angel' wings, hands together in prayer, human superstition.
Even in this age of science and knowledge, God beliefs, belief in Heaven and Hell, continue to thrive.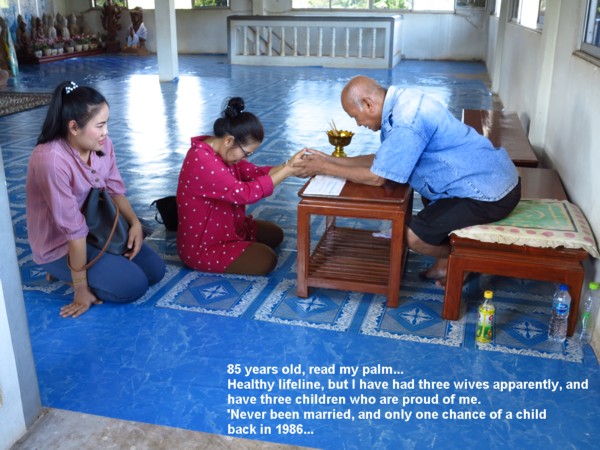 I walked around the park among the large statues of Buddhist depiction and heard: "Allo Allo" being explained to a French woman... "Only say it once" I said..
There I met Sally and Martin from England, and Pierry from France. British comedy is renowned around the World with many quotes, and is always a reminder of a sense of humour I appreciate very much.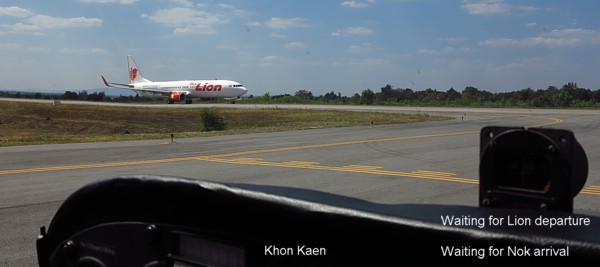 VTUK
17th November
I was surprised to find out that Avgas was available at Udon Thani, albeit in fifty litre drums, and so we availed ourselves of one of these for the run down to Khon Kaen where fuel is available off a truck.
Throughout this trip Avgas 100LL cost 58 Baht a litre from drums, and 56 Baht a litre when off a tanker truck. Landing fees are 85 Baht for a Cessna 172, and parking was typically 330 Baht per night.
The aeroplane used a consistent 8 US Gallons per hour on this trip.
We departed Udon Thani at 10:58 and landed at Khon Kaen at 11:37 local time.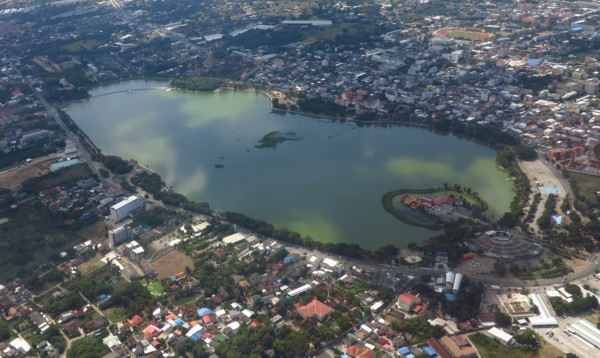 Khon Kaen, I have walked around this pond a few times.
At Khon Kaen it would have been efficient to let us takeoff before the Lion Air 737-900, even while it was back tracking the runway, but no we were held until after the 737 took off, and then due to wake turbulence considerations we might as well wait for the Nok Air flight to land afterwards... My moan was met with Daren telling me it was my bad planning. Always 'my fault'.
The takeoff at 12:38 was longer than usual, and the climbout shallow... She was not performing so well! This was a worry for future takeoffs... I think though that the local temperature over that hot runway meant that the density altitude of the Sun soaked runway itself was higher than the 'ambient' level.
Approach had me turn right and intercept the 120 degree radial, and then the 160 degree radial putting us well to the southeast of the airport for traffic.
There is a HSI feature on Air Navigation Pro that is very useful for this. I can set the HSI to 'simulate' a VOR/DME on a ground station and this is very good when ATC ask for bearing and distance, which they do at busy times sometimes! Often the GPS works and this is easy, but sometimes the system fails, leading to frustration and urgent action to try and recover it while the stable trimmed Cessna decides to change heading or bust height in the thermic air. The usually easy speaking Michael surprised the Daren with many expletives, swearing out aloud when "Air Navigation has stopped working" or "crashed", or "No account set", and the saved route has suddenly gone! WTF! Or simply FFFF!
The route was to be to Kabinburi on a track of 204 degrees at 4,500 feet altitude.
After clearing the high ground we descended to 2,500 feet before Prachinburi to be below the Bangkok Suvarnabhumi TMA.
Enroute we talked to Oscar military on 127.0 often using the TEST button!
We overflew Korat military aerodrome with a clearance from Oscar.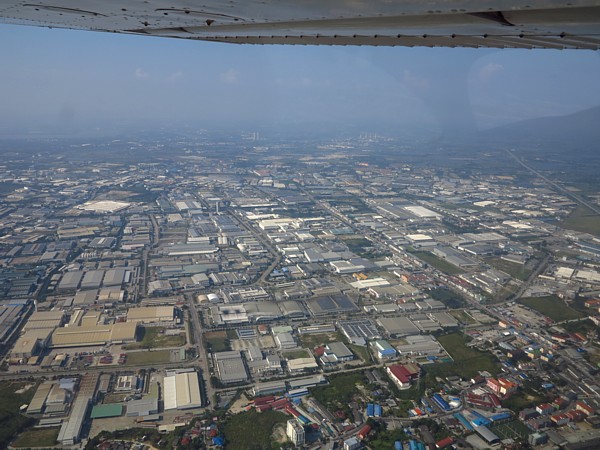 Heavy industrialisation of Chon Buri
From Kabinburi the heading was 223 degrees to Bang Phra (VTBT) and we QSY'd to Bangkok Approach.
Chon Buri is becoming heavily industrialised. The beaches at Pattaya, Jomtien, and around to Ban Chang are already in a poor state, and so the future of tourism in this area is doomed.
We landed at Bang Phra at 15:07 after 2 hours 29 minutes flying. I wanted to add some more fuel for the water crossing to Hua Hin, and so the Thai Flying Club sold us 25 litres of Avgas for 70 Baht per litre; the most expensive fuel on this trip.
George was at Bang Phra flying with people in the TFC Cessna 172, and Doctor Rolf was there too, and so Bang Phra was a social stop too.
Takeoff from Bang Phra was at 16:43 and we climbed with an ATC clearance from U-Tapao to 4,500 feet.
Though VFR there was no horizon and so there was reliance on the blind flying instruments for this leg over the Gulf of Thailand (Siam), we were heading for point November, but the friendly female voice of Hua Hin Approach cleared us direct to left base, 'report the runway in sight.
We landed at 17:30 after a 47 minute flight.
Hua Hin normally requires 48 hours notice for inbound flights due to the proximity of the Royal Palace, in addition I learned that the CAAT require one week's notice, and so we were lucky to be able to gain approval to fly into this restricted airport. At least it's only two permissions, unlike the 13 or more required to do anything when I was in China.
Both this flight, and the stop on the way back were a worry as we did not know if we were approved until the day before.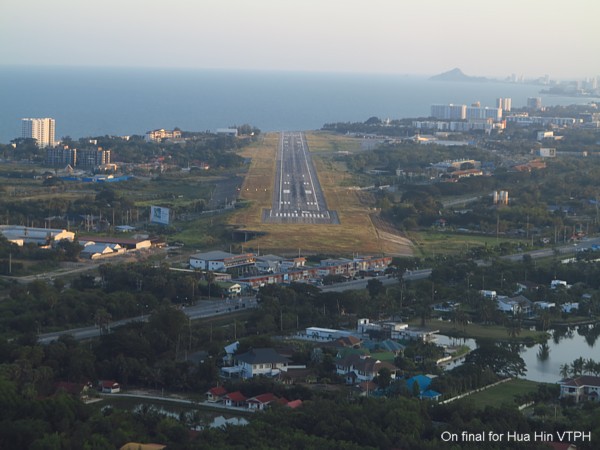 Daren stayed in the posh Anantara Resort, while I stayed at the Hisea Hotel in town. My hotel was clinical! New, clean, and without adornments.
We did go for dinner together at an Indian Restaurant opposite the Hilton Hotel.
Hua Hin would normally be bustling at this time of the year, but tourism in Thailand has plummeted, and the town is full of empty restaurants, and empty bars. It is incredibly difficult for the owners of these places, all looking clean, many very posh, with clean table cloths and smart staff; empty.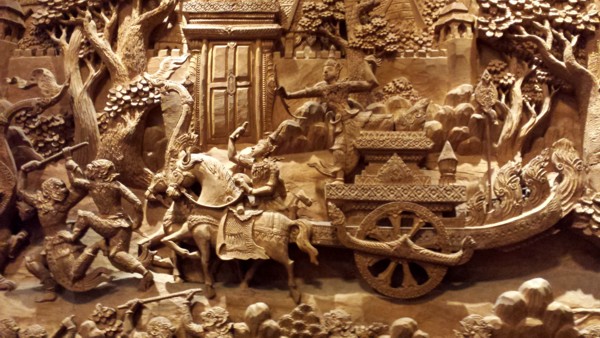 This carved diorama shows how even early Thais were into the habit of taking selfies while driving
I joined Daryl and Irene for breakfast. They were here as part of their travels in Asia. Daryl owns the Valentin Taifun we flew across Canada a couple of months ago.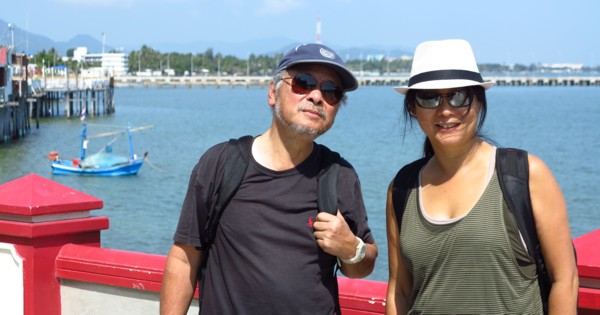 Daryl and Irene from North Vancouver
I spent the day with Daryl and Irene and then in the evening I went for my usual walk covering several miles, thinking about what I should eat, but ending up buying a cup of cold Ovaltine at a 7-eleven.
It is very difficult for me to decide where I eat alone in an evening, and so most often I don't bother, grab something at a 7-eleven and go to bed.
Empty restaurants are not appealing to me, I like to see some life.


CATC are very successful with their Diamond fleet; I could even be a little envious as I'd have liked to have built SLA into a school like ths
19th November
I was more efficient this time as I had taken Daryl to the airport to show him some aeroplanes, and had taken the opportunity to refuel the Cessna 172 the day before our departure.
Takeoff was at 10:49 with a left turn to fly six nautical miles out to sea before proceeding on course after clearing the prohibited zone around the King's Palace at Hua Hin.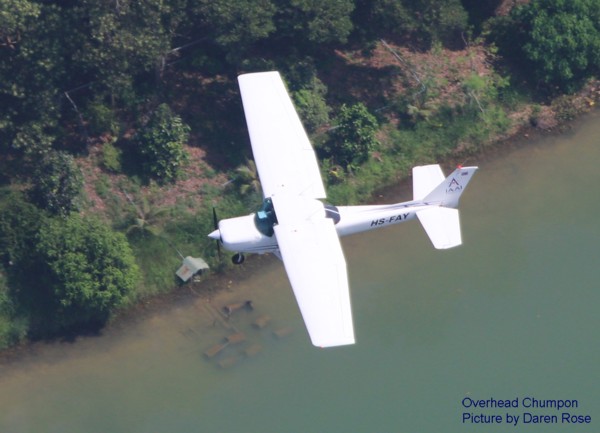 AAA operate their flying school from Chumpon. I was offered a job with them once.
Our destination was Surat Thani for a fuel stop before proceeding to Phuket Airpark. The route was over Prachuap and then Chumpon aerodromes, straight down the coast.
I could not make radio contact with Chumpon prior to reaching the zone and so descended to 1,900 feet to remain below the airspace before the weak radio began to allow readability two communication with a clearance into the controlled airspace.
Around 50 NM north of Surat Thani we ran into some TCU and CB clouds which required a dodgy bit of weaving to avoid them with no certainty of clearance ahead, and of the way back remaining open.
But there was plenty of clearance below the clouds so the gamble was reasonable.
We were in the clear at 38 NM and I gave this Pirep to a northbound Cessna 172.
In Canada during the summer there are always TCUs in the forecasts, and some pilots cancel due to this, but these clouds seldom form a ceiling and so you can dodge around them. The bad ones can form an impenetrable line, and this may necessitate a diversion until they pass. I've done this in France.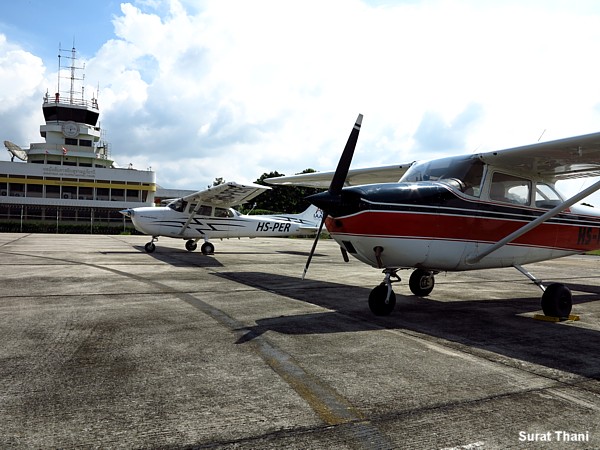 The instructor in the AAA Cessna 172 recognised me
We landed at Surat Thani at 13:11 after 2 hours 22 minutes in the air.
The fuelers came out and put fifty litres of fuel into the aeroplane, I wanted enough to come back to Surat Thani with the Cessna 172G being light flying out of the Phuket Airpark strip. (She had 19 USG on board at Phuket; 2:20 endurance for a 1 hour flight).
I went into the terminal and paid the 85 Baht landing fee. I also filled in the Airport Movements Logbook, every Thai Airport has one, and you are required to enter the details of your arrival and departure in these amongst the other movements such as Airbuses, and other private aircraft.
It was this way in Europe in my early days, it was always interesting to see the names of pilots you knew who had been where you are; somewhere far from England.
Hungry, I bought some steamed pork and steamed custard Chinese buns to share on the apron before departure. Curiously I have no problem choosing food to eat when buying it for other people.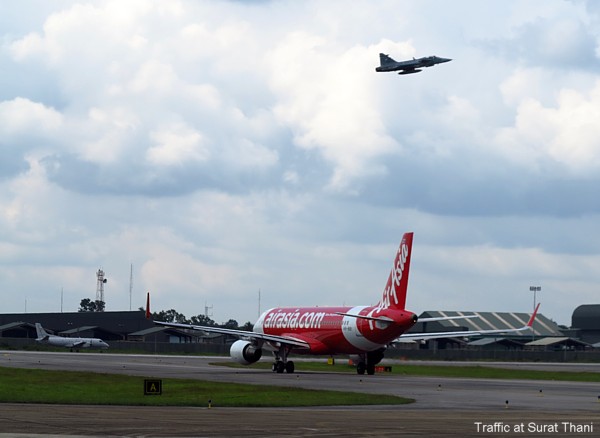 Between the Airbus and military arrivals and departures we waited our turn to backtrack so far as we needed along the long runway to takeoff at 14:34 for the last leg to Phuket.
We were vectored from our desired 207 degrees onto the 270 degree radial to be clear of the returning SAAB Gripens as we climbed to 4,500 feet.
Soon we were among the afternoon buildups of TCUs and CBs, wending a path between them until the coast was sighted and we were cleared into Phukets' airspace to descend to 1,500 feet to cross the water to the Yankee November point and then into Phuket Airpark.
The coast was clear.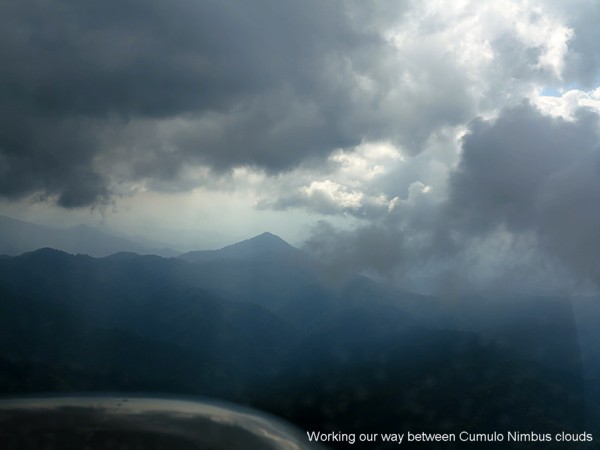 Landing was at 15:39 after 1 hour 5 minutes in the air. I landed with a slight tailwind as this was the preferred direction.
Khun Suchard (Robert), and Em were there to meet us, and generously supplied us with a Toyota Fortuner to drive around in.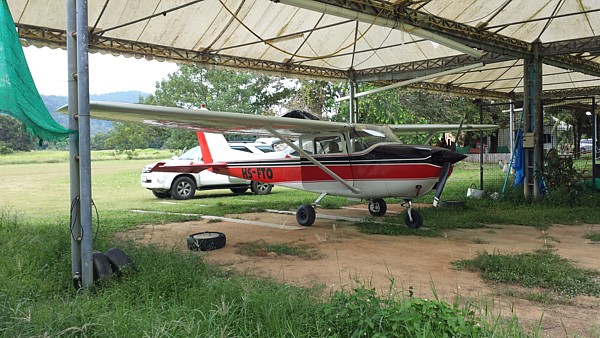 The Cessna under shelter at Phuket Airpark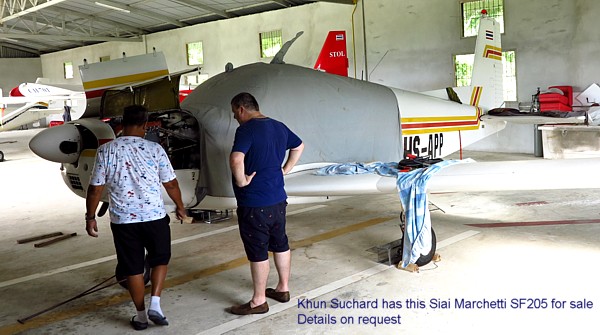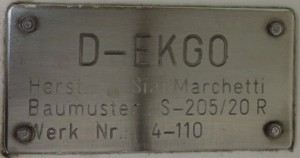 Save the SF205/20R!
We drove to the Grand Mercure Hotel in Patong which is quite posh, but I did notice a water treatment plant nearby. No pong detected though.
It was off to eat at a nearby seafood restaurant, and then to play Pool...
The following morning I went for a walk to the beach, along the beach, and then back into the centre of town where surprisingly I sat down to lunch at a Japanese and Thai restaurant.
The couple next to me were Russian and were clearly in trouble with their chopsticks (Hashi in Japanese), so I gave them instruction (I am expert in using chopsticks in my right hand, and very good with my left hand too). The wife took well to this, but her husband continued to have one stick in each hand! Always the instructor...
In the evening Daren invited Robert and Em for a posh meal in an Italian Seafood Restaurant, it was very very nice, but I missed Naruk being there as happened the last time we did this.
We wanted to stay a third night as plans changed, but the hotel quoted a huge increase in the rate, and so Daren booked the Phuket Airport Hotel for one night, it would be his 50th birthday and he decided to go home by airline to celebrate it, and leave me to the lonely journey back. At least I could swear more loudly when the navigation failed me, I suppose. It's healthy to vent isn't it?