Phuket back to Ban Thi - Nok
The Phuket Airport Hotel is close to the beach which is close to the flight path into Phuket Airport, an aircraft spotter's ideal location!
22nd November
My departure would be delayed, I went and put 1,000 Baht's worth of diesel in the Toyota Fortuner's tank and drove back to Phuket Airpark.
At the Airpark it was impossible to refuse the offer of a cup of tea, and a piece of Em's excellent baking! Robert and Em always provide superb hospitality at their Airpark.
So I departed Phuket at 11:03, only an hour late, and landed at Surat Thani at 12:02 to add 100 litres of fuel (two 50 litre drums), 5,796 Baht.
The weather enroute was superb as the afternoon cumulus had not yet built into anything of significant size.
I would go no further than Hua Hin tonight and so went online to Agoda to book a hotel there for £21.06p, just twenty minutes walk from the airport.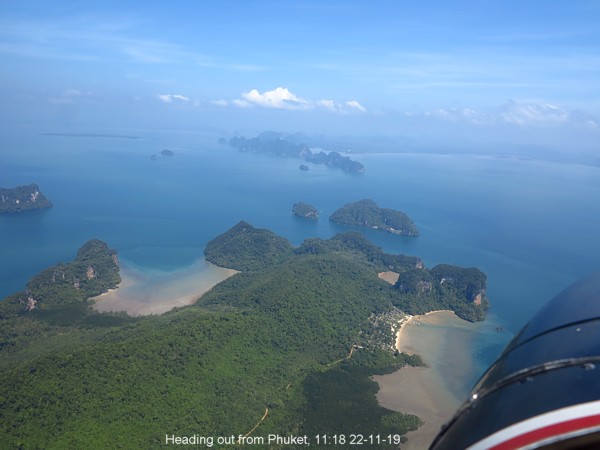 You fly a route to an island then a turn back to Yankee November point, and then head direct to Surat Thani


Posh company but rather less fuel required.
Paid the 85 Baht landing fee, filed a flight plan, and filled in the movements log.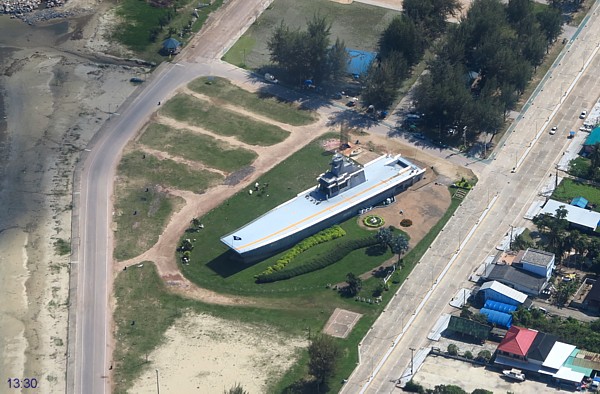 Small Harrier Carrier
Takeoff was at 12:56 from Surat Thani for an easy flight in good weather up the coast to overfly Chumpon Airport.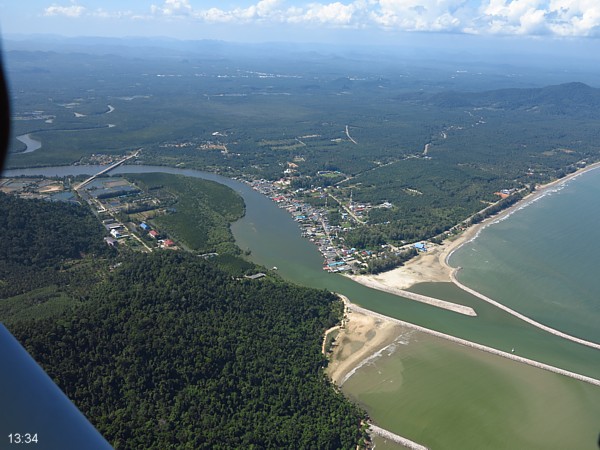 Window open, clear shot along the coastline, northbound.
A TCU with rain was encountered 25 NM north northeast of Chumpon, but I was soon past this with a clear run to overfly Prachuap military airfield.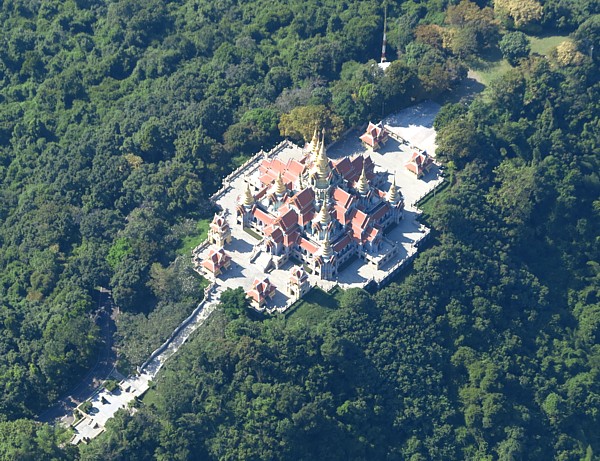 Many Wats adorn the coastal hills. This one was of a different architecture to the rest.
Hua Hin Approach told me to head offshore to be 6 NM on the 120 degree radial to be clear of the Palace prohibited area. I intercepted the radial at 7 NM to be on the safe side, and was then cleared by the Tower to join right downwind for runway 34 to turn base for a final approach within one nautical mile of the threshold (Palace). The controller thought I was on right base for 16, but I had already turned downwind and told her that I had the aircraft she was holding on the runway in sight so it could be released for takeoff.
I turned a tight right base, flaps down, in a slipping turn to arrive soft and short on the runway and turned off. It was 15:29 and so the time enroute from Surat Thani was 2 hours 34 minutes.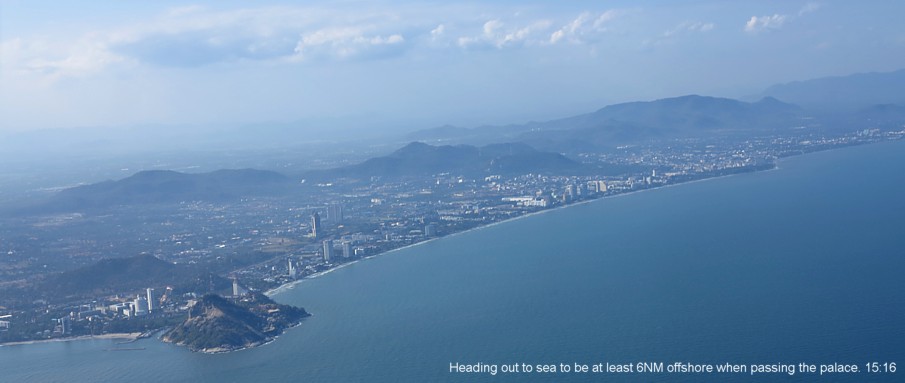 I walked to my hotel, checked in and showered.
Outside I waited for a Sorng Taew, 10 Baht into town, but none arrived before a taxi stopped by me, and I agreed to give him 100 Baht to take me instead. Later, I did take a green Sorng Taew back to the hotel, 10 Baht!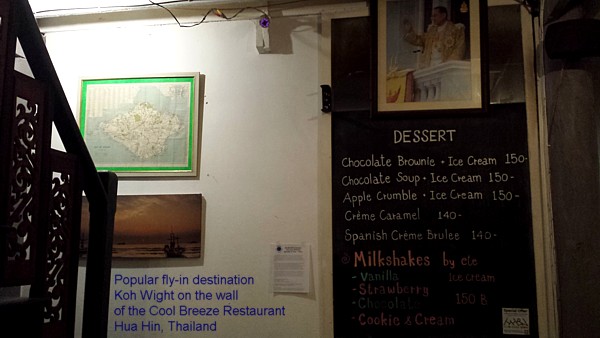 Familiar Island, Koh Phi Phi? Koh Samui? Koh Chang? No it was Koh Wight opposite Ban Portsmouth.
I walked around the town, hungry, but looking for life... There were not many people about!
Went to the Cool Breeze Restaurant and had a couple of salmon cakes followed by Apple Crumble and ice cream (it was very good). I had a small Tiger beer to drink followed by a soda water.
The cost was just over 500 Baht.
23rd November
This was to be one of those nasty days...
I declined to pay 200 Baht for the hotel's breakfast, instead I went to the roadside Café which served me waffles topped with fruit washed down with hot black tea.
I watched the green Sorng Taews pass and timed them, every fifteen minutes. The one I was going to catch drove by empty after only 10 minutes and so I missed it. 'Stood by the roadside in the Sun and waited twenty minutes for the next one. The next one had picked up the customers who missed the too early, empty, previous Sorng Taew, and had no space for me! He drove by and so I said many Fs and started to walk... Twenty minutes under the hot sweaty Sun.
More than half way there I managed to catch the next Sorng Taew to reduce my sweat by a couple of hundred yards.
Next I arrive on a quiet airfield to walk around to find the fuelers...
The Partenavia P68 that is owned by my former employer was ready to start with a person I knew from Budget Lines there to dispatch it. I said hello to her.
I found the fuelers and had the tanks filled, and had an extra 17 litres Avgas 100LL put into a red plastic petrol can I placed in the luggage bay for later.
Departure from Hua Hin, runway 34 straight out was at 11:00 to route clear of the Bangkok TMA via Ban Ong (358º - 70 NM) then to Suphan Buri (021º 42.5 NM) and then to Tantawan (065º 41 NM).
Air Navigation Pro worked as far as Ban Ong and then crashed as I turned towards Suphan Buri. I had managed to get Kamphaen Saen military on the radio after much effort with the TEST button, and they wanted me to report Suphan Buri. So here I was with a navigation failure, and my whole route disappeared with "No Account Set", the program shutting down and disowning me!
I finally managed to get it to work and set "Direct To" Tantawan while I held a course to Suphan Buri.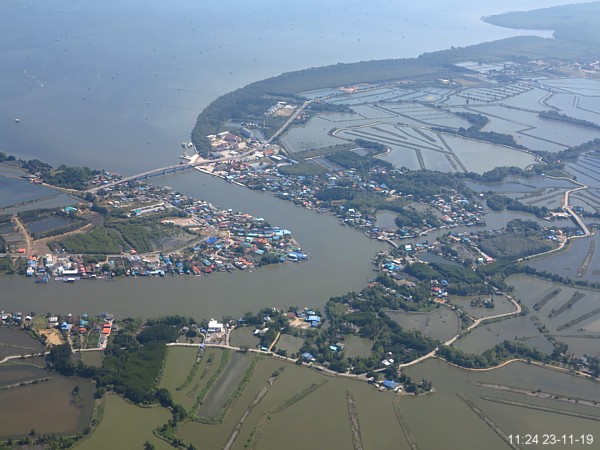 Leaving the coast enroute to Ban Ong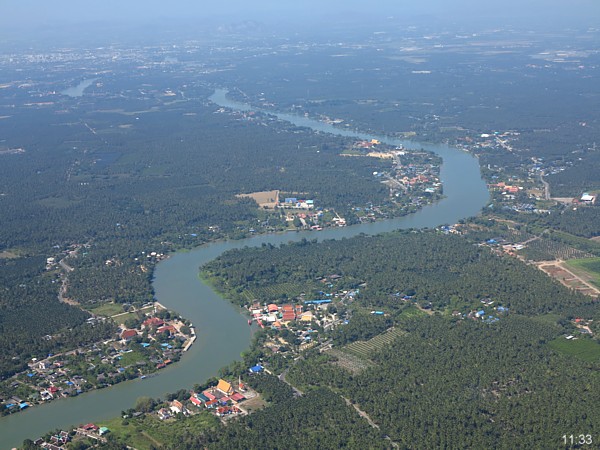 Just before having to contend with "No Account Set"
I waited until the GPS indicated "BRG 065" and "Dist 42 NM" before turning onto the final leg to Tantawan.
Could I do it just with the map?, yes, but not with the accuracy ATC would like in reporting time and distances. The map is 1984, and the ground criss-crossed with highways, and big towns that were not there then.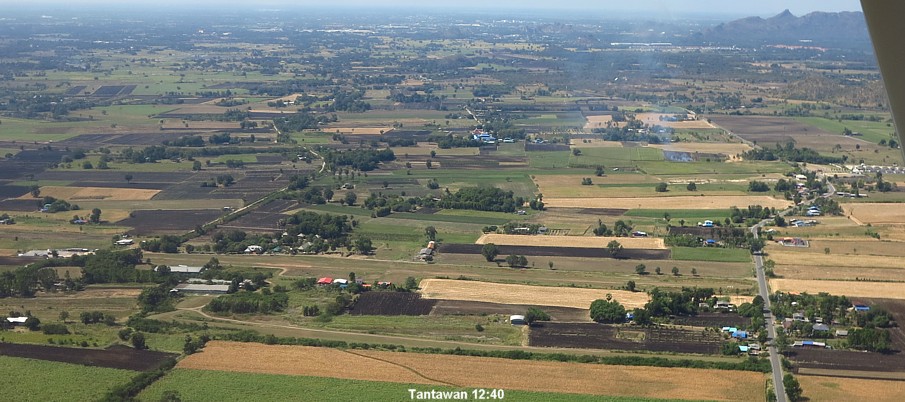 I did one go around at Tantawan followed by landing at 12:45 after 1 hour 45 minutes in the air.
I removed the steps and the petrol can from the rear, and poured the Avgas into the tanks for the next leg of my journey.


Maongoen had flown in in his Cessna 182 RG, I was glad to see him flying his aeroplane with more confidence.
We all went out for a social lunch, and this consumed my time... I could rush, but I could also relax and spend more time with friends.
Oh well in my own time I would head to Phitsanulok and so I booked a hotel using Reggies' wifi while drinking a cup of tea and eating a piece of cake.
I toyed with the idea of doing some night circuits at Phitsanulok as this facility was available.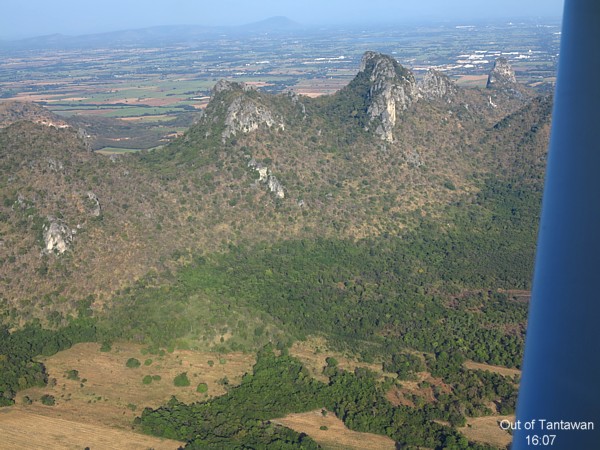 Takeoff from Tantawan was at 16:03 and I contacted Khok Kathiam tower to transit the military aerodrome's airspace northbound.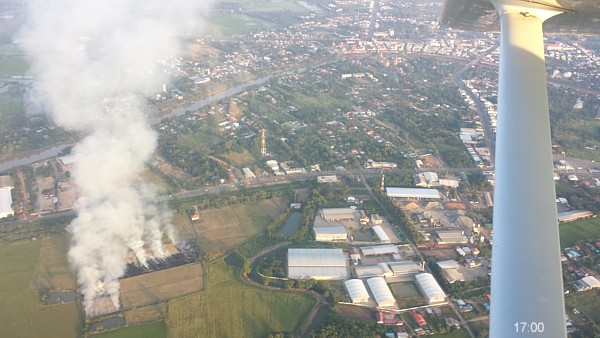 Burning is early this time, and so air quality is going to be bad in Northern Thailand through December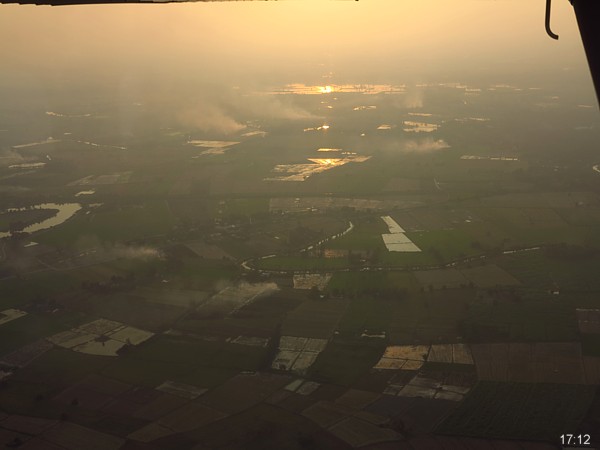 Usually this burning begins later in January. In my opinion this is becoming worse and worse every year, as the farmers seek to get an extra crop in perhaps?
For my health I will need to shorten my trips to Thailand. I am glad I have the option of living in the clean English air, but I am sad for my Thai friends who are threatened with illness and shortened lives by these fires.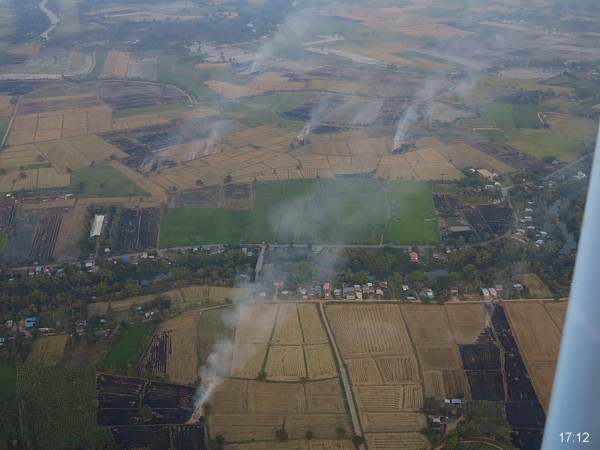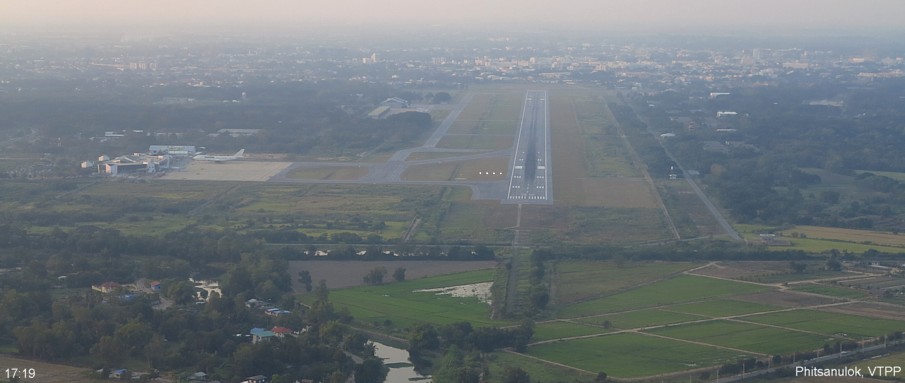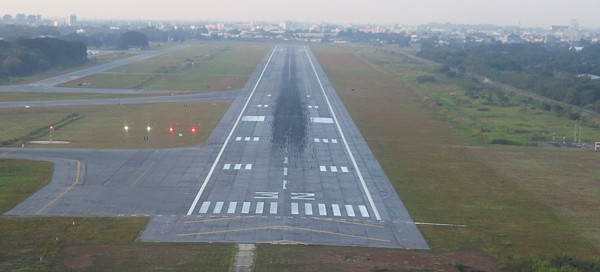 Landing was at 17:22 and I parked just behind the derelict Boeing 747, clear of the pigeon drop zone where the aeroplane might be plastered with kee nok.
The fuelers came out to the aeroplane... Phitsanulok was the fuel stop of choice, but now they will only sell whole 200 litre drums and not the 50 litre drums available elsewhere. It's a huge disappointment as I have deliberately made Phitsanulok the stop of choice when going up and down between Chiang Mai and places south.
I'd booked in to the Park Hotel which is on ground level with long halls through three buildings. My room, 308 was in the far building.
The taxi fare was cheap, 69 Baht from the airport. I'd found the only taxi in the car park and woke the driver up to take me into town.
I was a little hungry and so I went on another 'maybe I'll eat' walk. I'd walked along the river, by the riverside restaurants and some floating ones, and then around into the town and to the market where there is plenty of street food to choose from. "Michael" I heard... It was Sally who I had met in Nong Khae who was now in Phitsanulok with Martin.
So I went to their accommodation and had a gin and tonic and a little street food to eat.


Train spotting
I'd noticed that a locomotive was placed outside the railway station and so in the morning I walked to see it after my breakfast. I took pictures of the Tuk Tuks of Ayutthaya style lined up in front of the station and a classic open bus parked nearby. On the way back I saw a sign for a car wash, "Wash and Winks", probably still allowed here in Thailand while winks might not be acceptable in PC Canada, as whistling certainly wouldn't be either. Across the road were a couple of coffin shops for when you are ready to burn. I was intrigued by wreaths with clocks in the middle of them, only a matter of time before we all die...
Then it was time to go and get a taxi back to the airport.
I spent some time talking to instructors and students at the International Flight College base at Phitsanulok, even the visiting CAAT inspector commented on my still being here talking flying... Well I wasn't in a hurry!
I paid the 417 Baht landing and parking bill, went to see the ladies in the AeroThai office to file my flight plan, and then had some lunch at the airport Café.
Takeoff was at 14:08, and I took a couple of shots of the Basler Turbo 3's (converted C47s) as I climbed out.
I climbed to 6,500 feet on course, levelling off at 20 NM from Phitsanulok. Here I was at the top of the inversion, just on top of the smoke filled air.
At 45 NM I decided to do a radio check, requested this and pushed the TEST button. "Three three four degree radial" was the response.
I reported at 60 NM and received the faint reply to call Lampang Approach.
Lampang asked me to cross the 180 degree radial from Lampang at 20 NM, for traffic, this meant a turn to 275 degrees to cross it at nearly a right angle.
Clear of traffic, I was told to call Chiang Mai approach.
Landing at Nok was at 15:29 after 1 hour 21 minutes in the air.
Trip times: Tachometer = 17.8 hours, Hobbs meter = 20.7 hours, logbook = 19:55.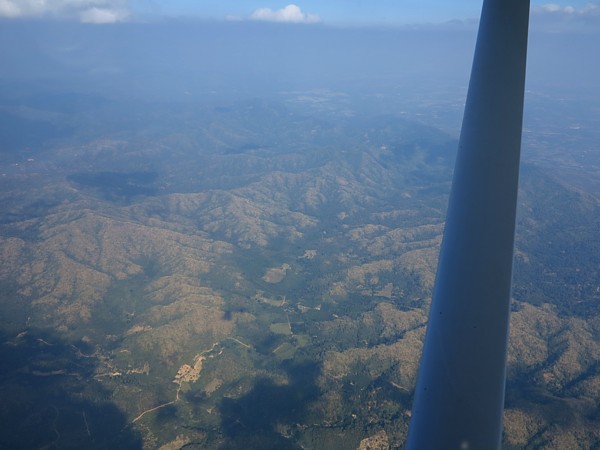 Enroute to Nok at 6,500 feet.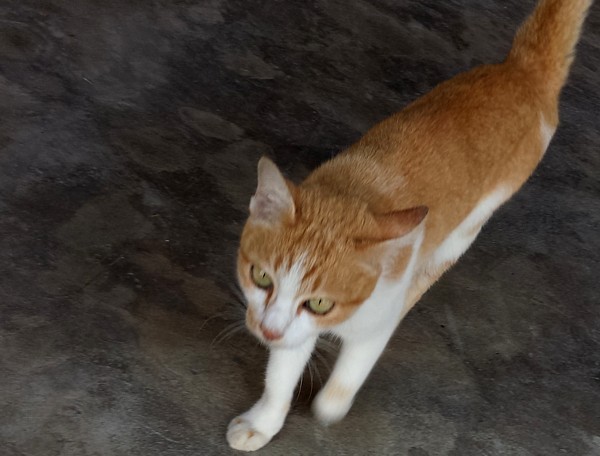 Meow, my favourite Nok cat who I haven't seen in a long time.
Sally and Martin had taken the train to Chiang Mai and so yesterday I took them to Baan Tawai, and then to Krisdadoi for lunch.