Kanchanaburi
On Friday afternoon I got into the car and drove for two hours and forty minutes to Kanchanaburi, the site of the famous Bridge on the River Kwai, and of two cemeteries where many British, Australian, and Dutch prisoners of war are buried.
The Commonwealth War Graves Commission maintain these cemeteries; they are well looked after.

The cruelty meted out by Japanese and Korean guards, and Japanese officers and engineers is well illustrated
Thailand is a civilised country with good people, but seventy five years ago it was invaded by the Japanese who at that time were cruel to those who surrendered to them.
I drive my car to this place, there are bars, restaurants, hotels, and excellent roads. People get on with their lives.
What a contrast to this place when prisoners of war and civilians were forced labour building a railway line through undeveloped tropical terrain.

Remembrance Day

Together with Alasdair and Gill, and Gill's Godfather Archie, I attended the Remembrance Day service at the cemetery.

Many wreaths were laid

The Reverend Timothy Eady from Bangkok led the service
Archie read:
"They shall grow not old, As we that are left grow old, Age shall not weary them, Nor the years condemn.
At the going down of the sun, And in the morning We will remember them"
A girl, Seo Yeon Jhee, from Regents School, Pattaya, read:
"When you go home, tell them of us and say 'For your tomorrow we gave our today'"

On Sunday I drove to the other cemetery before returning to Bangkok
November is a busy month with Loy Krathong, Remembrance Day, Air Racing, and I will have to do another flight somewhere on the 25th.
I have to decide between Hong Kong, and perhaps Yangon as it's been recommended to me.

The Iron Bridge over the Ping River, Chiang Mai

I went for a bicycle ride around Wiang Kum Kam where the flooded wat in the picture showed why they built Chiang Mai on higher and dryer land.
Lamphun

I was roped into driving down to Lamphun and back.

I did three hours flying in this Jabiru during the Loy Krathong weekend

Two pictures from the parade in Chiang Mai, and three beauties in Lamphun. Loy Krathong is a cultural event every year.
Kanchanaburi tour

The POWs working on the Death Railway may have found some relief here; Nam Tok Sai Yok Noi.
I am standing where the railway would have passed.

The railway now stops here, and a Japanese steam engine has been placed as a memorial.

We drove to Hellfire Pass where the Australians have another small museum.

All of the rock above was removed by hand and explosives.
Hellfire, because the Japanese worked the men through the night using fires for illumination.
It was a surprise to learn that some of the guards were Korean and not Japanese.
The first night I stayed at the River Kwai Hotel, which at $58.53 CAD was a bit on the expensive side, and not worth it... The hotel was not up to standard.
So the second night I went cheap, $16.70 CAD, for a fan room at The Best Riverside Guesthouse. No hot water, cold shower, no air conditioner, just an electric fan. It was worth it.
Nights are not too hot this time of the year. The 'guesthouse' is on the water as pictured above from the road bridge.

A lot of the old steam engines were made in Glasgow, Scotland, in 1919.
I walked just over two miles before breakfast to the "Jeath Museum" (it's spelt that way), where the above steam engine is in the entrance with a less vintage Mercedes Benz on the tender.

This Cessna 150 has been placed at the 'Jeath Museum'. I'm a little unhappy about this as I spent many hours flying this aeroplane, and teaching in it.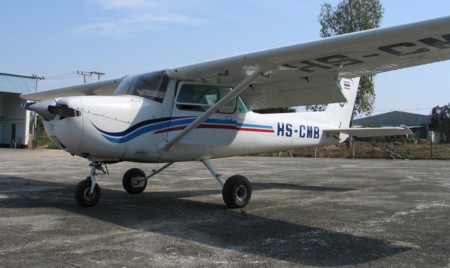 HS CMB 10 years ago, ready to go flying.

Sapan-gwai-yai = Bridge Gwai (river) Big
There's a Gwai Noi, small river, too. Note Kwai as we know it is incorrect, it's G'way in a way...
There were two bridges here, the wooden trestle bridge as depicted in the film, but longer, and this concrete supported bridge. There are pictures of this bridge after it was bombed during the war, though there are questions as to whether this was the original rebuilt, or a totally new bridge... I saw pictures of the repaired bridge showing bomb damage to the concrete pillars, so I believe this is largely original though you can correct me.
I took pictures of the river bank further upstream where I believe the wooden bridge crossed.

There are two locomotives, and a converted Japanese lorry that ran on rails next to the railway station.
This afternoon I drove back via U Thong where I dropped in to see the airfield there. Spent three and a half hours driving. The roads are good here, and on this drive there was only one idiot, driving a new Mercedes at speed, passing in the emergency lane. The rest of the traffic were well behaved, and it was an easy drive.