With no wind I decided the uphill takeoff on 34 which exited over a field was preferable than the less tempting 16 over houses.
Okotoks to Cranbrook BC, 19:18z - 21:27z.
Again the nose was raised too high twice consuming valuable runway, and the aeroplane veered to leave the right side of the runway... "I have control", again I lowered the nose and flew off the end of the runway... The crop was a nice light green, a carpet just below, it would be so easy to land in there... Ahead there was a road, and telegraph wires; I was not going to make it over those wires.
To the right were more wires, but further away, and so I did a careful ground effect turn while winding the wheels up and gaining energy to leap over the wires.
To assure everyone that all was well, I overflew the airfield before setting course for the Crowsnest Pass.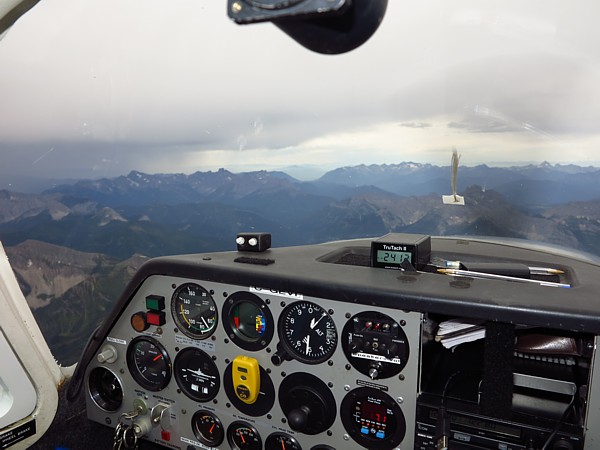 Above Sparwood with the rain over Fernie to the left, setting course direct to Cranbrook
At the Rocky Mountains we used the available lift to climb and by Fernie we were at 9,500 feet. But there was a TCU raining on Fernie and the rain took the Taifun down to 9,000 feet, no future in that!
Backtracked to Sparwood, and could see clear across the mountains towards Cranbrook, but not at a comfortable height.
I found a thermal and circled up to 10,500 feet and we comfortably flew across the mountains direct to Cranbrook BC. Added 35 litres 100LL.