Trip to England
Nearly two weeks back in Thailand.
I find being in Chiang Mai very relaxing, a time to reset my mind for the next adventure.
This life is one of travelling and doing without much prospect of a stable future. There's no reliable job no definite income, just the making of efforts in an uncertain direction in a Buddhist manner perhaps, while hoping things simply work out. Carrying on with a precipice either side of my path... Eventually for all of us we fall off the end of our life paths and we don't always know when.
For me I will continue to ride along this life path without panic, and hope for the best. I no longer have the mind to care.
In life we tend to achieve through our dreams, whether they be nightmares or positive experiences.
We have to be ready to take the challenges and face them head on.
We can not know the challenges each of us have in our disparate lives.
For me the challenges were in living with an enemy who had detrimental intent in my life.
I was dumped royally, my education (college) halted, my confidence destroyed, and a serious negative input left me emotionally bruised. This was a past that is best buried.
One day I nervously opened the door to Exeter Flying Club, and inadvertently I opened the door to my future.
How do we determine our life's path? We dream, perhaps as I dreamt of flight, and we set a life in motion.
We can be responsible, as I tried again and again to be, to do the regular job, in my case in a factory making aeroplanes, or in a hangar repairing aeroplanes. I've tried other work, but always it's back to aeroplanes, I can't stand anything else!
One thing I resisted was instructing... There's no money in it!
But life has not allowed me to escape this... Before I could fly I'd help my older brother with his ground school problems... I think of what I knew then, and how much I know now; do I know less?
The difference between an active young mind and an old tired mind is access to knowledge learned, and in old age forgotten. This is concern for writing exams again and again to prove one's knowledge again and again.
There's pertinent knowledge, the important things we teach a student, and then there's stuff you have had no need to memorise, but occasionally need to look up... Such things you may have to memorise again for an irrelevant exam question.
Last year I took a job in SMS in Thailand, but the Thai understanding of Safety Management is different to mine, and then there's the persistent need to fly myself.
I see how the new flying school is created, I wrote the SMS for it, I see them producing more and more documents, pages and books of blurb, but this stuff does not translate into properly trained pilots.
I see so much that appalls me in flight training.
Corners cut, the World needs pilots, standards can be reduced, corrected through sophisticated systems designed into modern transport aircraft.
Drones prove that pilots may not be necessary in the future, end of problem.
So here I am in England, a place I love to be, the place that took this nervous wreck and made him into a pilot and aviator.
I will go back to Canada from time to time... Learned a lot there, but progress was slow, and offensive in the early days.
But as much as I made the effort there, there was no future for me. With but a few good friends there I do not belong in Canada except for the job I do.
Now I accept the lunacy of this ride through life, jumping on jets to fly to Thailand, to England, to Canada, and those trips to Portugal. Let's see what comes of it.
This weekend I learned that G ATAU is for sale... Oh no, what about rebuilding the Condor and starting again?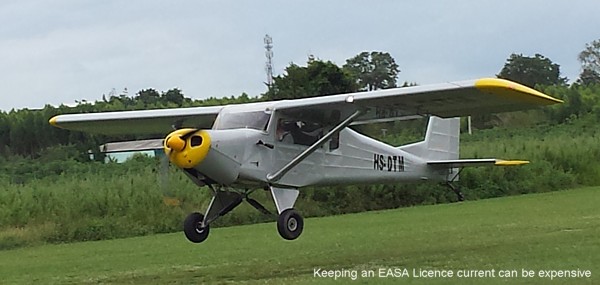 Before setting off to England I went to Bangkok... I was driven down to Pattaya.
Thailand is serendipity, and I believe in serendipity which tends to point one in a life direction, the World is saying "go this way Michael".
On the way down the Bangkok to Chonburi Motorway 7 I received a call; the pilot owner of a Murphy Rebel needed a dual hour to validate his EASA licence. But I can not do this for him as I am not EASA certified.
There was an organisation known as ICAO which tried to unify aviation around the World, but every country 'invented' aviation, and knows better than every other nation. It's a shame and a hugely expensive one too, as pilot qualifications are not recognised internationally except through extreme costs for those like me who hope to do our job in different countries.
So my EASA friend will have to fly to Spain to do his one hour flight with an instructor there to validate his licence.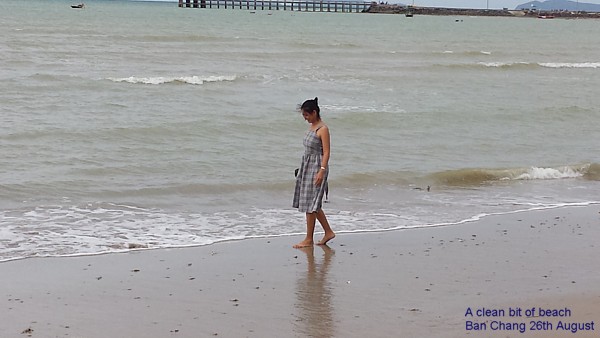 My friends in Jomtien had their 45th wedding anniversary and so we decided to stay one night in a hotel... I chose to go to the Lord Nelson Hotel in Ban Chang (of HMS Victory fame).
Ban Chang was the scene of a serious heartbreak for me in 2005, when money and prospects once again trumped my apparent lifestyle as a helicopter engineer earns more money and has a brighter future in a mother's eyes... I stayed two weeks then went north to Chiang Mai to fly and restabilise my gyros... Like when I was 19 there were two choices, end it all, or get on with flying!
But I like Ban Chang. The beach in front of the Lord Nelson Hotel is kept clean. As for the hotel itself; I can easily recommend it to anyone needing a place to stay in that area.
Sunday morning I could have gone flying, but actually didn't. I can easily give time to someone else, and then spend time with my friends, and what was planned today can be done tomorrow.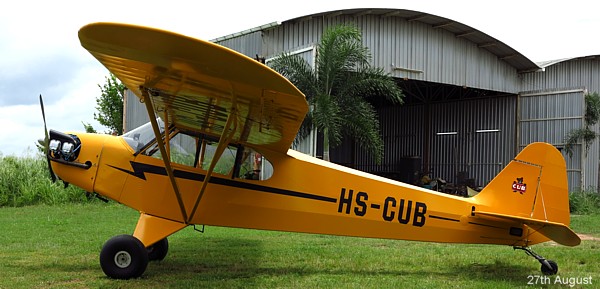 Tomorrow came, I had spent another night nearby the airfield, and so the Cub was wheeled out and I went for a ride with Jim.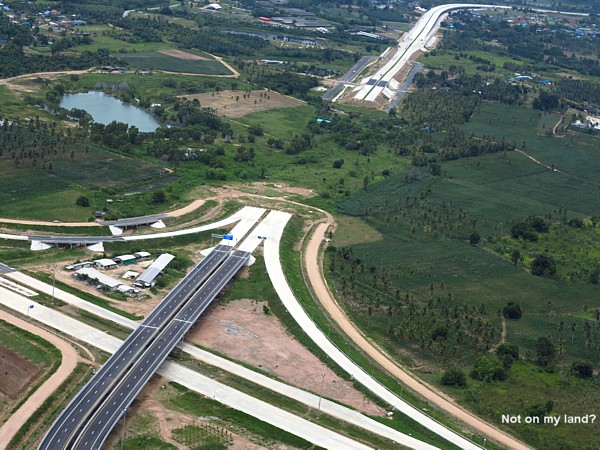 We bimbled for the best part of an hour looking down at the changes around our local part of Chonburi Province.
There's a new motorway complex in favour of the serious industrial development in this area... Unfortunate in many ways for the other industry; tourism, as the beaches and sea is terribly polluted in the popular resorts of Pattaya and Jomtien. The huge hotel complexes are sure to suffer since though they have beautiful swimming pools they are (con)fronted by dirty beaches and a polluted sea.
Clearly there was one protestor who will not sell land for the motorway... It will be interesting to see how this pans out. Will they bridge the land above? Take the land by force?
Back at the airfield we did three landings, Stop backtrack and go... Going around the water tower erected in the Cambodian village in line with 19, to touch down on the new grass that has been laid on the strip.
Around the airfield they are building more houses for the migrant workers employed here to build new factories, and to work in them. Eventually the field will be choked.
Nearby there's Pattaya Airpark which now lies quiet, its ashphalt runway unused, as the owners decided not to renew the airport licence, and some of its tenants decided to take their aeroplanes abroad as the CAAT is considered too slow and difficult to deal with... It takes months to approve anything, and so licences and permits, CxAs, CxRs, can expire and remain so making it difficult to have every bit of paperwork in place to enable an aeroplane and a pilot to fly.
Pilots face a similar problem here in England where the bureaucratic European EASA have made licencing both confusing and difficult to comply with.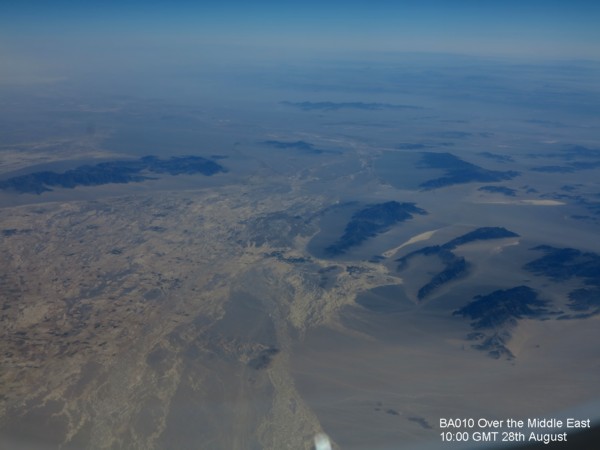 On Tuesday BA010 departed Bangkok Suvarnabhumi for London Heathrow on the direct flight...
I think I will have to book another airline next time as BA is no longer what it used to be.
The cabin crew were good, had a good attitude, and a necessary sense of humour, but this was an old aircraft with old small screens, and no headsets. (I used my mobile phone ear pieces).
I looked up at a coffee/tea stain above my seat, it was evidence of a lack of cleanliness, and of what would transpire on this flight.
The meal service was abruptly halted as we approached India with a few bumps and a sudden drop... Some screamed. The turbulence was great, and the strength of the Boeing 777 proven.
No spills for me fortunately, I had red wine, but had only put a small amount at a time in my plastic cup.
The flight went on...
The next meal service was before landing at Heathrow, a little too close to that time, and so us at the back had to rush the lasagna down... Lasagna without a tray, in its metal dish, simply put on a paper towel on the table. They had run out of food and food trays, and this was all that was on offer!
Care was required to not have a tomato mess everywhere!
British Airways has a long way to go to catch up with the standard set by Thai Airways and Eva Air on this route.
I tried to book Qatar Airways for this trip, but their website did not work.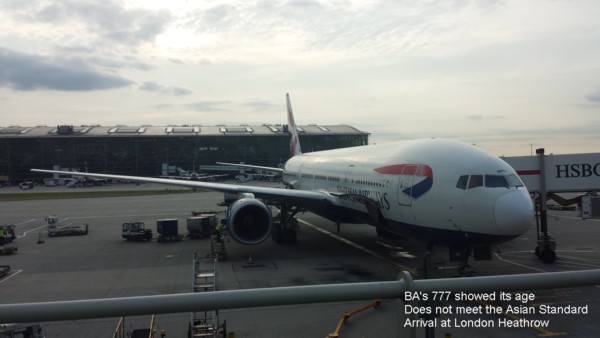 Let's go to Sywell
On Wednesday I walked to Guildford Station and took the train to Barnham to go and pick up the Mazda MX5.
I'd lent it to my ssister and she had left it at a horse (farm) in Fontwell. I had a pleasant healthy walk there.
'Drove to Goodwood Aerodrome where there was much work in progress as they prepared for the Goodwood Revival show with construction everywhere, aeroplanes removed from hangars, or trapped in hangars!
We extracted the Sherwood Ranger and ran its Jabiru engine... One cylinder was cold and both spark plugs wet, something wrong there... 'Will be sorted in ten days or so when it can be extracted again after the Revival.
On Thursday I drove to Redhill, enjoyed a sandwich at the Pilot's Hub, and then drove to Blackbushe for tea.
On Friday I drove to the LAA Rally at Sywell.
Back in 1977 I drove my Viva Van here with my younger brother and we camped out. After this I went to the Rally for many years, always flying in.
The Rally is an important pilgrimage for those of us who have flown in Britain during the 1970's through the 1990's. In those years everyone would arrive to listen to a taped broadcast of runway, QNH/QFE, and arrival procedure in use, and you'd have over a thousand aeroplanes turn up.
This time the CAA mandated 1 minute arrival slot times for aircraft which probably put a few people off coming, and at this time there are also many competing fly-ins, and shows not to mention those trapped at Goodwood for the show there.
I met a couple of pilots who drove or rode the motorcycle to Sywell because they could not get a slot.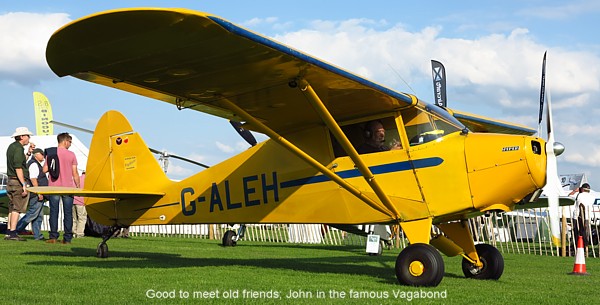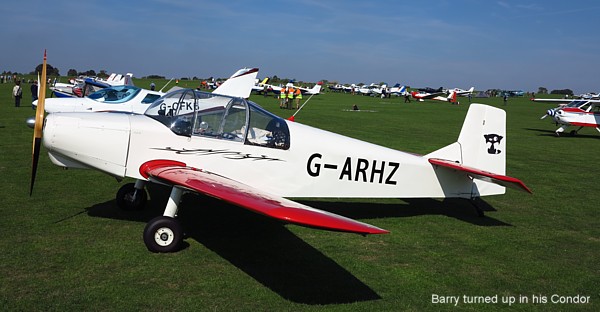 It used to be that I was recognised everywhere at the PFA Rally, but it has been twenty years or more since I attended a Rally and so I am largely unknown now.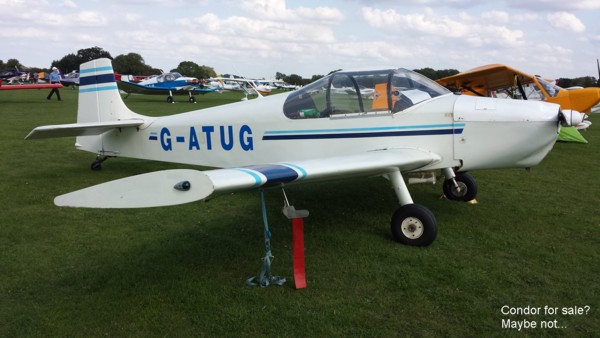 The owner of this Condor had many questions for me about they type.
He loved the aeroplane but not its performance, it has a C90 rather than the standard O-200.
Unlike the Diamond Katana, the Condor is still perfectly balanced with the 130hp RR Continental O-240 fitted, so perhaps if the 125hp Continental IO-240 engine is fitted you could have a real performer.
Some pictures from the Rally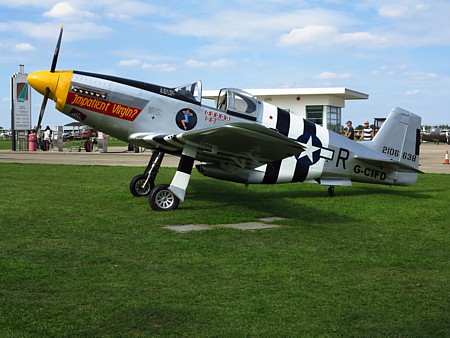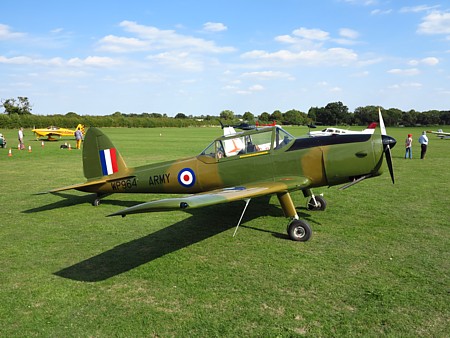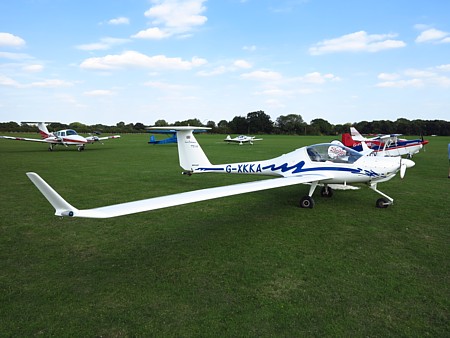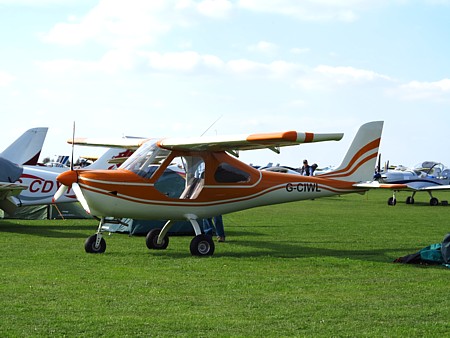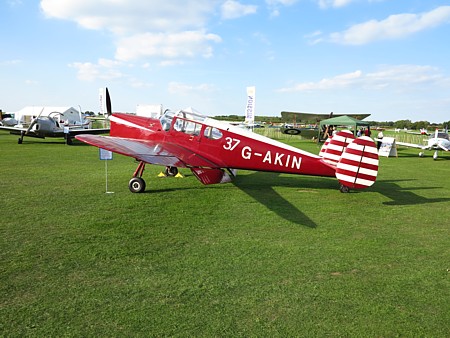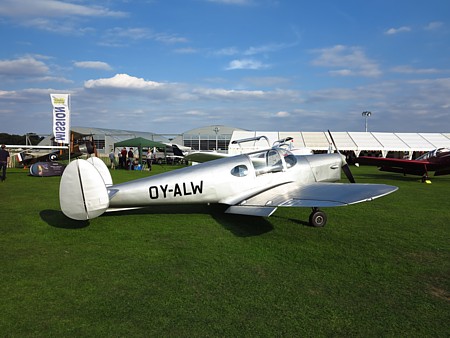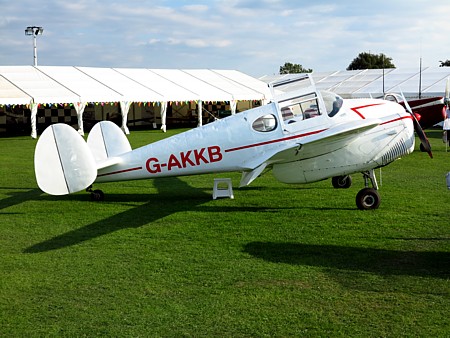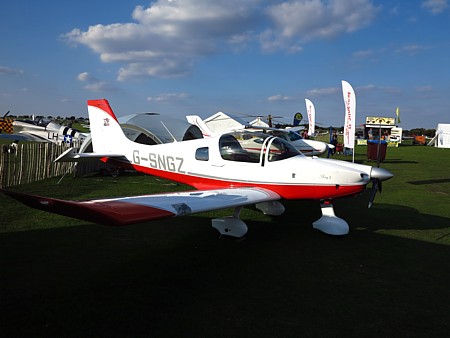 A selection of pictures from the fly-in
T51, Spitmunk, Super Dimona, Merlin, Miles Messenger, Miles Mercury, Mile Gemini, and a Sling
There is a production version of the Sling being made in Belgium called the Sonaca 200 which is being bought by progressive flying schools.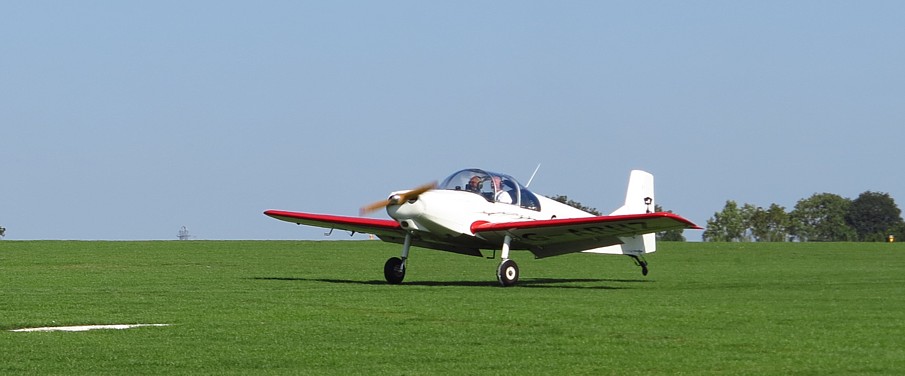 Barry and Mick arrive in the Condor on Sunday morning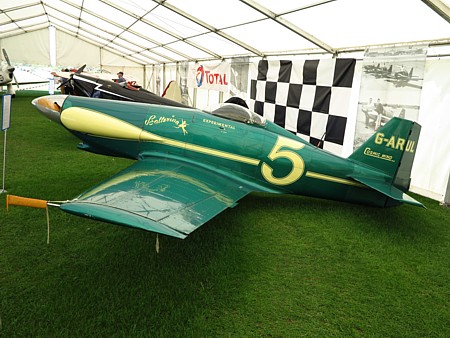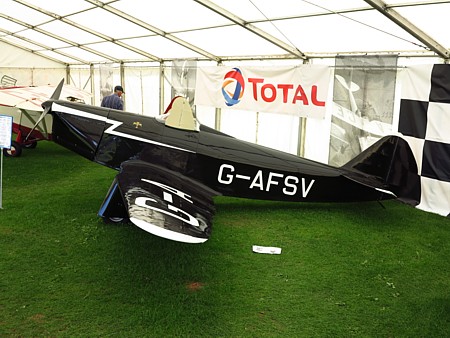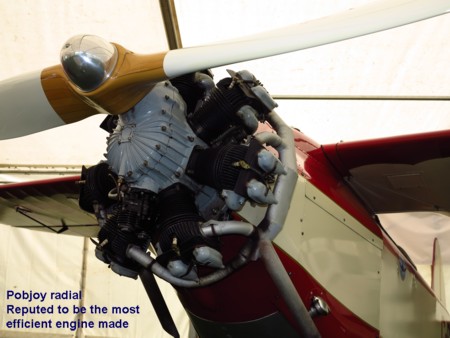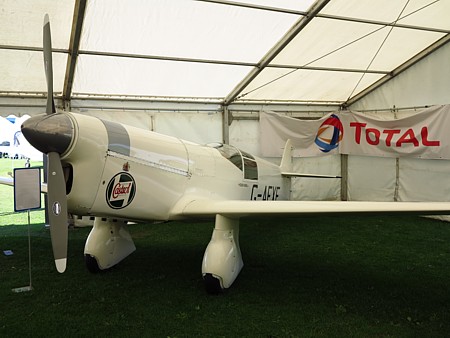 A tent contained a few single seat racing aeroplanes
The Cosmic Wind, Chilton DW1, Comper Swift with a Pobjoy engine, and the historic Mew Gull
The LAA Rally was a treat to go to with a feast of aeroplanes, a few old friends to meet, lots of talking, lots of photographs, sausages in buns, ice cream cones, and miles of walking on grass.

I stayed two nights, the first was intended, and the second was because I wanted to be social, and there was another day at the Rally, but I would change this!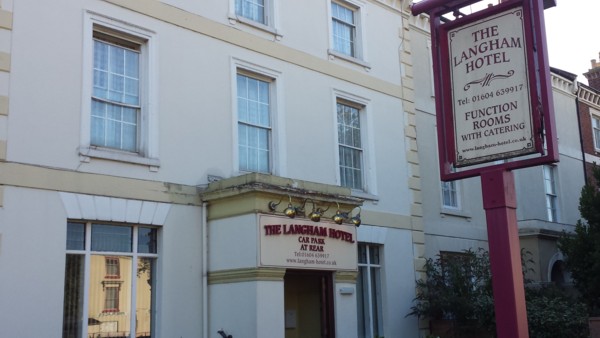 The first night was in this excellent hotel with good service, and an excellent breakfast that lasted all day.
The cost was £48 for the night and was good value for money.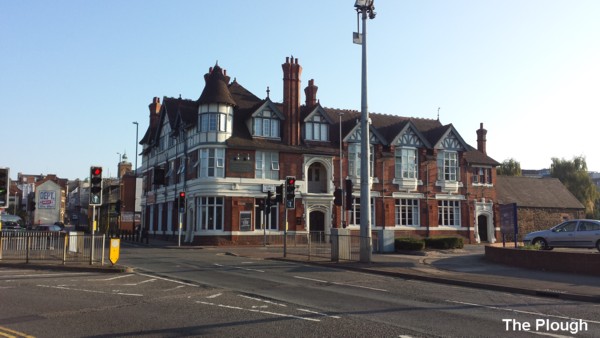 The second night was here and took some consideration as it was a steep £76 for the night.
I will go out of my way for my friends, but this took a bit of consideration... Everywhere was near full and so hotel rates were high, rip-off high.
This place was noisy, the room was small, small single bed (comfortable though), shared toilet and bathroom. I didn't shower, and put my trousers in my socks for a number two.
Horrible.
Breakfast was okay, but nothing like as good as the Langham Hotel.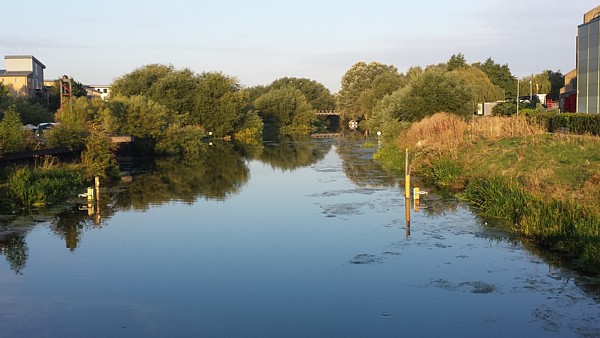 River Nene
I took walks in the mornings even though I'd walk a lot at the Rally, and like many English towns Northampton has a lot of interesting places to see, parks, and fresh air.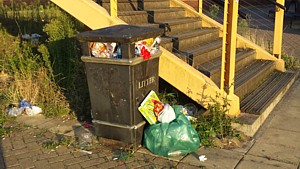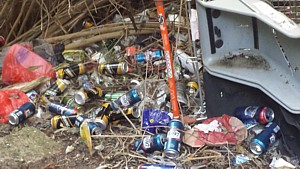 Guildford is clean while Northampton is dirty with a lot of rubbish everywhere.
There are bottles and cans everywhere... The bin divers in Vancouver would be wealthy here.
A 'Clean Up Northampton' campaign could be offset through recycling returns.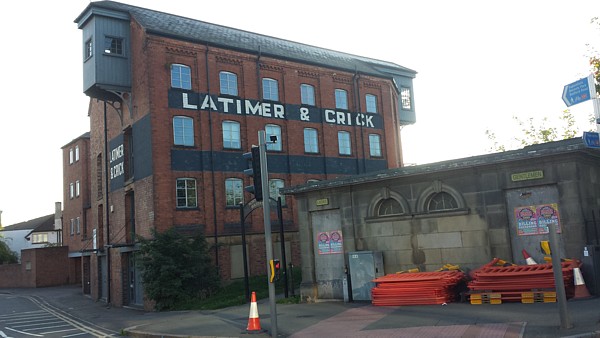 Many classic old buildings exist in Norhampton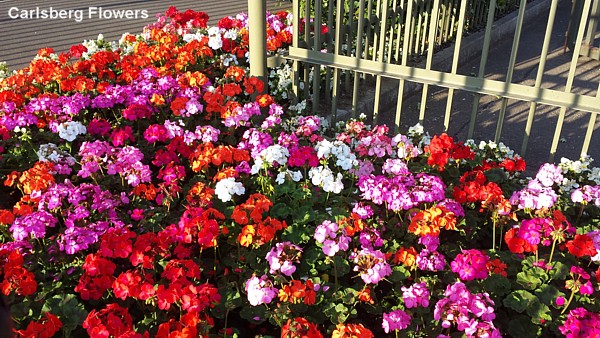 Colour still can be found, these at the Carlsberg Brewery.