Wishing You A Happy and Prosperous New Year
Rabbit Year to Come Soon
My 60 day Visa ran out on the 1st January and so I was in the Immigration Office on the 3rd to renew it. I was in a bit of a panic because I was two days overdue, and subject to a possible 1,000 Baht fine as well as a notation in my passport. Since the Immigration Office was closed on the 1st and 2nd of January I was forgiven the fine; phew.
My Visa is extended until 31st January, and I have booked a flight to Da Nang on the 28th for two nights in Hoi An, and one by the seaside in Da Nang before returning to Chiang Mai.
I am told Thailand is giving 45 days on arrival Visas now, we'll see if this happens when I return.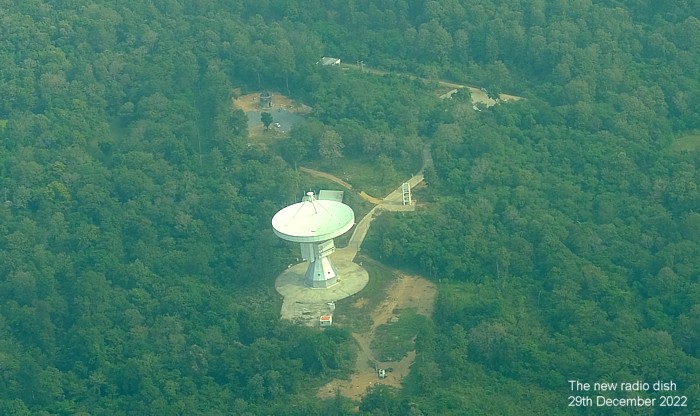 Final flight of 2022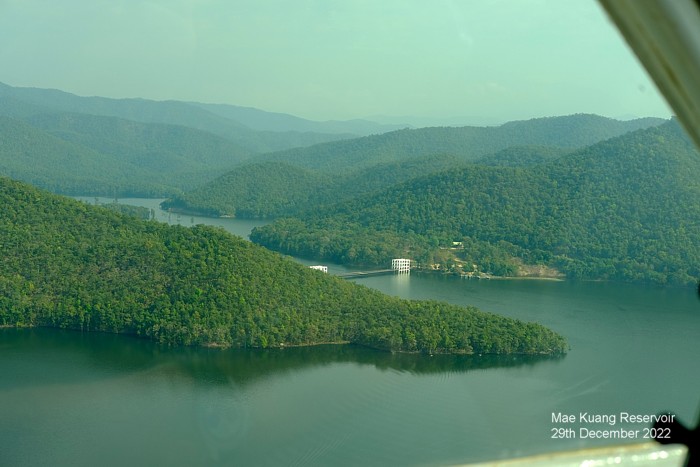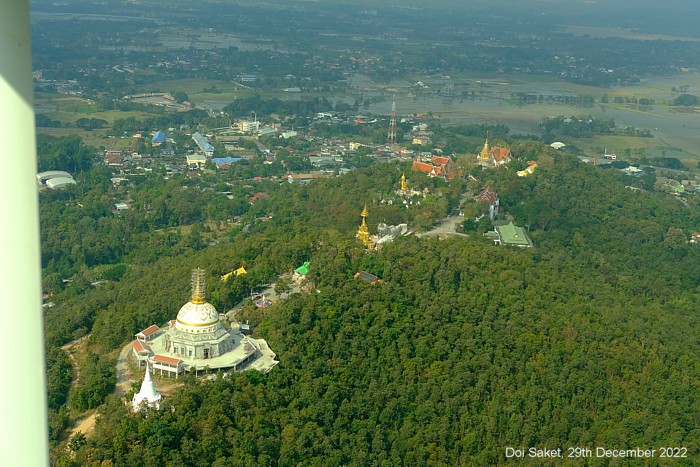 The final flight of 2022 was in the Jabiru 170, U-I11 (Ultralight registration).
Worked on radio procedures and steep turns, followed by a local flight.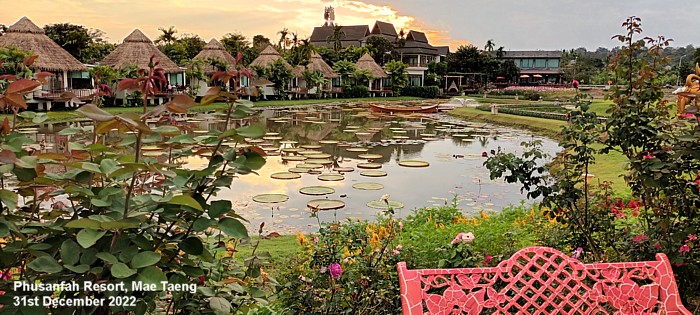 There's a new 750 metre runway being constructed next to this resort which may one day be extended for small jets
New Year's Eve I went with Koi and a couple of other aviators to see the new runway construction, and to have dinner at the resort.
The evening was spent back in Chiang Mai at the Good View restaurant besides the Ping River. I didn't stay through midnight though,
I rode the bicycle back to Nonghoi and saw the New Year in under the shower.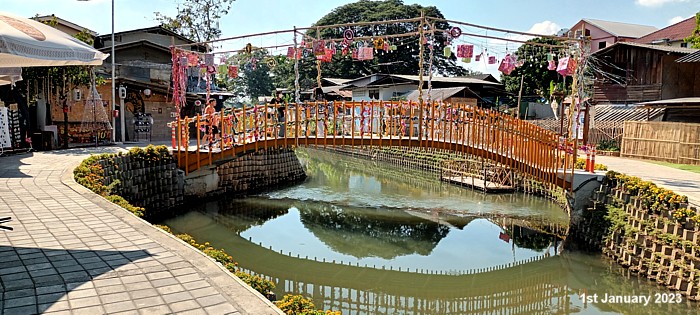 A new canal feature has been constructed and so I took a ride along it into a part of Chiang Mai I have not been to.
1st Day of 2023 I went for a bicycle ride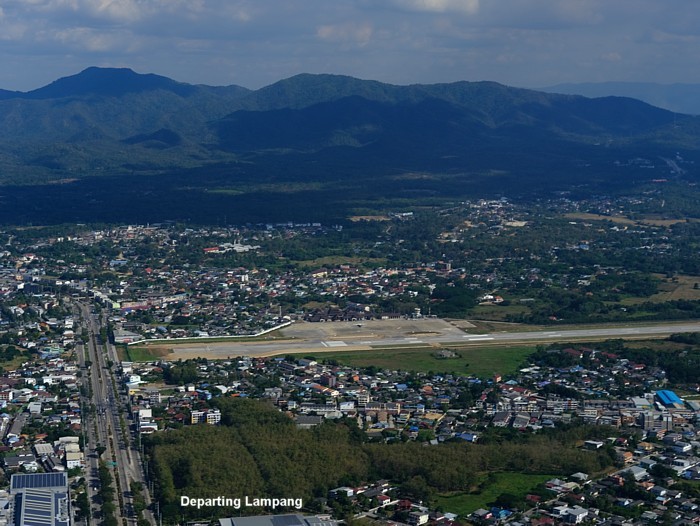 5th January we took the Jabiru to Lampang and back. This to work on Radio Procedures.
Ultralight pilots do not always receive cross country training, mountain experience, and radio practice.
Our flight outbound included low level mountain pass flying along the Chiang Mai to Lampang road between the mountains.
Returning we climbed to 4,500 feet and flew over the top, past the peaks, and crossed two ridges while discussing visual and wind effects.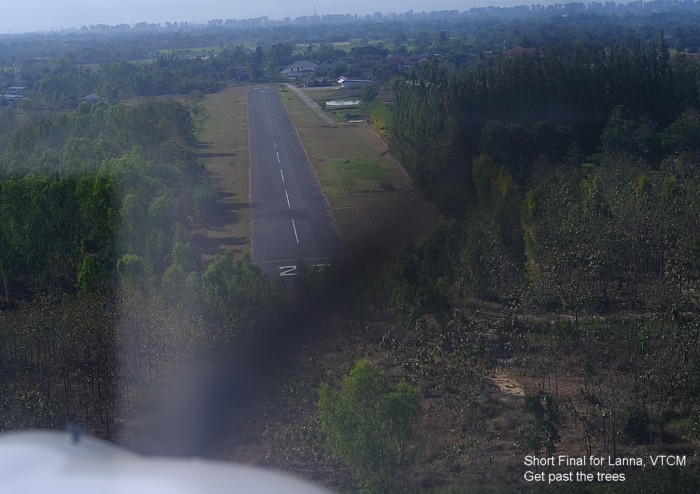 Arriving back at Lanna, VTCM, we have to be aware of the trees on private land close to the threshold of 27
Yesterday, 6th, I went for another flight in the Jabiru and now I want Joachim to go and do some solo practice. Be aware that I can not instruct here in Thailand but I can go for a ride, and to give some advice.
I'd love to have something to fly myself, and I do have a Thai Validation of my licence, but you need a validation for every club or private aircraft you wish to fly.
The club with which I have a validation does not have any aeroplanes available at the moment... Maybe in six months or so...
So I wanted a validation with another club, but this is not forthcoming, and after a couple of requests I accept that, 'Thai Style', this won't happen.
Possessing at least one Validation here means it is a lot easier and quicker to get another Validation to fly another club's aeroplanes.
I am a little upset with a personal issue at the moment, and in this I must be careful.
As a pilot I do all I can to protect my health, and sometimes in this lifetime I have been put through emotional stress.This requires very careful control on my part, and the ability to put it aside and not let it affect my ability to do what I do.
But there's also the Michael on the ground, and solo fun ground trips require a positive effort. What do I do now?
Book my trip to Da Nang, that was a good trip Christmas 2019, and so it's something to look forward to.
A English friend had a stroke and is in hospital in Khon Kaen, a reminder that blokes of my age need to stay physically fit, and avoid serious emotional stress.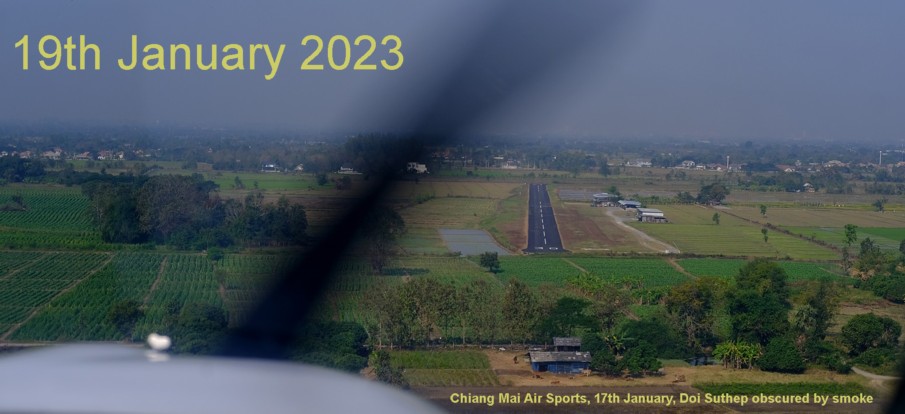 Wishing You A Happy and Prosperous New Year of the Rabbit
Unfortunately the farmers are back at work filling the sky with smoke as they burn the undergrowth and the stubble in their forests and fields.
This means the air quality in Chiang Mai is becoming toxic.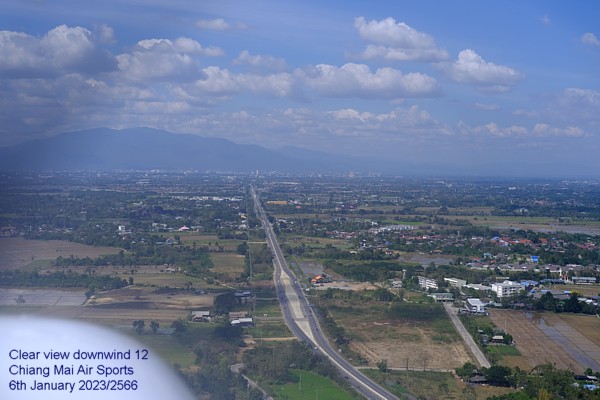 Contrast the visibility in this shot taken eleven days earlier and the heading picture
One kilometre between camera positions
Every year the same tragedy occurs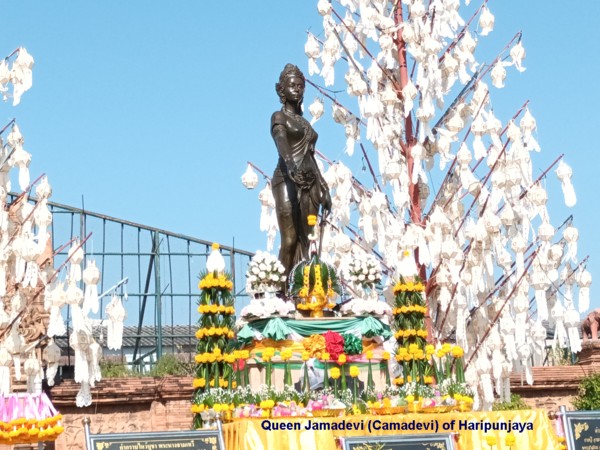 I've had visitors from Canada, England, and Hong Kong and shown them around
Taking people around the sights of northern Thailand gives me purpose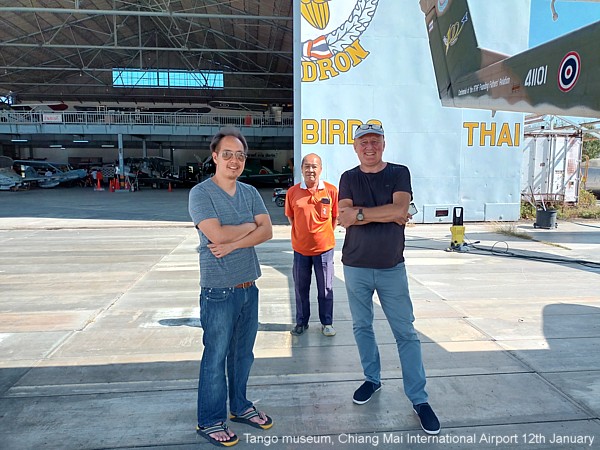 Arranged a trip to the museum with Rick who was ex Biggin Hill and Redhill in the 1980s
He flew in the Condors and Slingsby T67A with me back in those days. Aviator friendships endure.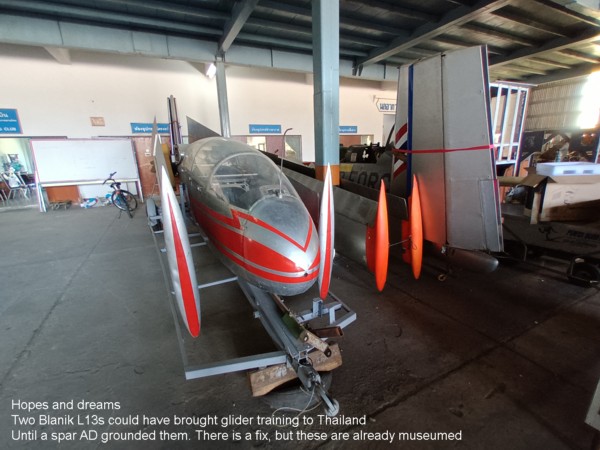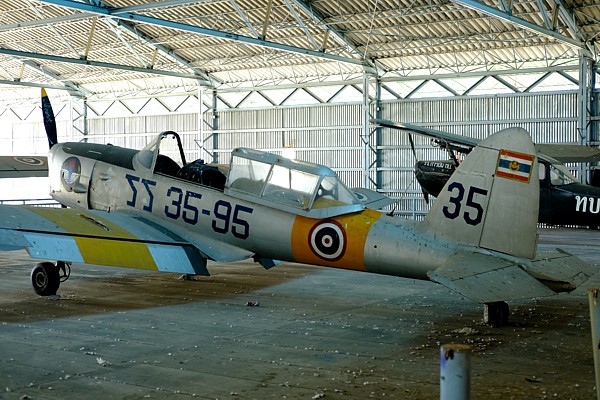 The poor Chipmunk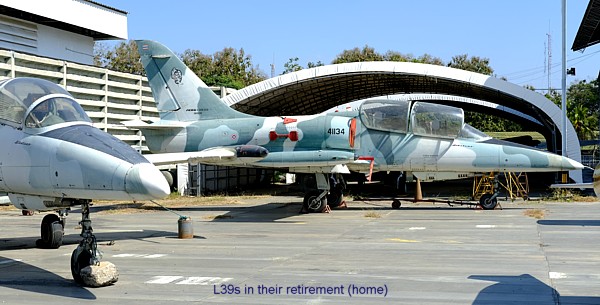 Meanwhile outside: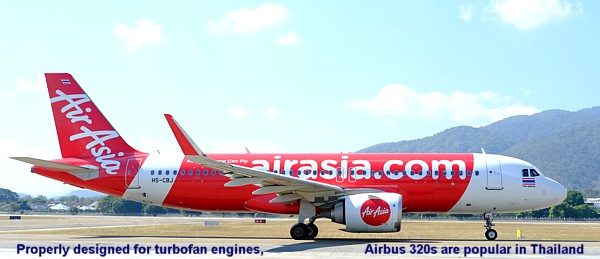 It will be interesting to see whether Boeing 737 Max airliners can make a go of it here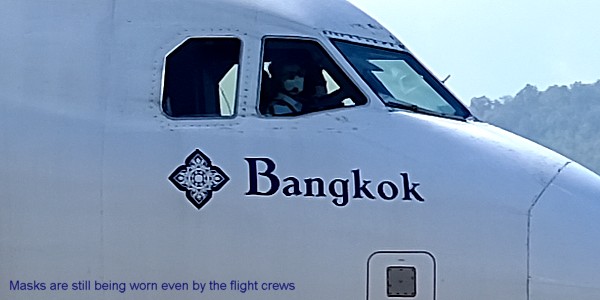 Outside there's a good view of the jets lined up for 18 departures
Children's Day, 14th January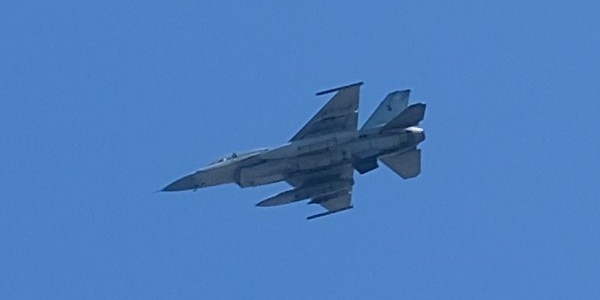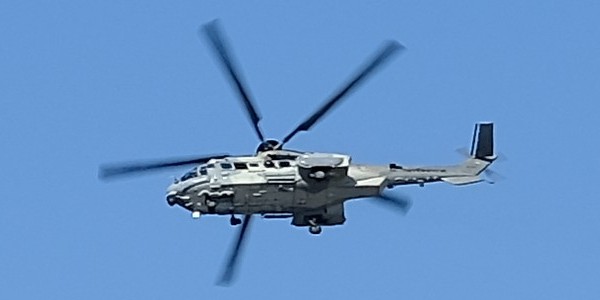 A small air display was viewed from the far side of the airport
RTAF Wing 41 hosted a large event for the annual Children's Day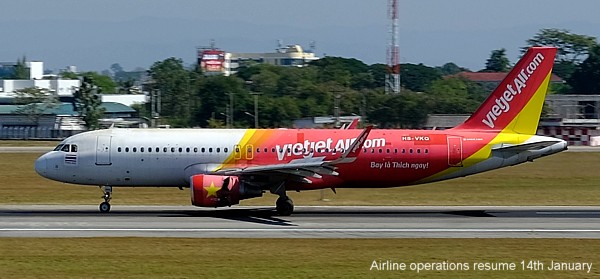 We all met at the Fernpresso Cafe on the west side of the airport
Truck It!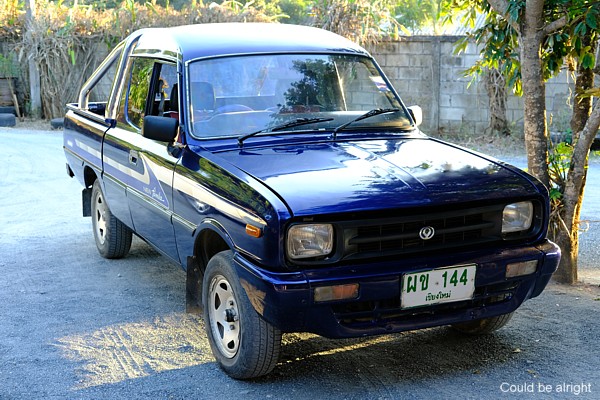 Mazda Familia pickup trucks are cute, with economical 1400cc petrol engines, and are 'typically Thai'
There was a perceived requirement for an additional 'utility' vehicle for use here and a 'collectible' one at that. Maybe this was premature, we'll see.
The little Mazda Familia trucks are popular, and if they're in good condition they're collectible, hopefully this one will retain its value even after the additional expense of fixing it up.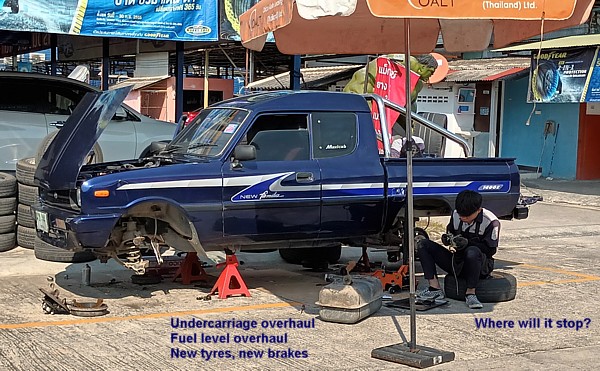 The best thing about this 1995 truck is its body, it's rust free and in original paint.
The steering was shot, the fuel guage did not operate properly, the speedometer did not work.
Already indicating high mileage, who knows how many more kilometres it has travelled?
The compressions are good, and the engine performs well. It can be available for visitors.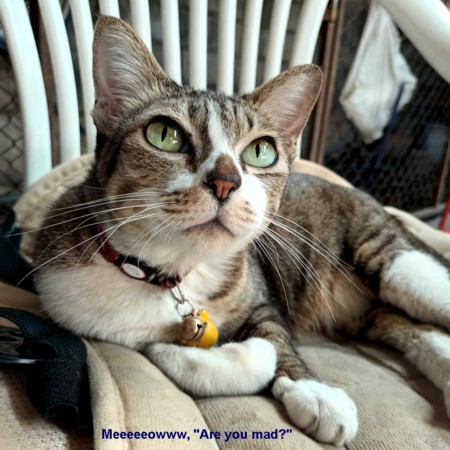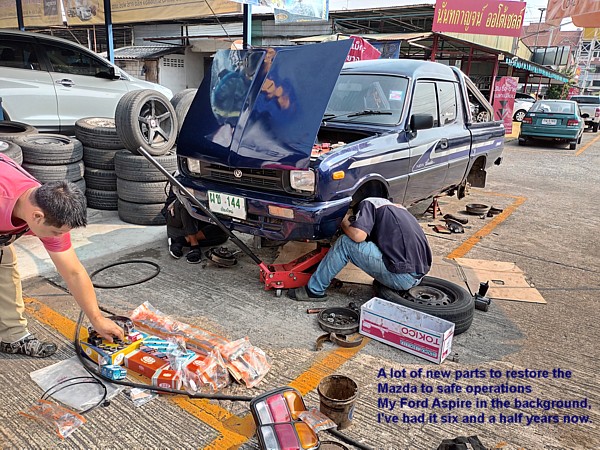 It's quite daunting seeing how much is going into this truck. Yes there are new rear lights as well.
But though vehicles are expensive to buy here, parts and labour are economical, and they do a good job.
Four new tyres cost 1,200 Baht - £30, each.
There was a plan to fly to Pai, but this may not be possible in the poor visibility. The smoke season lasts into March and so this is not the season to be in Chiang Mai. It is sad that the law is ignored and the farmers think it's okay to poison their fellow humans and creatures, filling the hospitals with respiratory illnesses.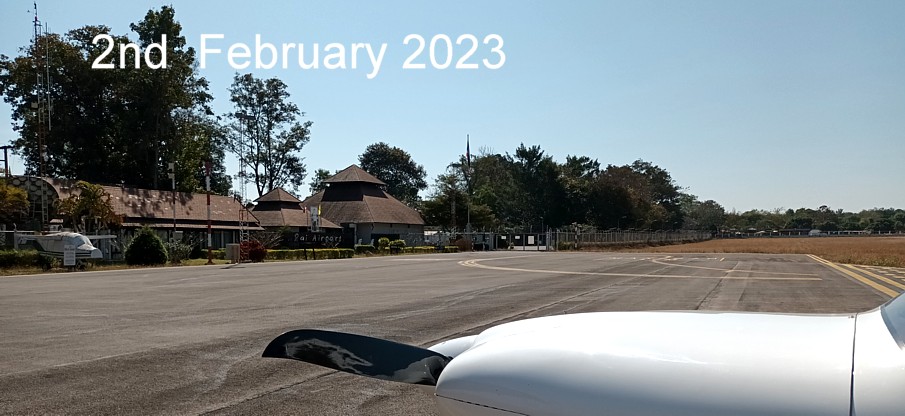 Wishing You A Happy and Prosperous New Year of the Cat.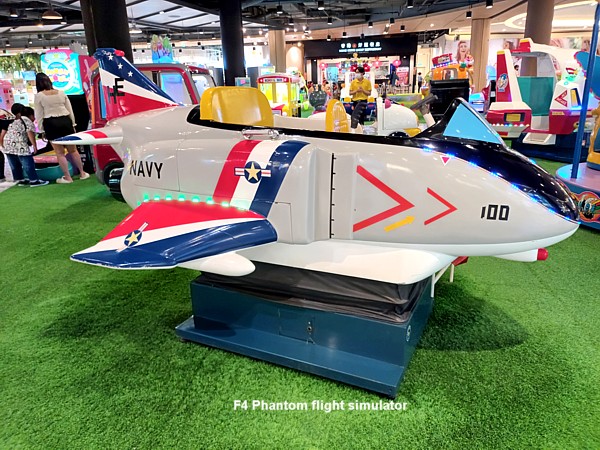 Thailand's shopping malls are very modern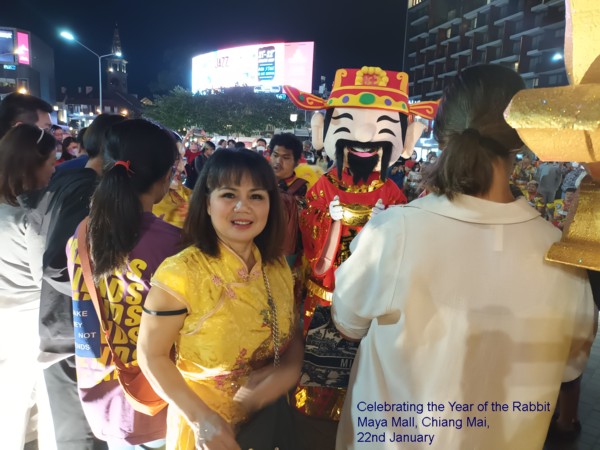 Chinese New Year was a big celebration in parts of Chiang Mai
Flight to Pai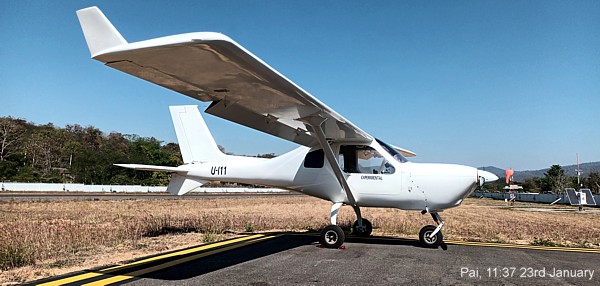 Ultralight registered aeroplanes have limited cross country permits.
There's no requirement for cross country training for ultralight pilot licences in Thailand. The original spirit of such rag and string ultralight/microlight aeroplanes was to two stroke your way around a patch; not to go anywhere!
Ultralight aeroplanes are very much more sophisticated than they once were, and there's no proper distinction between them and so called normal aeroplanes.
The Jabiru is now able to go places such as Lampang and, this time, Pai.
We took 56 minutes to fly to Pai routing via Doi Saket and then 15nm north of Chiang Mai Airport.
I was surprised when CM Approach approved a climb to 4,500 feet when we reported over Doi Saket, our route crosses the departure path for traffic departing runway 36.
Already the smoke is having a detrimental affect on visibility, but so far not as bad as I have seen it before.
Approach was quick to hand us over to Focal the local military control on 127.0 and it was an easy flight through the mountains to arrive at Pai where we made blind calls as we checked the wind sock and then completed a circuit.
Signing the airport register we noted that there had been no flights for a couple of days. Thai airports are well staffed, and our 85 Baht landing fee is a small contribution.
A taxi ride into town, and then back cost 100 Baht each way.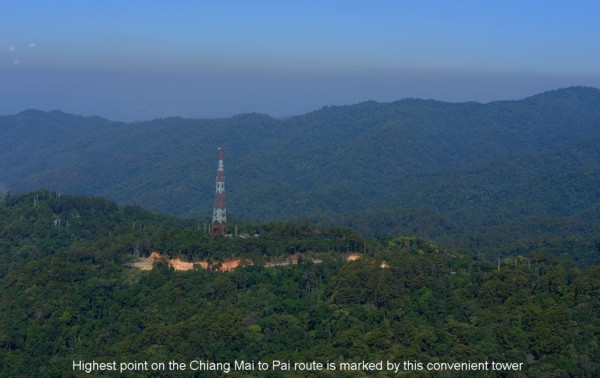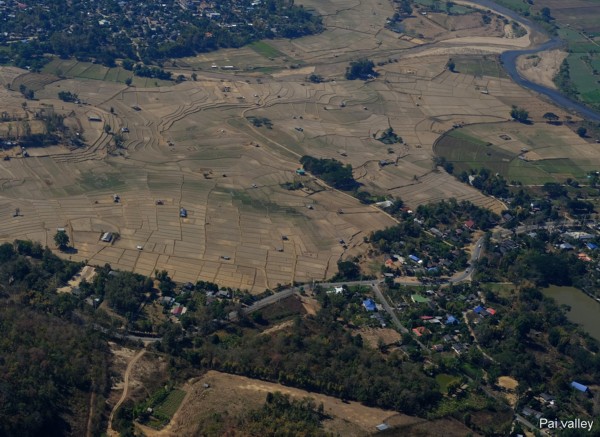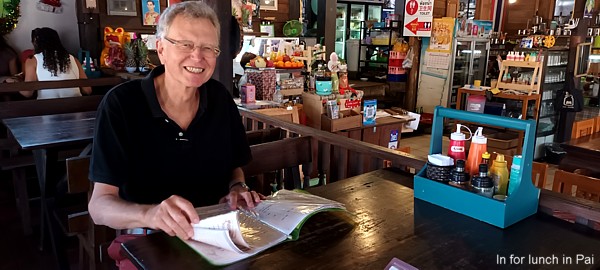 I call Pai "Farangsville" as it is full of foreigners. The place was well populated with them, and us!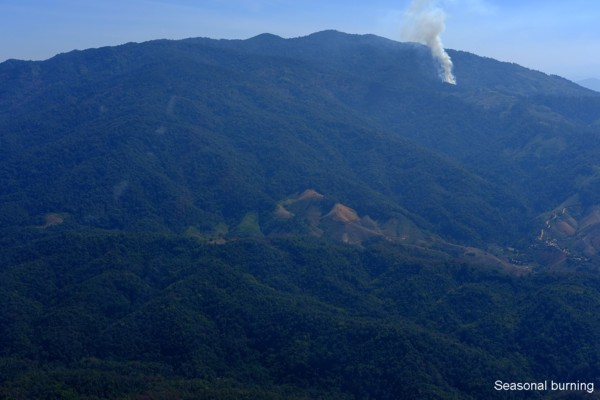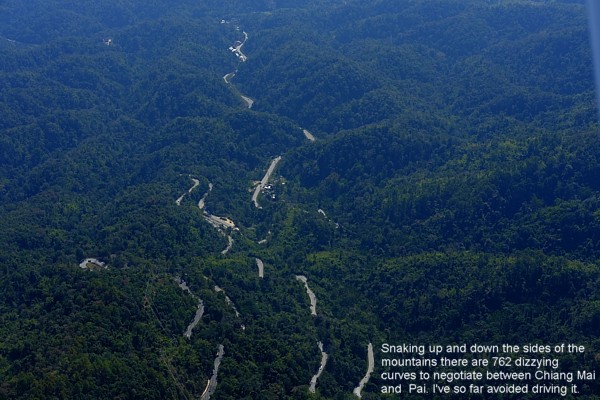 The flight back was at 5,500 feet, once again via Doi Saket, and took 57 minutes.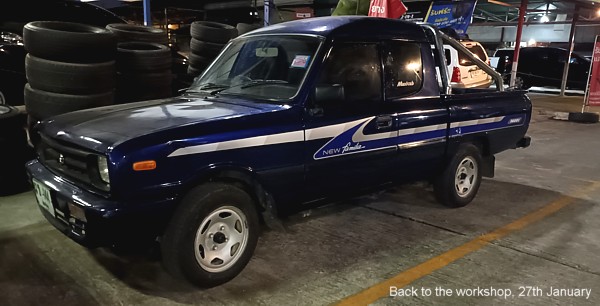 The truck needs final touches, new seat belts, the dome light, and a new rear view mirror
Trip to Da Nang and Hoi An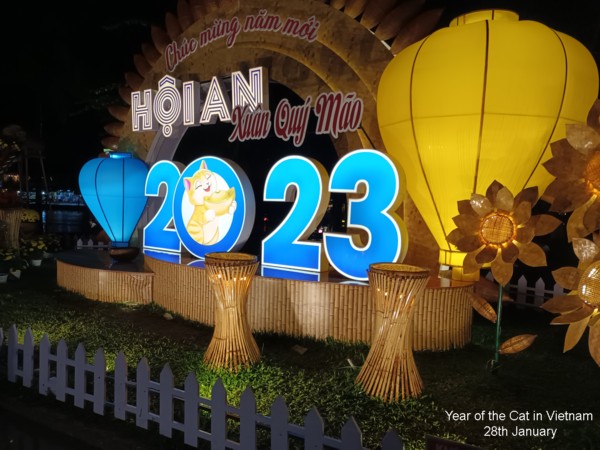 China celebrates the Year of the Rabbit, Vietnam the Year of the Cat
For this trip to Chiang Mai I applied for a sixty day visa. When this expired I went to the Immigration Office near Chiang Mai Airport and paid 1,900 Baht to get another 30 days.
You can only do this once and so if you want to stay longer you must do a border run. If this border run involves flying back into Thailand you currently get 45 days on arrival, and so I now can stay here until the 16th March if I want to... I will have to decide whether I should change the date of my return flight soon.
Saturday morning I was up at 05:30, had some muesli and tea, and took a Grab ride to Chiang Mai Airport.
The Air Asia Airbus 320 pushed back on time at 08:00 and this meant arriving 15 minutes early at Da Nang.
Enroute my system made it clear that I still had gastric troubles, and still have as I write this!
There were long queues for passport control at the airport.
Because it's cold in the mornings I wore a jacket which I considered to have been unnecessary for when I arrive in Vietnam. I was there for Christmas 2019 and didn't need one then.
It was cold and raining in Da Nang! I'm glad I took the jacket, and wished I'd taken a warm jumper/sweater as well.
Expect to be ripped off in Vietnam... They tried it on with me in Saigon before, so I was careful, and so I took a metered cab to Hoi An.
Not careful enough, it cost me 650,000 Dong when it should have cost less than 300,000.
I had taken a further million Dong out of a HSBC ATM... The Vietnamese are nearly all millionaires!
I also took $60 USD in cash with me as this was necessary in 2019, but not now. Nobody asked me to pay in American Dollars.
I had booked the Hoi An Riverland Hotel for £46 for two nights through Agoda.
Hungry, after check in I wandered around to Phõ May for an excellent bowl of their speciality.
On this trip though I could eat little further as something I ate in Thailand before I left has given me gastroenteritis. I did not have any evening meals and rather ate a small lunch during this time. It's great for losing weight I suppose.
I still have it as I write this and, though I have eaten, it has not yet left my system.
The charming receptionist, Phuong, managed to sell me a trip the next day to My Son World Cultural Heritage site. It was well worth the 650,000 Dong it cost.
I got up the next morning and she cooked me an omelette, and at the site we were fed chicken noodle soup, but that evening I could eat nothing.
My Son Temples Tour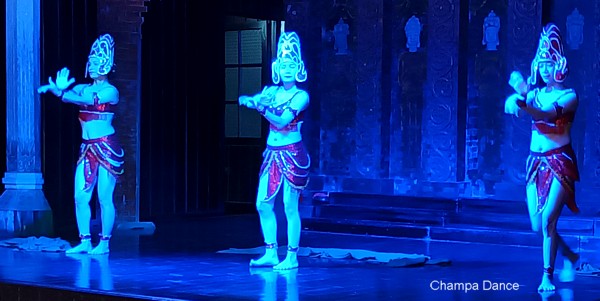 Unfortunately we arrived to see the final few minutes of this show.
I am reading a history book: Thailand, A Short History, by David K. Wyatt again. This history is also a regional history as all areas of South East Asia have had relationships.
For a long time Champa was a Kingdom in the central part of what is now Vietnam.
Like the Ankorian Empire which ruled much of what is now Thailand, Champa followed the Hindu - Brahman religions which themselves developed from Buddhism to fulfil the human need for heros in the form of deities.
Religions in southeast Asia were not the reasons for war,instead there was the need to capture human resources to build empires. The capture of people to become slaves was more important than gold.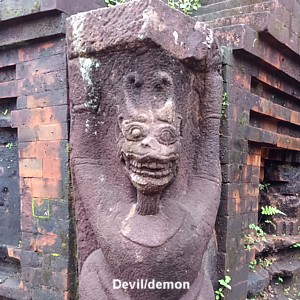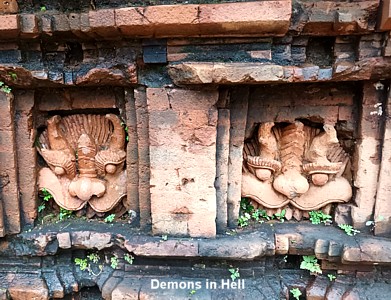 Religious appropriation
The concept of Heaven and Hell is a very common one and predates modern religions such as Christianity.
The Hindu and Buddhist devil images and the Demons of Hell are common scenes copied in modern religions.
These combined with being told I was going to be severely punished by God and sent to this horrible place called Hell where the pain will be even worse than the belt on my backside meant the child Michael having terrible nightmares. The practical escape from the horrors of religion is to be rational, believe in what you see, what can be proven, and leave blind faith to those who need to find comfort in their religion. I believe that irrational religious imposition amounts to cruelty to children, it was certainly this to me in my childhood. We need to know good from bad, but do we need an imaginary friend/deity to tell us?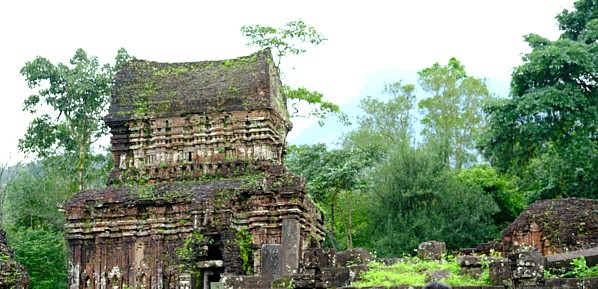 The surviving temples are Indian style in their origin and resemble those of Ankor.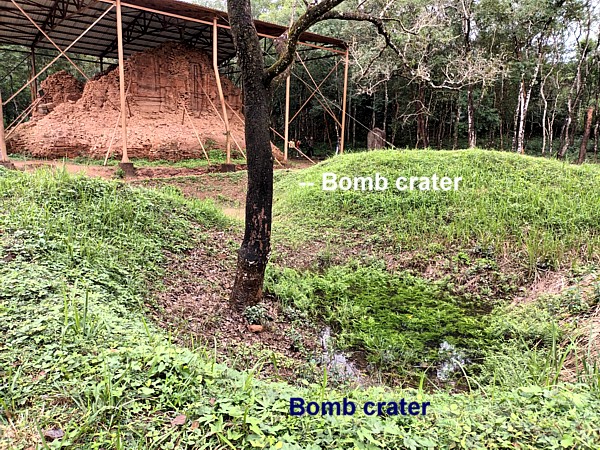 My Son was subject to bombing by B52s, truly Hell on Earth at one terrible time.
Many of the temples on this site were blasted to rubble.
There are many bomb craters on the site, and inside one temple there was evidence of explosions, perhaps a few grenades toosed through the door?
Bullet, grenade, and bomb damage to the structures are evidence of a terrible battle on this site; no respect for history, blood shed for political ideology.
Today the government of Vietnam is Communist, but the economy is Capitalist.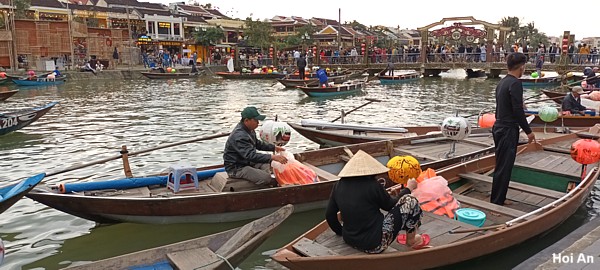 People making their living, running their own tourism businesses in Hoi An.
I enjoyed my walks around Hoi An, and I tried a few cafés. In Aimée's I ordered a hot chocolate, 45,000 Dong on the board, 54,000 Dong charged, and it was only half a small cup,'won't go there again.
At the Heyday Café I had another coffee, it was very nice and the place was very friendly, and so I stayed for a while and had a mango smoothie.
After my trip to My Son I was dropped off in Hoi An and went on walk about. I am still capable of walking for miles and miles exploring the places I visit.
I checked out two concrete gun emplacements where plaques celebrated the victory over the 'American Occupiers' when these bunkers were taken by the victorious army and the Vietnamese people.
Walked a long way back to the waterfront and stopped at a café where I sat and chatted aeroplanes with David who had recently retired from the Royal Air Force. Here I tried a cold ice coconut coffee, it was very nice, and then I joined David in a small Tiger beer.
The Sun came out at last and the temperature increased to +20ºC.
The nights were cold, and I resorted to doubling the duvet over for extra insulation.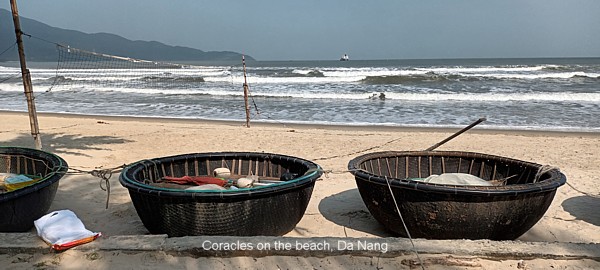 I spent my third night near the beach in Da Nang.
Monday morning I walked about looking for food, eventually I noticed bakery items in a corner café so I stopped for a micro pain au chocolat, and a micro croissant.
On the way there was a shop with a tented front, flower wreathes adorned this, and there was loud music, enough to wake the dead? Indeed it was, it was a wake for someone recently deceased.
The taxi ride to the Dana Marina Hotel in Da Nang was 290,000 Dong and enroute I spotted several hardened aircraft shelters. Later I looked at Google maps and behind a wall there was another large air base close to the seafront.
I was given room 1401 with a good view of the seafront... If you are not superstitious 1401 is in fact on what would be the 13th Floor... They don't want a 13th Floor!
I walked the beach and sat for a while here and there.
I could not decide what to eat and so had a sausage coated in ketchup and in a baguette, a mango smoothie, and a cranberry topped frozen yoghurt; all for 100,000 Dong.
Since I didn't want to take another million Dong out of an ATM I did not eat anything until the next morning.
My room was warm and comfortable and cost me 435,000 Dong ($18 US), check out was efficient, and I began my walk to the airport.
I now had enough money left over to buy a hot chocolate and a cream filled croissant at a café.
On the way I passed two places where they were clanging Chinese symbols, and beating the drum for the new year, Lion dancers too.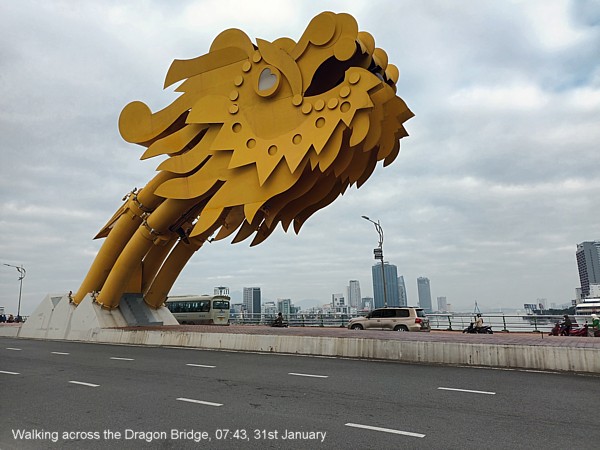 I decided to walk to the airport, just over an hour from my hotel.
The souvenir shops and eating places in the airport terminal still price everything in American Dollars.
Thai Air Asia was on time arriving back at Chiang Mai, and my passport was stamped for a further 45 days stay in the Kingdom of Thailand.
I walked to Airport Plaza and had Khao Soi Gai and iced lemon tea. Then a DQ strawberry sundae before taking a sorng taew home.



Going here going there aha.
Driving can be hazardous here with motorcyles everywhere and so you need your eyes forever scanning.
Not good enough. On Wednesday I arrived at the entrance to the apartment building's car park with my indicators flashing correctly and I waited for the opposing traffic to clear.
I commenced my turn when a motorcyclist tried to pass me. His bike glanced off the front right bumper, took some paint off, and the rider's girlfriend banged her shin. I did not expect an idiot to try such a stupid thing.
The motorcyclist said he saw my indicators but thought he would be faster at passing me... He said he had a motorcycle licence.
More haste less speed.
I drove up with a friend to Mae Taeng to pick up a car. He drove us up there at speed, dodging in and out of the traffic,
On the return I left several minutes after he did, I am not a fast driver, and I don't often weave in amongst the traffic. Sometimes you have to pass on the inside lane as someone drives slow in the fast lane but this is not ideal... Lane discipline is not good here, it's as bad as driving in Vancouver.
In any case, at the final traffic light, on a U Turn I was just behind my friend's car. I can imagine his drive back, zoom zoom, dodge dodge, compared to my more pedestrian way of driving, and yet here I was at the end of our journeys sitting right behind him.
I used to refer to this as "Road Speed", meaning that as fast as you might drive, as much effort you make in passing, ultimately you arrive at a destination at a similar time to everyone else. In Vancouver this road speed is around 37 kilometres an hour.
Only on a clear motorway might your road speed increase.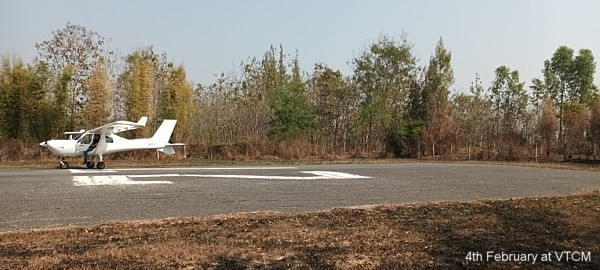 Making sure there's no tappet noise from non-functioning hydraulic valve lifters.
The Jabiru is not designed for steep approaches, and if you have the airspeed a few knots too high it will float the length of a short runway.
So precise flying is required, to be at the right height over the trees, and right speed to flare and touchdown within the first yards of the runway.
Marker boards either side of the runway help as if you are on the ground before them you have enough stopping distance remaining. Going to touch down after the boards? Go around.
We flew 7 circuits at Lanna Aerodrome, VTCM.
Eva Air
There was the chance we would be able to do some flying here, but the CAAT is slow in issuing CxA, CxR, and Five Year Permit documents. Thai Air Radio has to issue a new Radio Station Licence when an aeroplane ownership is transferred. For this reason aeroplanes sit grounded for months awaiting these documents.
In Canada, the US, and Britain, you can buy an aeroplane and immediately fly it. The CxA is separate from the ownership, CxR is changed with a temporary document, there's no restrictive Five Year Permit, and many people do not bother with radio station licences.
As of now I have given up on doing any flying for myself this trip.
Due to the Five Year Permit nonsense, I can only fly aeroplanes of the flying club I have on my Validation.
To fly elsewhere, I need another Validation to fly aeroplanes under their Five Year Permit.
I wanted to get a Validation for another club, but this proved to be too difficult for the club concerned.
I went online to change our departure date to the 8th March.
When I booked I paid an extra £45 for a 'free' flight change as it has often been necessary for me in the past.
First I did Khun Ko's flight, not a problem, and I paid the £45 fee on my credit card.
Logging on for my ticket however failed. It was annoying until I joined my forename and middle name together without a break. I had paid £45 for a change in advance, but was charged £135 to change my ticket. Three times as much, and four times if you count the £45 I paid in advance.
Heading south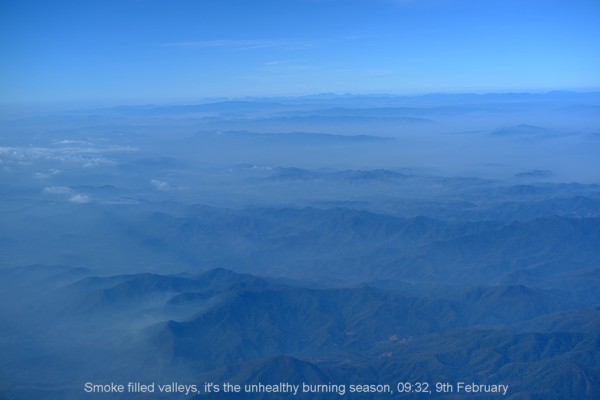 Climbing first to FL110 then FL190 and finally FL270, to cruise down to U-Tapao.
Ed mentioned he was going to fly to U Tapao... Being an opportunity not to be missed, I asked if I could come.
We departed Nok Airfield at 09:22 and contacted Chiang Mai Approach... The controller gave us 3,000 feet straight away and this was welcome as heading towards mountains at speed is a great worry at 2,000 feet QNH.
Step climbed to Flight Level 270 for an efficient turbine cruise until BKK VOR whereupon we descended to FL200 10:35, FL170 10:40, FL150 10:45, FL130 10:48, then down to 11,000 feet to report PIWAT and start an RNP approach to runway 18. We landed at 11:08 local time.
I did the radio until the Initial Approach Fix whereupon Ed took on that task. It was good practice for me to do the IFR radio work, it's been a while.

After landing, refuel and then be handled by M Jets staff, back to the terminal.
Jomtien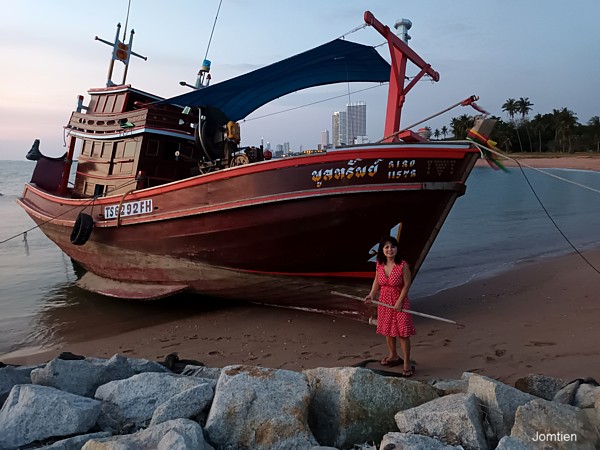 Evening on the beach.
Ed dropped me off at my friend's house in Jomtien where I had coffee and then I walked to the Nantra Hotel which was only 15 minutes away.
The entrance was hard to find and while wandering around Khun Ko turned up after her long drive from Maha Sarakham.
We found the entrance down a tight hidden alley. Parking was available across the main road, or by reversing down this tight alley.
The hotel itself is very good. Like many hotels here it has deterioration, and with no income during Covid there was no money to fix minor things.
But it was comfortable and right by the sea, and within my meagre budget.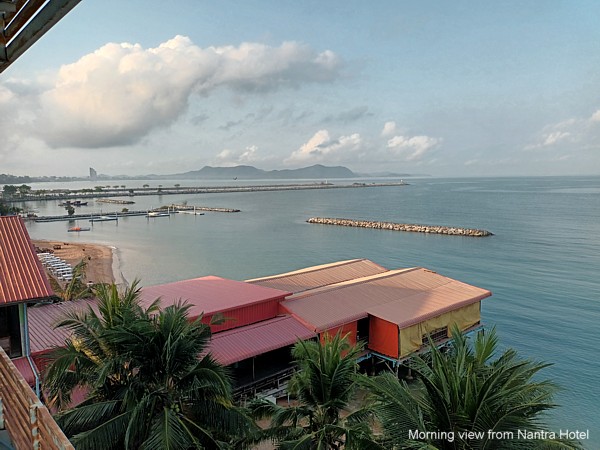 Allegro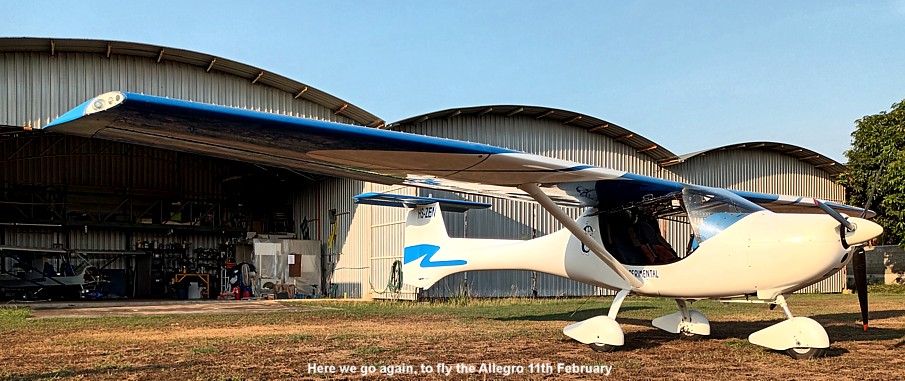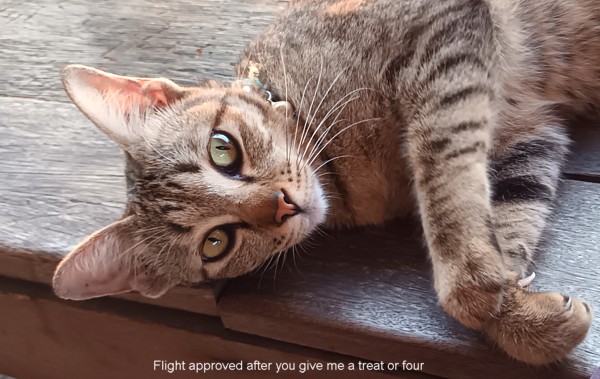 Of course while I am here I must go flying from Pattaya Eastern, so Paul and I went up in the Allegro to test the radio with U Tapao.
The coax from the radio to the aerial has been renewed and all contacts cleaned, and so the radio once again worked fine.
We did two flights, once on Saturday, and again on Sunday. All was well with the World.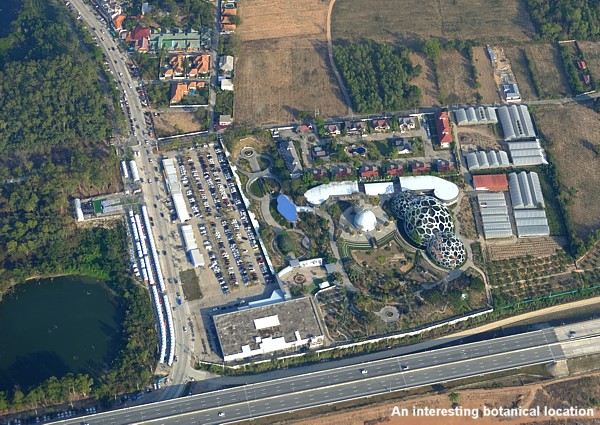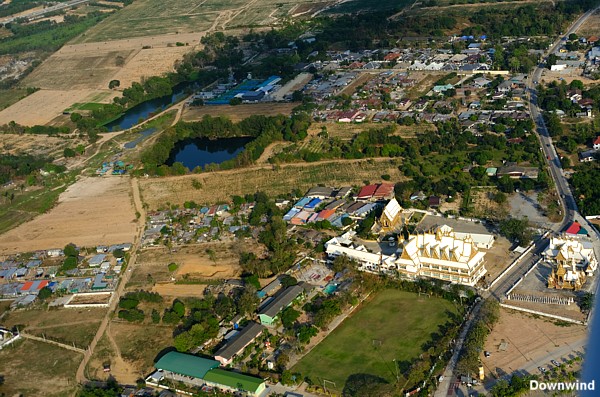 Of course we did a couple of circuits.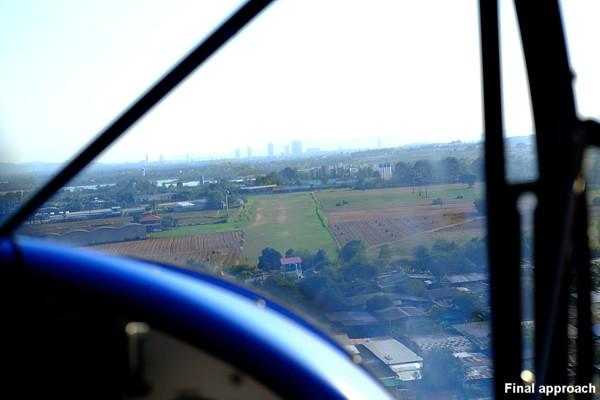 Approaching Eastern 19 over the water tower.
Trip northeast bound


Woke up to the tranquil sea on Sunday morning to go to the Folks & Flour French Bakery for breakfast.
We had breakfast here two mornings before, and tried the Cottage Bakery the second day, Folks & Flour is much better.
A second flight with Paul, and then we went to the 'Na Kluea' fish market in north Pattaya where Khun Ko bought fish and cockles which were packed in ice and in a styrofoam box for the long journey to Maha Sarakham.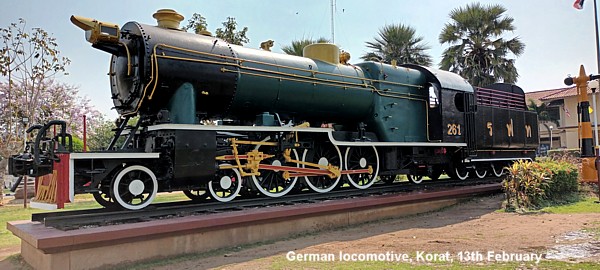 We decided to spend a night in Korat, Nakon Ratchasima, and stayed at the Siri Hotel near the centre.
It's a good hotel.
After breakfast we walked to the monument at the entrance to the old town, and then took a 200 Baht Tuk Tuk ride around the old town while stopping at Wat's of interest.
Sat on the floor of the Tuk Tuk rather than on the seats as this gave us the best view.
Phi Mai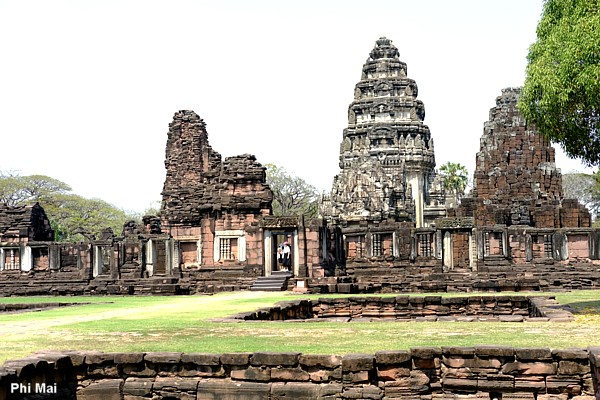 The temple at Phi Mai is in the Ankor Wat style as this area was in the Hindu Ankor Empire.
The temple was similar to the Champa Temples at My Son which I visited in Vietnam.
Maha Sarakham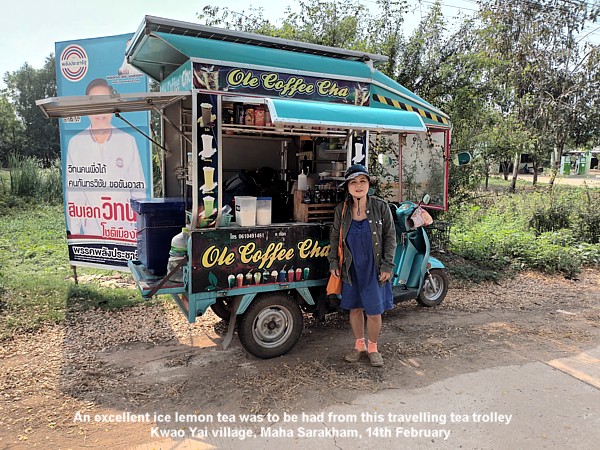 Khun Ko has a house in a village near the city of Maha Sarakham and so we spent a few days there checking on her fields, and meeting her old friends.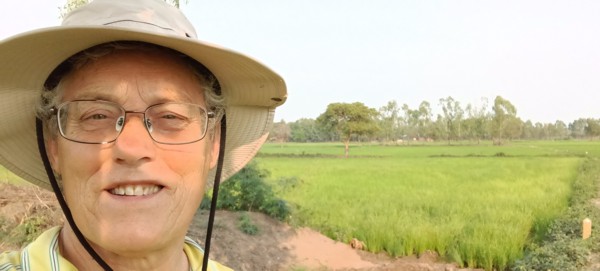 Out in the fields of Isan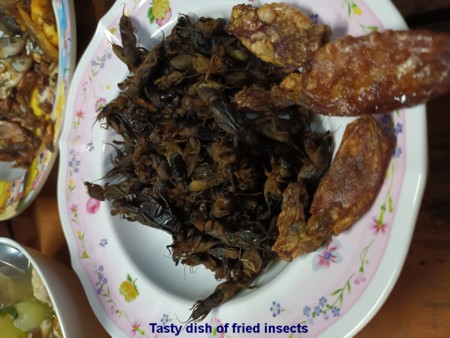 The local fare is interesting, and they eat snails too!
It was an interesting break with walks in the fields... On the final day we were late to leave for a distant field and so took the bicycle.
This has a small seat over the rear wheel upon which Khun Ko could sit while Michael got some well needed exercise. No problem sleeping that night.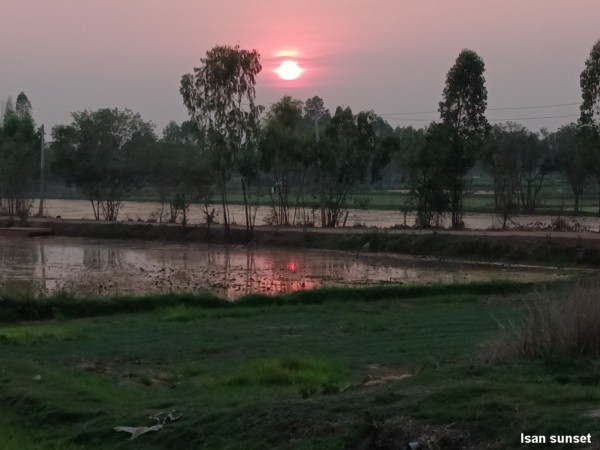 Imagine the water level up to twelve feet above this water level, that was the flood level last year.
Uttaradit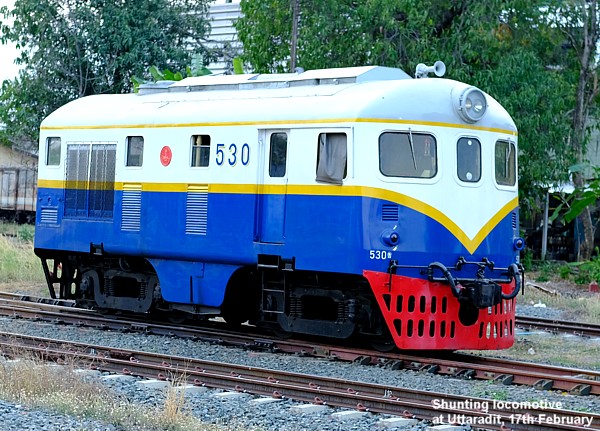 The drive continued via Petchabun and the Sky Walk attraction to Uttaradit for a night stop there.
I am trying to chaange my habit of carrying on to my destination without stopping along the way to see places. It's too easy to carry on and miss many things.
So we paid 100 Baht each to walk a constructed bridge and see the mountain sights from up there. The bridge has a glass floor and we were given soft overshoes to walk on it.
Afterwards we had a cold drink in the café and chatted with a Kiwi/Australian couple who were slightly underwhelmed by the experience for the 100 Baht fee.
In Uttaradit we stayed at the very nice Hobby Hotel. It's only problem was the fact that pigeons used the airy hall as a fast track and a suitable place for droppings.
A walk to the railway station was in order where there are four ancient carriages used for student classes from time to time, there's a school across the road.
I thought I'd take Khun Ko to a restaurant that was "Highly Rated" on Google maps, but which was in fact more a girly bar. Khun Ko was not impressed.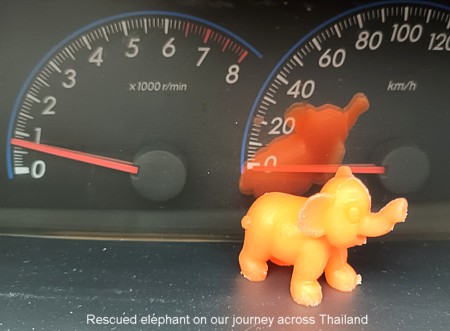 An elephant I rescued from the ground on one of Khun Ko's properties.
The elephant rode side to side on the curvy roads but never went too far.
Lampang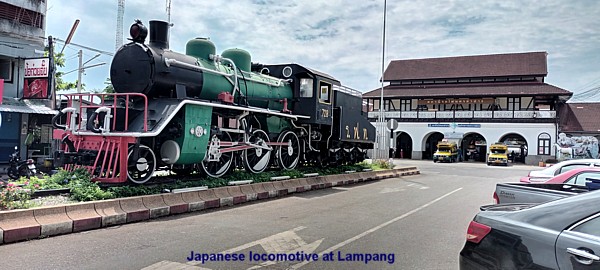 In the morning we drove to Lampang where the coffee shop I selected on Google maps for its location by the river was gone... Many places went with Covid and so you can no longer expect to find places that were once good, but which now do not exist.
We found another coffee shop.
A short break, visit the railway station and then the final leg home to Chiang Mai. We put 1,470 kilometres on the car's odometer from Jomtien to Chiang Mai via Maha Sarakham.


On Sunday we took the little truck out for Khun Ko to drive it for the first time.
Drove to Lanna Airfield and then to Chiang Mai Air Sports.

We went out to stall the Jabiru again and further learn its characteristics. The usual method is a slight descent whereupo this aeroplane reaches a minimum indicated airspeed between 43 and 45 knots indicated and sinks. From a level stall, trying to maintain level flight there was a right wing drop with full flap.
Four circuits were flown to get over the trees and onto the runway before the touchdown limit markers either side of the short runway. The landings were all good.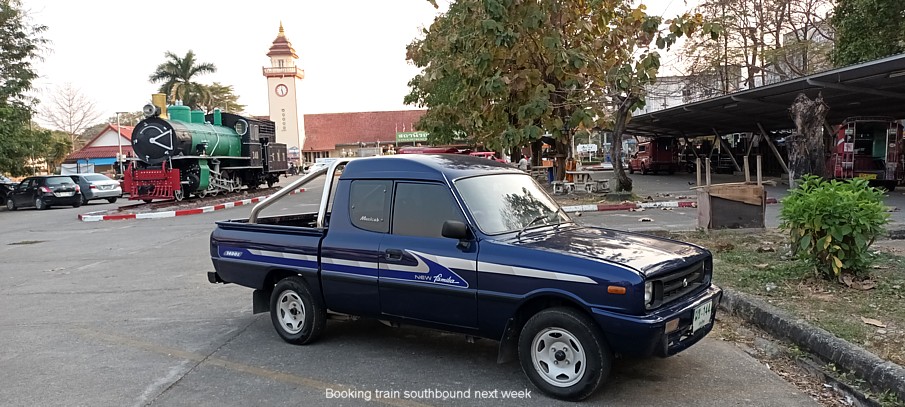 Next week we'll have the experience of taking the 'fast' express train to Bangkok and then to fly to Phuket.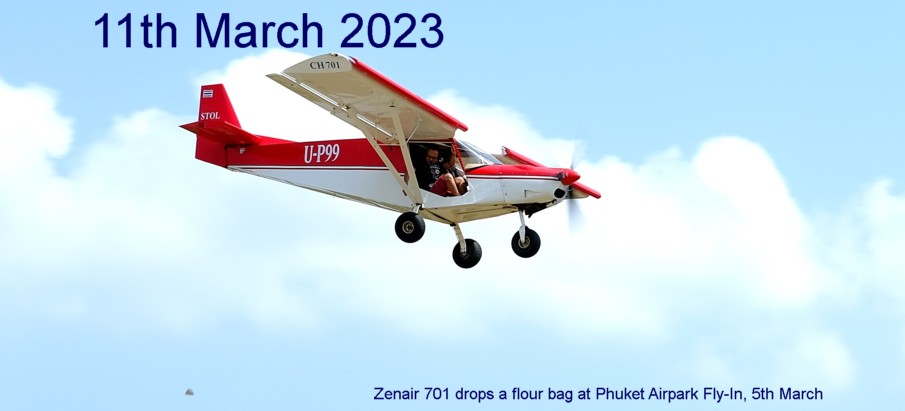 Final Thailand Report.
We flew back to England on Eva Air from Bangkok on the 8th March.
I don't know what's worse, the smoke filled air or the freezing cold... The smoke is hazardous to one's health so I suppose suffering the cold is not so bad.
Paul met us at Terminal 2, London Heathrow, and welcomed me with a snowball! Brrr, I hate the cold!
This morning I woke up at 04:00 and was out of bed before 05:00; outside the temperature was -3° Centigrade.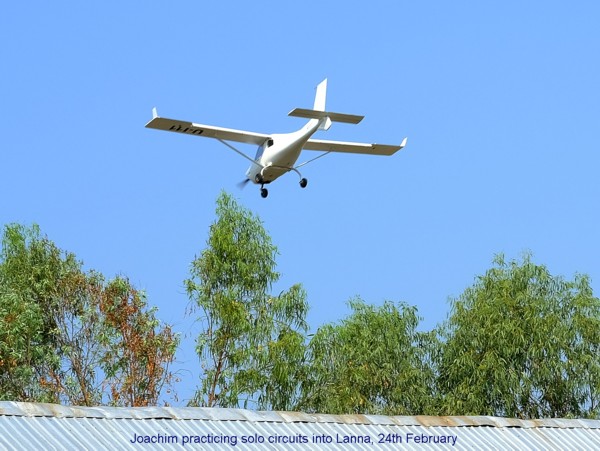 There was a 'Build' meeting at the flying club where representatives from small Thai aviation companies came to look at the new aircraft overhaul and maintenance business being set up at Nok Airfield.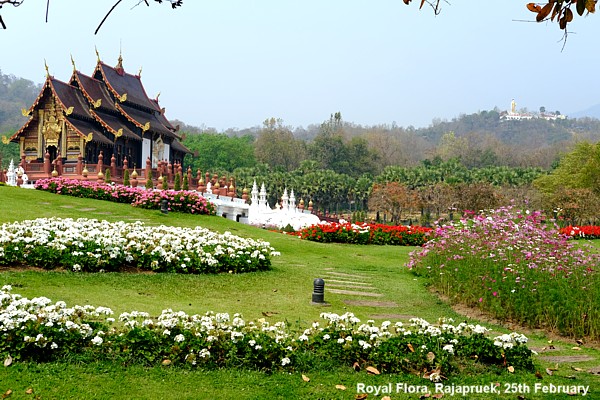 Tourism continued with a visit to the Royal Flora gardens at Rajapruek (Ratchapruek).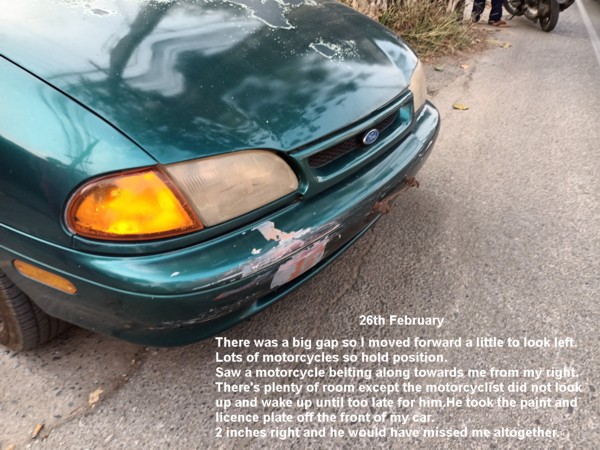 You can see the clear coat coming off the bonnet due to the Sun. Time for a repaint in any case.
I drive very carefully in Thailand and until now without accident.
But the motorcyclists here are crazy, with unlicensed Thais, and even Farangs like us riding their motorbike into collisions.
After all these years I was in two accidents in a week... The first was when a motorcyclist tried to pass me as I was turning right into the apartment building driveway.
He said he saw my indicators but thought he was faster than me, I was being careful in my turn... This is not the first time a motorcyle tried to pass when traffic was turning right.
The truck needs a paint touch up on it's right front bumper, and the car is in for a repaint in any case due to the Sun stripping the clearcoat off.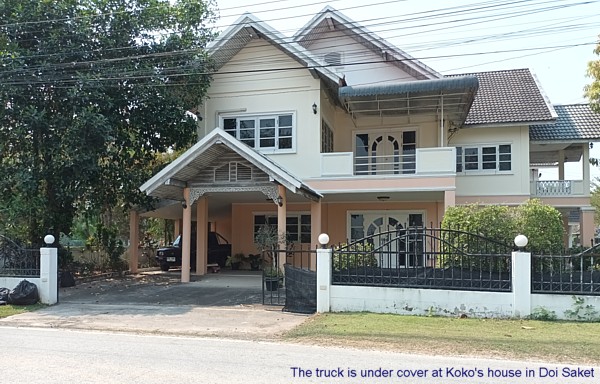 Heading south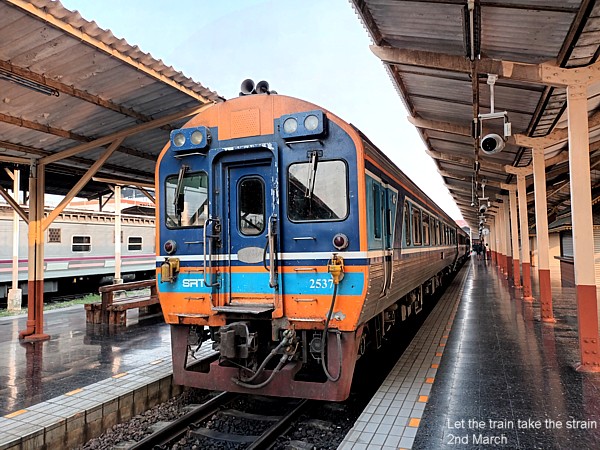 Khun Ko wanted to see the views and so we took the ten hour train ride from Chiang Mai to Don Mueang, and from there the A2 bus to Victory Monument in Bangkok.
The fare was only 633 Baht each.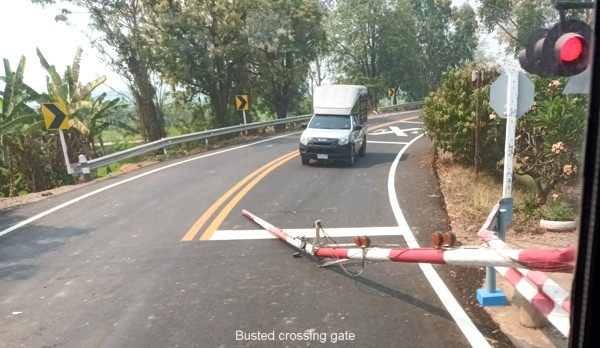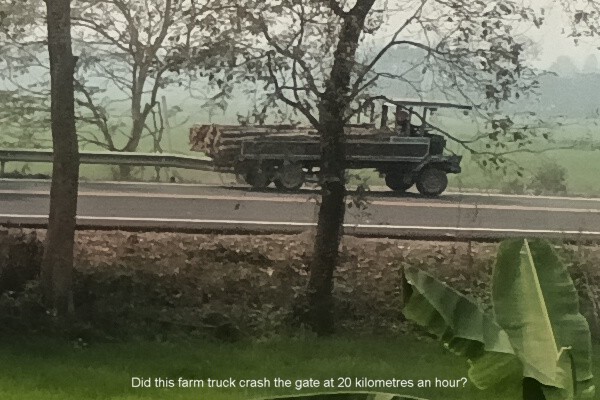 The train stopped for a short time at a road crossing...
Someone had raced through the crossing and had struck the barrier.
The ride was interesting as the train wound its way through the mountains of the north and down onto the plain to Lopburi, Ayutthaya, and onwards to Bangkok.
The smoke from the many forest and field fires was heavy up in Chiang Mai and this slowly began to clear as the train travelled south, but it was still not fully clear in Bangkok.
Food was served from time to time in astronaut style sealed silver sachets.
Khun Ko is not going to heaven... We had a bottle of fizzy Apple and Ginger Tea; Ko prised the cap off which fired off to hit the ceiling and then it bounced off the head of the saffron clad monk sitting in the row in front of us. He didn't react, but thereafter he would scratch the impact point on his bald head from time to time.
I picked up the cap off the seat next to him; remove the offending missile.
The old railway station at Don Mueang was not used, instead the train had risen onto an elevated track to stop in a new station. There is now a direct connection across the Ragsit Road and into the terminal building.
We walked to Door 6 where we caught an A2 bus (30 Baht fare each).
After arriving at the bus station by Victory Monument I faced the stairs up the the pedestrian walkway that half circles the monument roundabout. I had two heavy suitcases, it was a challenge, but one in which I succeeded.
We arrived to the helpful staff at the Victory Hotel and Residences which I have adopted as my prefered place to stay in Bangkok. 1,200 Baht per night.
Khun Ko was tired after our long journey, but I decided I wouldn't go without a Dunkel beer at the Saxophone Pub. It was heaving in there, a lot of people, but I was welcomed back as a known patron.
The next day was spent in Bangkok, and in the evening we took the A2 bus back to Don Mueang Airport... Hungry, we found the Siam Village restaurant closed, one of many Covid victims. It's a shame, they served an excellent Khao Soi Gai when I worked at this airport.
Went to the restaurant next door, ordered an ice lemon tea, and looked at the menu... Expensive.
Paid 170 Baht for my ice tea, and left to go to the Magic Restaurant near the tunnel bridge I used to traverse every day when I worked at this airport.
The whole bill for two meals was less than what I had paid for the ice lemon tea...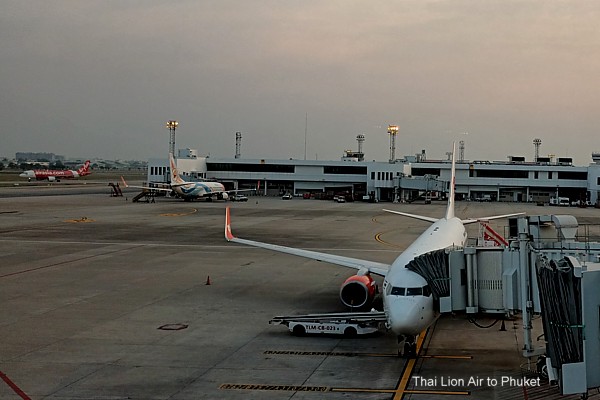 The fare was 12,200 Baht return for two people.
From Don Mueang that evening we flew on Thai Lion Air to Phuket and took the twenty minute walk to the hotel.
We took 'carry on' hand luggage as The Victory Hotel was kind to store our large cases for the weekend,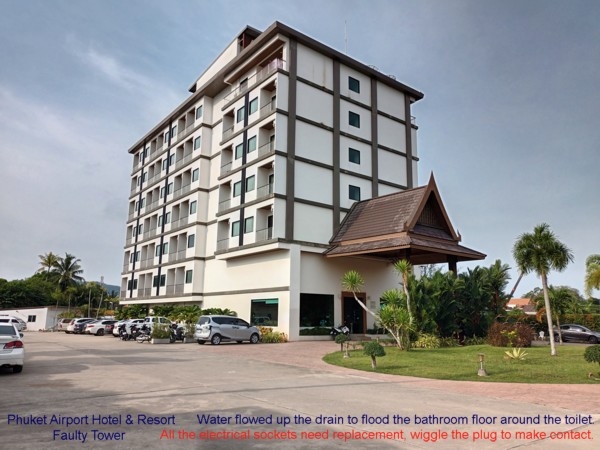 Proper title: Airport Resort & Spa (SHA Plus+)
For a while I thought we were in Torquay at a well known hotel there.
Water gushed out of the drain besides the throne in the bathroom... So the hotel's engineer knocked at the door at 23:30 that evening to fix it.
Later that morning the drain still overflowed
An dangerous problem was that every electrical socket was worn and needed replacement. We moved to another room where though the drains worked the electrical sockets were also worn out. There's a fire risk in this hotel.
Three nights here cost me £71.63p through Agoda.
Phuket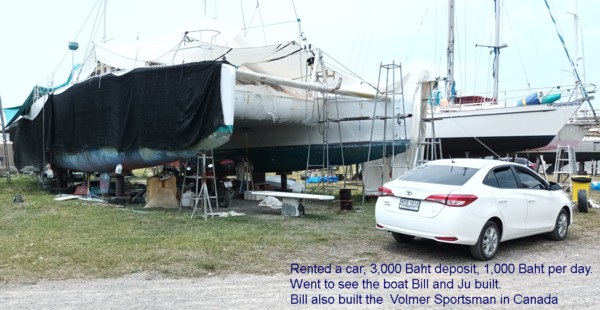 The local rental car companies were out of cars when I walked around looking for a car, but I found one eventually.
The Bangkok registered rental car was in good condition but had 148,000 kilometres on it's odometer.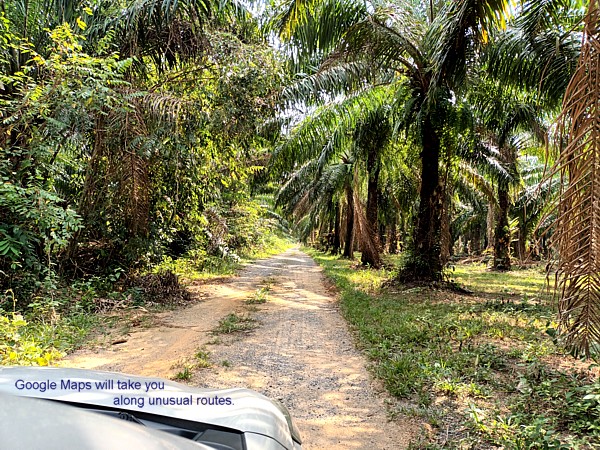 In Phuket I relied on Google Maps for navigation... Aren't we lazy these days.
Phuket Airpark


Khun Robert and Amy organised a brilliant Fly-In with a lot of free food, and some that cost, but cheap in any case.
Robert and Amy are a friendly couple who make people feel very welcome.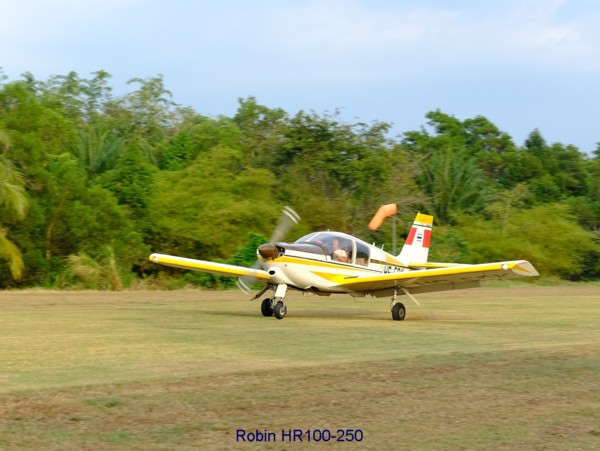 Expats bring their aeroplanes from there own countries and add variety to the Thai flying scene.
This is Khun Fay (Pudit) who now flies this Robin as well as many other aeroplanes.
I flew with him a few years ago to check him out in a Stinson 108.
The approach from the sea shore is preferred if the tailwind is light.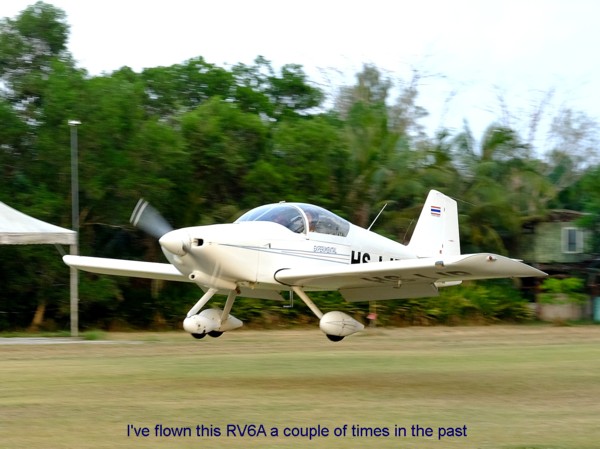 This aeroplane used to be operated from Tantawan but now forms part of Khun Roberts' fleet.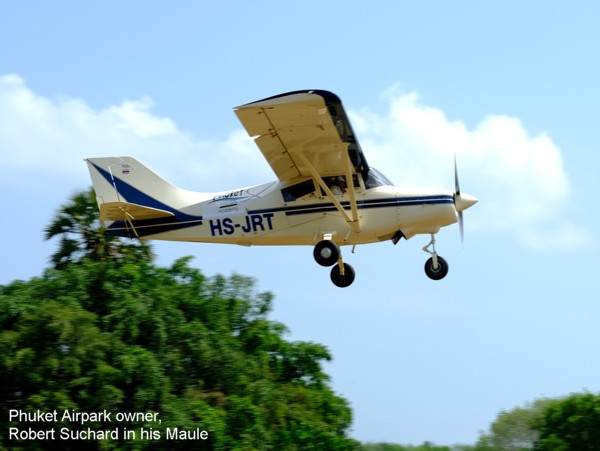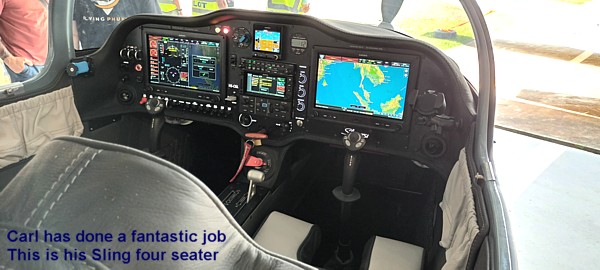 I did not get to fly anything at the Fly-In... The big problem in Thailand is a document called a Five Year Permit which, besides being yet another document to delay your permission to fly an aeroplane, lists who can fly. If the aeroplane is on a club, then members can fly it. If privately owned then only named pilots can fly it. The CAAT agreed with the respondents to a survey to get rid of this document, but the military refused to allow this.
I have a Thai Validation of my Canadian licence to allow me to fly aeroplanes of a specific flying club, but no aeroplanes were available for me to fly at the club while I was in Thailand.
Another flying club was unable to validate my licence with the CAAT... You have to have a separate validation for each and every flying club you wish to rent aeroplanes from.
These past few years it has been awkward for me to fly in England, easy in Canada, and this time impossible in Thailand. The flying I did do in Thailand was to coach other pilots, I have a desirable skill...
Disappointing, but perhaps my time flying is coming to some sort of termination?
Seeing Phuket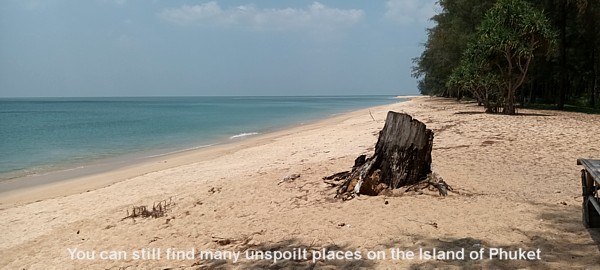 We drove around Phuket to see places such as Patong Beach with its Russian invasion,
but discovered many unspoilt places that were easily accessible by car.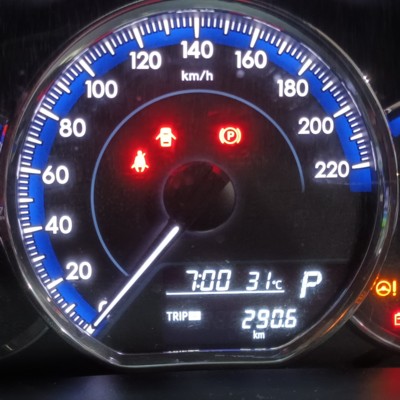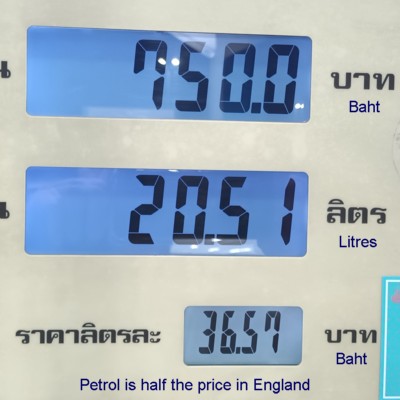 I am always interested in how efficient the car is and of course my driving.
So I set the trip, and then when I fill up before returning the car I can check the fuel use.
A car hire staff member dropped us off at the airport for our late night return to Bangkok... We caught the last but one A1 bus, and then the last Skytrain to Victory Monument... We were lucky as Khun Ko had to check her bag and so we had to wait for it to be unloaded.
The ground staff were very efficient at Don Mueang Airport (unlike Heathrow where we had to wait an hour for our bags).
The next day was Khun Ko's birthday and so we had a day out in Bangkok and then coffee with two friends from Brisbane.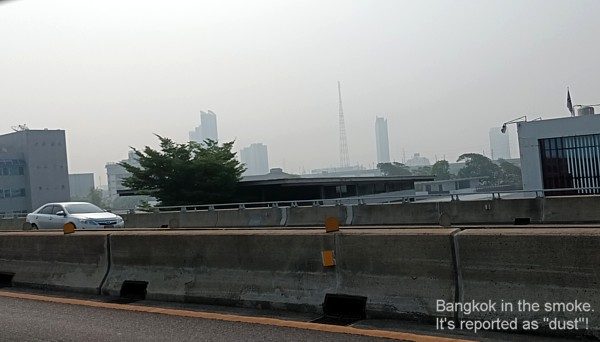 The Grab Taxi ride to Suvarnabhumi Airport was 477 Baht.
The train would have been 45 Baht each, but the bags were heavy and I didn't feel like being sweaty for the flight back.
The Eva Air Boeing 777 was full for out flight back. The navigation display had the great circle route displayed which is currently not available due to Russian aggression, and so we were stuck with a 13 hour flight staying well clear of dangerous airspace.