Trip conclusion
Giorgio


9th June, giving Giorgio a ride in the RV9A

The RV9A has proven to be reliable and capable as it has now flown over a lot of Thailand; around Isaan, down to U Tapao, and south to Nakhon Si Thammarat and Phuket.

It's been a good journey but all things pass with time so I did a final few flights in the RV9A before departing for Canada.


Chiang Mai and Lamphun provinces are developing


This trip has been much more of a pleasure, more of it was shared
"Pleasure shared is pleasure doubled"


Click for larger image

Daren called me to say that he saw this Thai Airways A330
aircraft with a flame coming out of its engine after takeoff.
This could have been a compressor stall or a bird strike.
The Airbus returned for a safe landing

Last two days

On Saturday evening we met up at the September Restaurant for a final meal before I left.

Then Sunday was for three short local flights before I caught the afternoon flight to Hong Kong on Cathay Dragon.

NaRuk, Koi, and Pakorn joined me for three short flights in the RV9A, and then we left (San Kamphaeng) Nok Airfield at just after 14:00 to go and pack my bags to be at the airport in time for the 18:20 departure.


Picture by NaRuk

--Many people buy houses in "Moo ban" gated villages. I thought this one looked quite nice.


Sweet stuff in Black Canyon Coffee by the gate entrance before departure

Takeoff from Chiang Mai was at 11:50 GMT
Landing at Hong Kong was at 14:25 GMT (22:25 local time).

I cleared Immigration quickly, went though Customs with my backpack and small roller bag only. My big bag was checked through to Vancouver.
Like a local I swiped my Octopus Card and caught the Airport Express train to Tsing Yi to change onto the MTR line to Olympic Station. The internal biological GPS was working and I walked to the Rosedale hotel in Kowloon to arrive before midnight, and be in bed before 00:30 local time after a shower. It was quick.

At Chiang Mai my one checked bag was 2kg too heavy and so I was asked to take something out of it.
I took my backpack and notebook computer out of it and so I now had two pieces of carry on baggage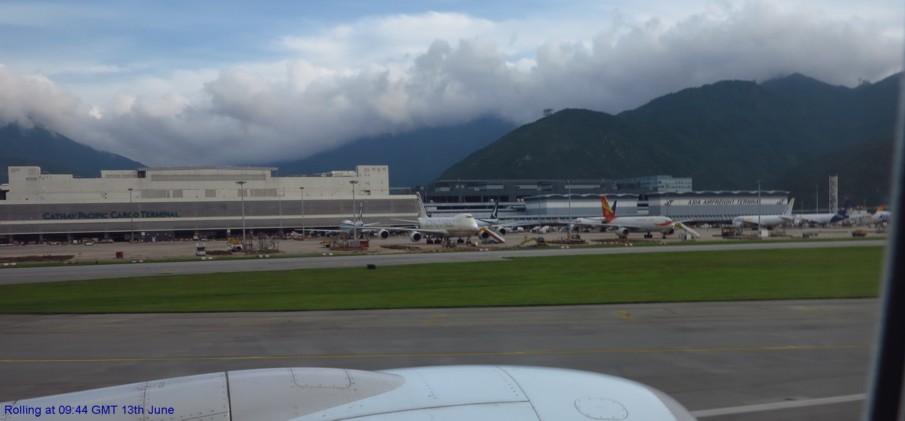 No hurry, I like this night stop in Hong Kong, up early, 08:00 local (07:00 in Thailand), had breakfast, checked out and went back to the MTR station to take a train into Hong Kong. I added another HK$100 to my Octopus Card.
In Hong Kong I went for a walk, went up the escalator, and walked back down the hill to catch the Airport Express.
I considered going to the World Expo at the end of the line, and perhaps I should... Next time.

Although the flight departed 1 hour 24 minutes late, it was only 20 minutes late landing at Vancouver.
There wasn't much to watch on the television screen which was also far away on the wall in front of my extended legroom seat 39A.
I took a look at a couple of movies which were not good and so I binned them quickly, and instead I watched a Japanese movie, followed by a documentary on the Mumbai Railway Station, and another on a large Patagonian Dinosaur.
I did manage a snooze for an hour or two.

In the morning I received an e-mail to tell me my flight was delayed an hour.
Back in Canada I turned on my phone to see a text message was sent as well, but a Canadian mobile phone should not be turned on abroad without having a mortgage agreement.
I shall use my Thai phone number as a contact in the future.

I was through Immigration and waited a while for my checked bag before going through Customs to meet Alice in her Mini outside... Then to Boundary Bay Airport where the Mazda sits without the insurance to move on the roads, and back here to Langley.
Many places are closed here on Mondays and so we ended up having a late lunch of Sushi... Then I was driven into Vancouver for a meeting.
My day had begun on the Hong Kong MTR into town, and here I was leaving town at 22:30 on the Vancouver Skytrain, to Surrey Centre, and then onto a bus back to Langley.
There are few public loos in the Vancouver area and it was painful! I was accosted by the down and outs asking for spare change, and a drunk sat next to me on a bus full of smelly people.
The driver, (Transit Operator), was heavy on the throttle and so each stop was followed by a jerky jumpy start.
I had left 'genteel' Chiang Mai, I went to busy but polite Hong Kong, and now I was in lewd and crude Greater Vancouver.
'Went to bed at 00:30 PDT and was up at 06:00.
This morning I opened my phone bill, $95 CAD, because though I did not use it for six weeks, I did turn it on in Hong Kong for one day on the outward journey.
My Thai phone had roamed too, in Saigon, but for three days, and this increased the bill to 545.89 Baht or $22 Canadian... Somewhat cheaper and with more features.