Back to Portugal
My Thai flight was due to depart at 00:15 in the morning, but I received an email to report that this flight was cancelled and that I should see the check-in at Suvarnabhumi Airport instead. I decided to call the airline on the phone instead... Why travel that far if I didn't have to.
On the phone I was able to be booked on the Eva Air flight in the afternoon instead.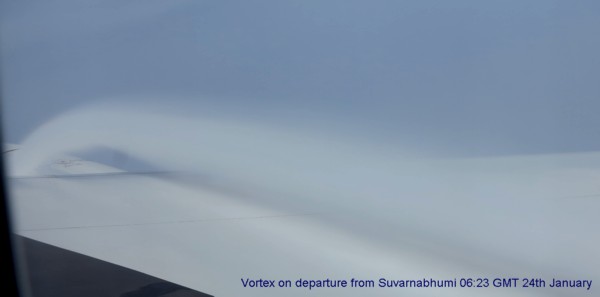 Eva Air Boeing 777
I arrived at London Heathrow and took the transfer bus, £5, to the Thistle Hotel (Terminal 5) where I had booked a night for £45, went to the bar and had a cider.
You need exact change for the bus and so I went to the terminal, and changed a £20 note into fives.
Early the next morning I took the bus again back to Terminal 2 to catch my TAP flight to Lisbon.
Porridge and a pot of tea was £9.45p at the Ca'puccino Cafe, it was good porridge, but not as good as it was the last two times I caught this flight.
TAP called on the Tannoy to say they were ready to board... People stood up to queue, and they stood for quite a while before the aircraft began to load... Meanwhile I wandered over to Leon and had a yoghurt... Breakfast completed.
Unfortunately the window was misted up beside my seat in the A320, I took an IMC style picture as the aeroplane lined up on the runway.
Airborne the slipstream blew the moisture off to reveal a gorgeous sunny day over England, and I was leaving it behind!
Enroute it was easy to spot other airline traffic criscrossing the European skies.
The air was unstable over Portugal and so we went through the usual bumpy approach over the city to land at Lisbon.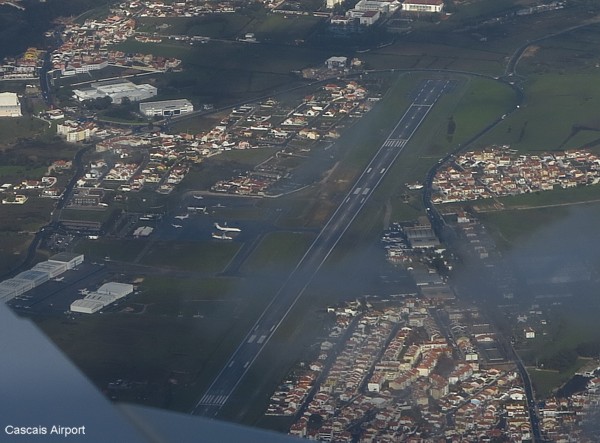 There was mention of the African DC9 that had landed at Cascais
Cascais - Estoril
Daniel met me off the plane and took me to the Cascais Airport via a birthday lunch for one of the girls from the flight school.
The school was interested in hiring me as an instructor, but they estimated it being 15,000 Euros or so to obtain the EASA Instructor Rating. My thousands of hours, and years in this business are not valued in Europe where they invented flight training.
The objective of this trip was to take delivery of the Cessna 172 R CS-DIH which we agreed to buy back in July...
Back then I had intended to do a deal for a C172S, CS-EAN, advertised for sale, and in a reasonable condition, but the club changed its mind and decided to sell their unloved but serviceable C172R instead.
Perhaps the only reason CS-EAN is in as good a condition as it is is because it spent two years held hostage by a maintenance company. The aero club complained to me that it was a "non profit" organisation (disorganisation), and expected some sympathy from me... No way.
Non profit is easy, aim to make a profit, and if you do, use the money to improve the aeroplanes and thereby turn a 'profit' into [non profit]! There is no excuse for a club to go broke leaving its members without aircraft due to it being under funded.
Meanwhile CS-DIH soldiered on as the club four seater, but it was unloved, obviously abused by the club members, the interior is in tatters, the windscreen scratched, and generally the aeroplane looks dishevilled.
But it was serviceable, and in Bangkok they needed something to show, quickly. So a ferry company was enlisted, deposit paid, Turtle ferry tank bought and installed, and the aeroplane was (not) ready to be flown to Thailand.
There's the question of needing an Export CxA, and ANAC (Portuguese CAA) was unwilling to issue this aeroplane one.
Delay delay... Month upon month. If I'd known I would never have bought this aircraft.
The price came down, and down, as the trouble in Portugal carried on.
ANAC wanted to cancel the Registration in order to issue the Export CxA. If this was done, there's no ferry flying the aircraft unregistered across different countries!
Anywhere else an Export CxA is issued, and you can fly the aeroplane to the new country and then deregister it. I do not understand why ANAC wants to do it this way?
This is the third trip I had to make to complete the deal. This time to oversee the packing of the aeroplane in a container for shipping to Thailand instead. It's deregistered so there is no ferry flying option.
I was unwilling to make this trip, it's an additional expense on top of the purchase, but now I am glad I did.
Once again I booked five nights in the Lido Hotel in Estoril, £150 for five nights... I missed out on ordering breakfast, and this is another 10 Euros. I paid 41 Euros per night for two additional nights for the room with breakfast included.
You have to pay 1 Euro (one) per night hotel tax.
Ensure you get the breakfast as it is very good, but only available after 07:30.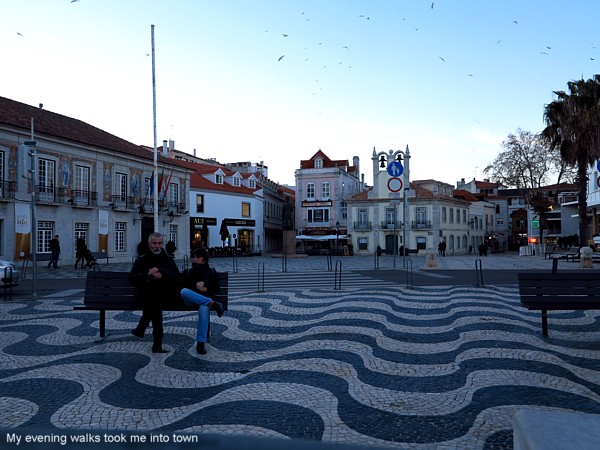 I enjoyed my evening walks down to the seafront, and along to the town
Bad cold number six since the beginning of December was in full force just before I left for Portugal, and was on its way out when I was there. I helped it on its way by taking long evening walks in the fresh sea air.
The bad cold knocked me out during my first full day at Cascais Airport. I could not eat lunch, just drink hot water. I brightened up a bit while giving a briefing on Cubans to a local student, but returned to near death in my hotel room.
One evening I stopped for very rich hot chocolate. There are bakeries serving lots of naughty but nice cakes.
I sat with my hot chocolate and heard the girls next to me speaking English... They told me they were from Singapore, but then it turned out the girl next to me was Thai, and her coworker was from mainland China.
I went to this bakery a second time for their rich hot chocolate, and had space for a cake. I have brought a jar of their 'marmalade' back to Thailand as well.
The last night here I went to the Irish Pub in the centre of the picture above for a pint and a half of Kilkenny beer
My journey was lonely, but at least there was some hospitality in the tourism businesses in Estoril.
Sintra


The Moorish Castle above Sintra
Vasco is a friend of a friend; Barry, who once said to me "The eyes of the CAA are upon you Michael". He was a CAA inspector and I was just about to do a display in the WAR Focke Wulf FW190 G WULF at Fairford.
With a few hours to spare Vasco picked me up for a trip to the Airforce Museum at Sintra.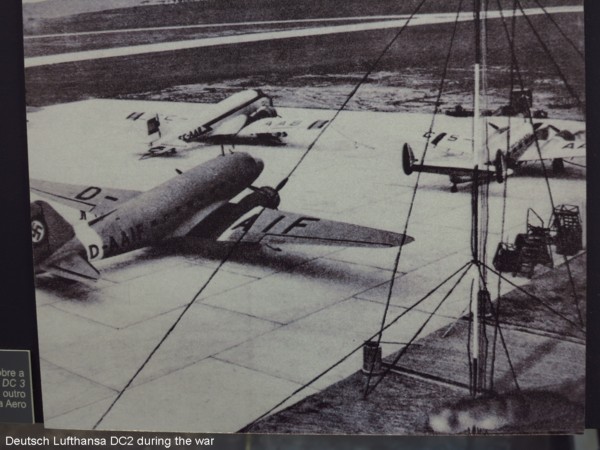 There was this picture of a DC2 and another of a DC3 in Lufthansa markings with swastikas on their tails
It was interesting to see the Lisbon Airport booking in and out, logsheet, which showed BOAC aircraft flown by English and Dutch pilots, an American Army B40 (Fortress), a Lockheed Hudson exRAF being flown by a Portuguese, and two entries of Lufthansa DC2s in the middle of World War II.
If you click below the image I have loaded a larger image.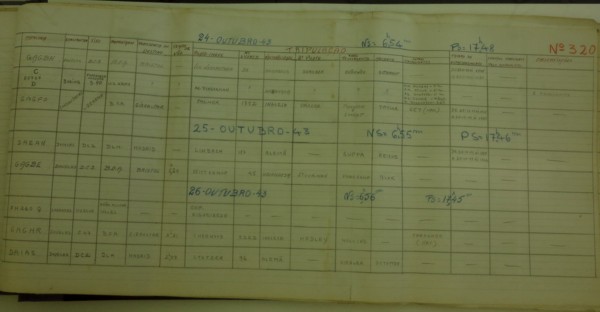 Click here for a larger more legible image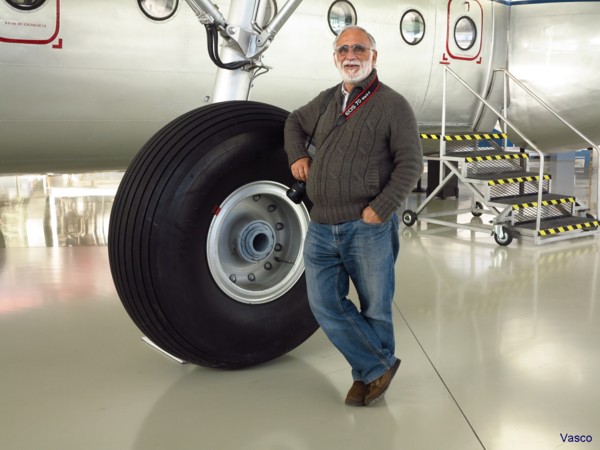 An aviation enthusiast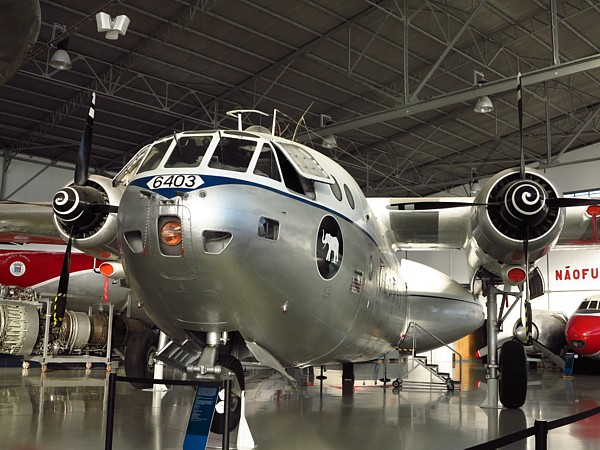 Noratlas with Bristol Hercules engines
The museum is excellent, clean, light, and airy. The aeroplanes are well displayed, and I did take plenty of pictures, but how much can I post on here, and which aeroplanes should I chose?
I posted a lot on Facebook.


Auster D5-160
After our museum tour we drove into the quaint historic town of Sintra where in the Paris Cafe I saw they had raisin scones and tea... I went for it!
What I received was some sort of cake with individual plastic butter and jam containers. What a terrible disappointment, but solice was found in one of the two local speciality pies Vasco ordered.
Our afternoon was soon over as Vasco dropped me off to go to his sister's birthday... Late!


I like this aeroplane, and even suggested swapping the DA42 for two of these.
The school in Canada had four Katanas with Rotax 912 engines so I think this would have been a smart move.
The idea was to rest the leading edges on tyres, and strap the wings vertically to the sidewalls. No bloody way, this idea made me feel very unhappy.
I had my way; we went out and bought a load of sponge foam. We obtained six pallets, and snugly, safely packed the wings horizontally.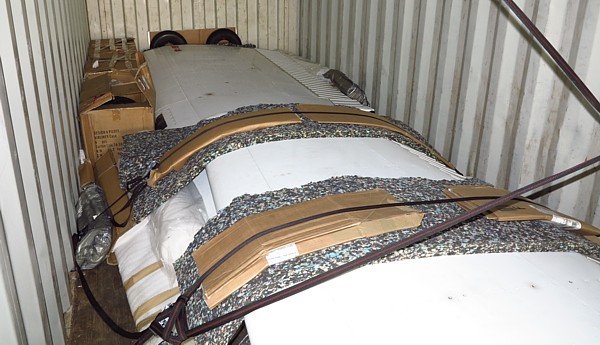 Snug and secure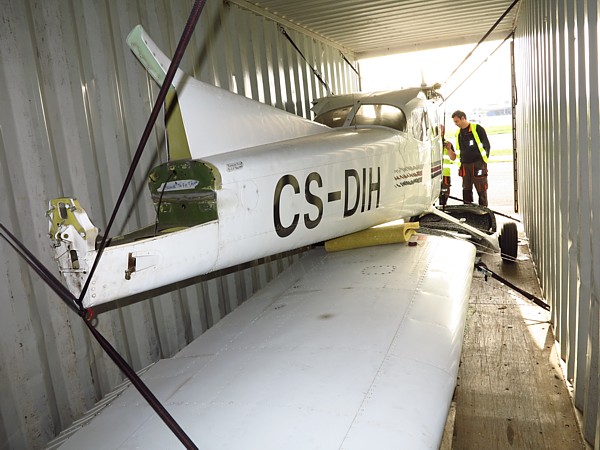 The left undercarriage had to be removed, and they welded up a structure with a caster wheel on the bottom to support the port side.
Packing and bracing and the left 'wheel' is on tyres for some suspension. The sponge between the fuselage and wings is not necessary.
The boss wanted me to see the container onto the ship so I sent him a picture of the closed container with a chair on top... I wanted some comfort riding the lorry to the train, and the train to the port...
05:10 in the morning I was picked up by the van from Seven Aviation and taken to Lisbon Airport.
I had tried to book a flight with TAP but the website would not accept the credit card, so I booked British Airways through Expedia and there was no problem with my credit card.
British Airways Flight Attendants wear classical 'stewardess' uniforms with hats... They looked good, and very professional.
I did not like having to pay for my tea and a Kitkat with the credit card during the flight... Airlines diminish themselves with this cheapo nonsense, and paid for checked baggage.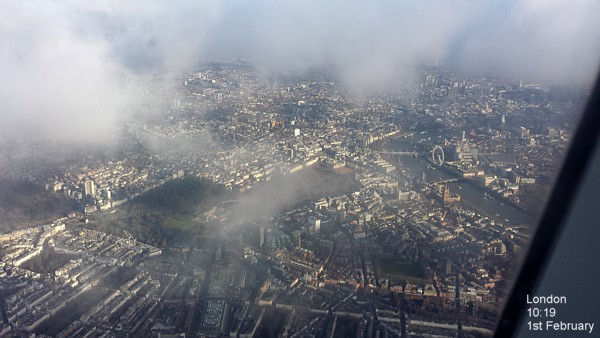 Snapshot on approach to Heathrow
Thursday's appointments were all made... First tea with sausage, mash and peas drowned in gravy at the West London Aero Club, and then over to visit Walter, followed by driving down to Guildford and on to the Bricklayers Arms to meet friends from the Condor Club days with yet more good English food.
I rented a car from Alamo for 66.63 Euros for four days. I drove it 365 miles, and used 35 litres of petrol (7.6 Imp gals) which cost £47.39p.
I stayed at Paul's house in Guildford.
Friday morning I took a drive up to Blackbushe Airport... Sitting in the cafe there was David and his wife. They used to operate the G AWFP Condor group at White Waltham.
This Condor was all but condemned by an engineer during its first fifty hour check following its CxA renewal, the estimated repair cost £14,500!
I was annoyed, don't get me annoyed... We took trailers down to Lasham where they had disassembled the aeroplane (unnecessarily), drove back to Walters' workshop where I supervised the repair and return to service of this aeroplane. I know Condors very well, and the bill was something like £4,500 when we had finished, with a new wooden belly, and a few other wood repairs.
On Friday night we went to the Bell Inn at Outwood near Redhill Aerodrome to meet Bernie, and Brendan. I have not seen Brendan for about thirty years... We're all getting old and it's a bit of a shock to the system.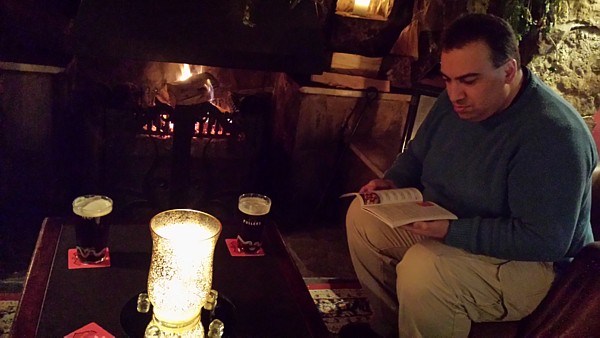 Paul in front of the fire at the Bell Inn
Leicester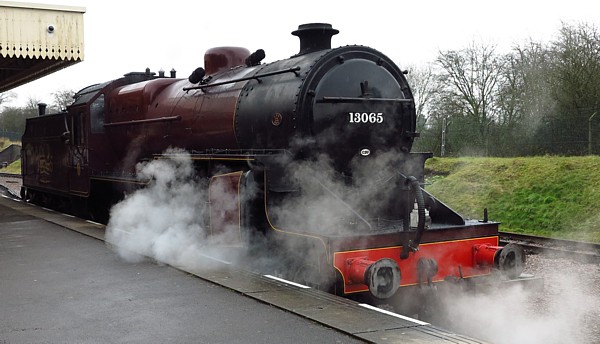 LMS 4-6-2 at Leicester North Station
Early Saturday morning I set off for Leicester, there was a Charity Fly-In scheduled for Saturday, but 'retimed' to Sunday when better weather was forecast.
I went to look for my Grandfather's 4-4-0 Midland 1000 steam locomotive which he scaled as 3 1/4 inch gauge, and which could pull nine adults under steam. My uncle donated it to a museum in Leicester, but I did not find it this trip.
The term "retimed" has been developed at Chiang Mai Airport to save face, it really means: delayed!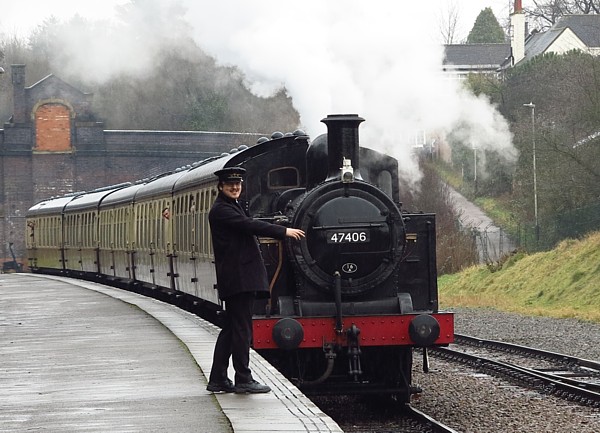 Trains are the passion of many an Englishman
I am known on the Flyer Magazine Forum and so I met a few familiar names at the Leicester Aero Club in the evening.
The Regency Hotel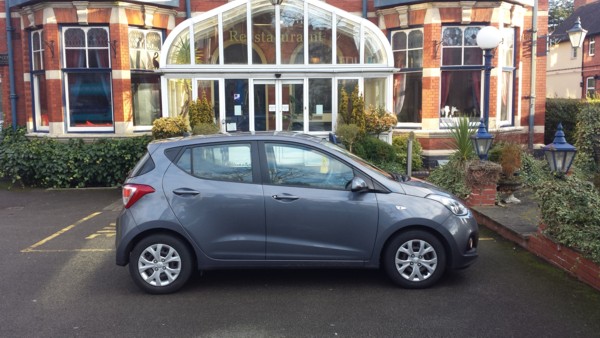 I booked a room with a huge English breakfast here for £45 for one night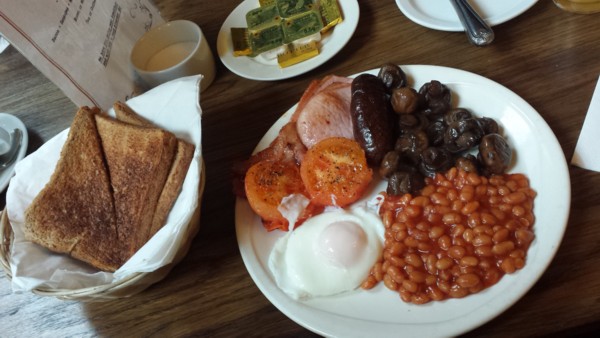 Breakfast
Leicester Airport is a great place; operated by the Aero Club it is very welcoming with a positive attitude towards flying.
On Sunday morning I turned up not able to eat another breakfast, and the early lunch (dinner) I managed was very good too.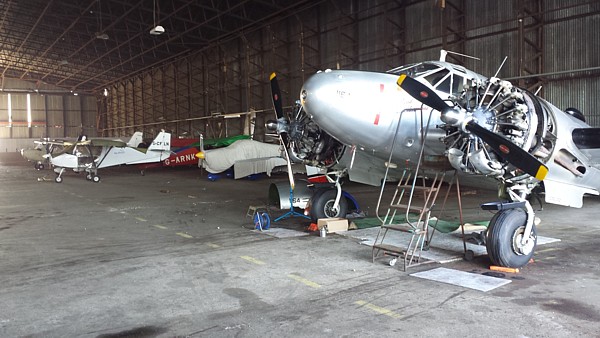 Inside the hangar at Leicester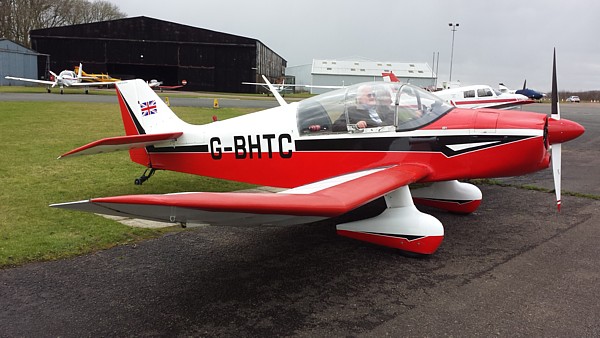 Mick and Barry flew down from Lincolnshire to buy me dinner.
They were selling home made cakes in favour of Motor Neuron Disease. On Saturday evening I paid £5 for a piece of cheesecake, and on Sunday I bought four large 'cupcakes' for £10.
I was very careful with my box of cupcakes, and they ended up being consumed in the office here in Bangkok! It took a lot of careful handling, me carrying cupcakes around the World.
15:00 Sunday afternoon I departed Leicester Airport driving cross country past where I lived when I began this life, to get onto the M1, drive south to the M25, and around to the M4. Stop to fill the tank, and drive two miles further to drop the car off.
Met up with Mike and Mam who coincidentally were on the Eva Air flight scheduled to depart 25 minutes before my Thai flight, all of us travelling to Bangkok.
Beer in the London Pride bar in Terminal 2.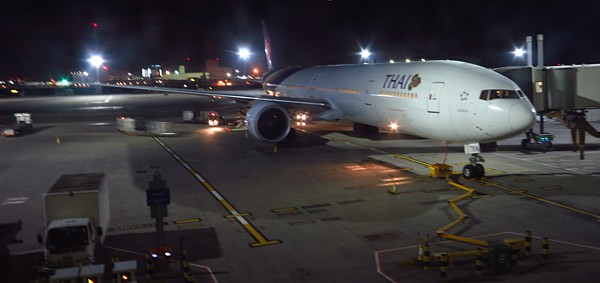 The old Boeing 777 awaits its passengers. Mike and Mam's Eva Air Boeing 777 was parked next to it.
Mike and Mam's flight was delayed, and so for whatever reason they still allowed Eva to leave before Thai, and so Eva's delay became our delay.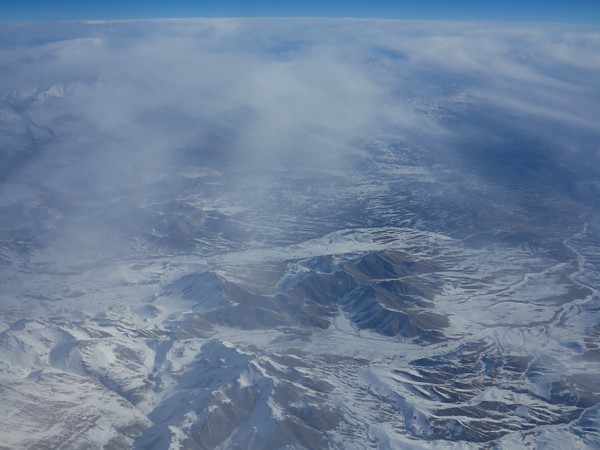 Somewhere over Afghanistan
Back at Bangkok Suvarnabhumi I met Mike and Mam and we took a minibus to the Thong Ta Resort hotel where they were staying.
I took a taxi back to Don Mueang after a couple of beers with the cakes sitting happily undamaged by their journey, on the back seat.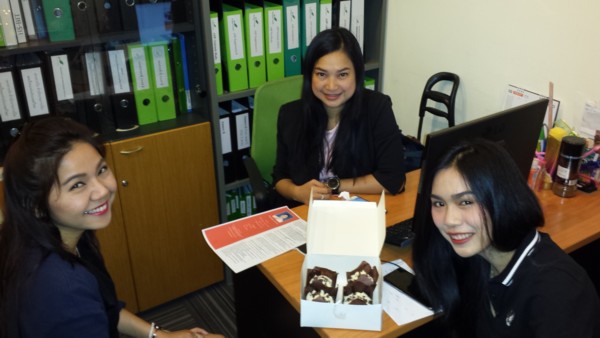 Alas the cakes were not to last long, as soon as their box was opened in front of ravishing Thai girls in the office.