Da Nang Vietnam
For nearly two weeks after the last update and my trip to Mae Hong Son I suffered a very bad cold.
This normally happens to me at this time of the year and is usually followed by relatively good health. I was glad to get it before my journey to Da Nang.
Now the smoke here in Chiang Mai means the air quality is once again unhealthy and I am developing a cough. Year by year it seems to be getting worse, and this time the farmers have started burning much earlier.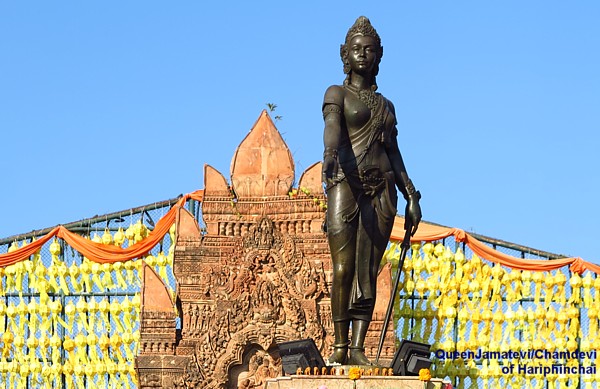 I have been reading Thai History again, this includes, Angkor, Burma, Lanna, Sukhotai, what became Laos (Lan Sang),
Vietnam, and also of Champa which was the kingdom in the centre and south of what is now modern Vietnam
Journey to Champa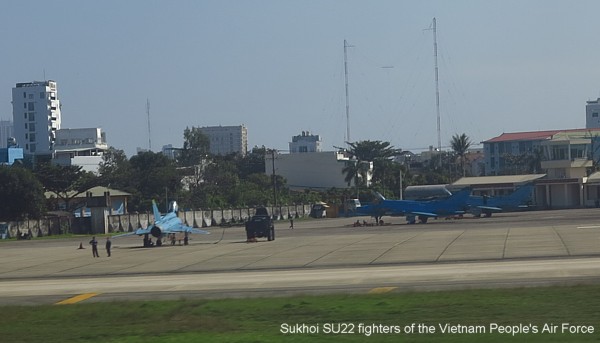 My two month visa for Thailand was to expire on the 23rd December and so I had two choices to extend it.
I could pay 1,900 Baht and gain an extension at the Immigration office here, or I could fly across a border and receive another 30 day visa on arrival. As the airfare was only 2,700 Baht return on Thai Air Asia to Da Nang I decided to go for a look see there.
For certain countries Vietnam now allows a Visa on Arrival for a short stay and my arrival on the 23rd December using a British Passport resulted in a stamp valid until the 7th January.
The flight is listed as two hours from Chiang Mai, but in fact we departed on time and landed well before our scheduled time after around 90 minutes flying.
You need to be careful booking Air Asia as often the quoted price is not as much as you pay when you check out! Baggage is not included, and the limit is 7kg for carry on. (They will weigh it).
I booked through Agoda which is now doing online flight bookings. This cost me about 100 Baht more than the cheapest price, but then I trust Agoda a bit more than some. 2,700 Baht is what I paid, which was as advertised.
Before I left I changed 3,030 Baht for $100 USD, in two $50 bills... The bank initially gave me a single $100 bill, but it's better if you have crisp notes of lower denominations. I still have these two $50 bills!
I also had two $5 bills from earlier journeys and these I did in fact change into Vietnamese Dong to cover the Grab taxi fare to the airport for my return to Chiang Mai, and a little spending money there.
For once in my life I became a millionare after I arrived at Da Nang! I decided to take out $100 CAD from my Canadian bank account via an HSBC ATM at the airport, $113 CAD equated to 2,000,000 Dong, I'm rich!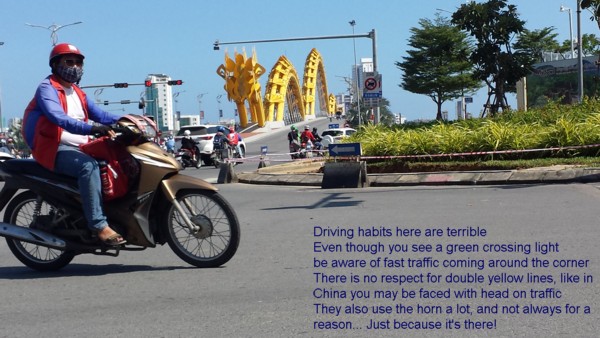 Google Maps showed the bus routes I could take to my hotel. Why take a taxi? Don't you want to see and experience this place?
So I did the eight minute walk off the airport to the bus stop A little confusion here with respect to which bus to hail down, oh well, in typical Michael style I decided to keep walking.
On the way I stopped at Britea, English Tea House, it was not yet opened, brand new, and a girl told me it would be opened in a few days.
Further along the road I stopped at another tea shop, Koi Thé, and had a bubble tea. They'd run out of honey-lemon and so I opted for Mango Green Tea, lightly sweetened and with tapioca pearls; all for 64,000 Dong ($2.20 CAD).
Refreshed I continued my walk.
I had met a Polish woman on my flight, Agnieszka, who is teaching English in Da Nang, and she gave me a lot of advice. Apparently there was excellent seafood to be had at a market just over the dragon bridge; not far, so I continued to walk.
The market was closed, and so I carried on all the way to the seaside.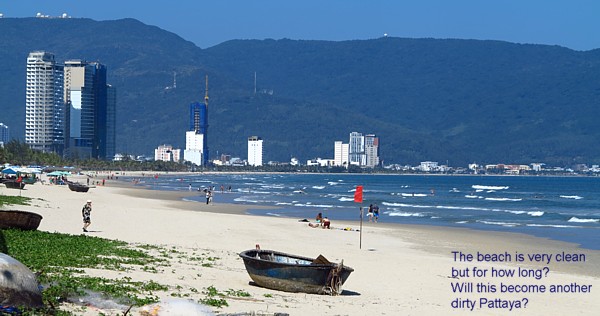 There are several seaside restaurants to the north of the road junction on the coast.
I chose the second one, The Garden, where they had English Fish and Chips on the menu.
It looked a little spartan on the plate with four chunks of battered fish, and a few chips (just the right amount of chips for me!), but with a Mango Smoothie, and followed up by a draught Tiger Beer, I was well filled afterwards. The bill came to 315,000 Dong ($17), and I think this was good value, especially as it was a premium posh seaside price.
It was now well after 15:00 and so I decided to walk the meal off, all the way to my hotel.
I checked the distance on Google Maps, I had walked 7.4 kilometres from the airport to the De Lamour hotel.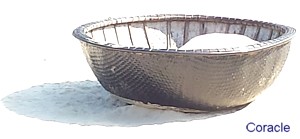 The local fishermen use woven coracle boats
I had booked the De Lamour Hotel for two nights for $53.84 CAD through Agoda.
After checking in I showered and then went for a beach walk.
It becomes dark early here, just after 18:00, and at this time of the year the temperature is in the low to mid 20's so very comfortable for strolling the beach.
After such a good lunch, there was no need for me to eat anything more in the evening, but I did raid the mini bar for a Bia Larue and a small tube of Pringles.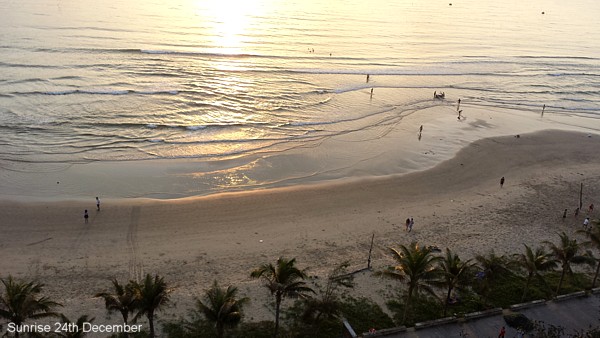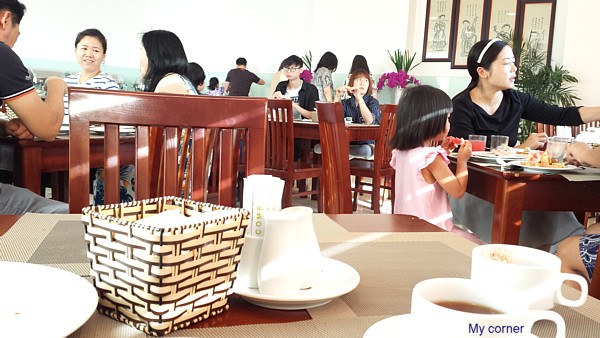 Breakfast was included in my bookings and so I hoped to fuel enough to last a day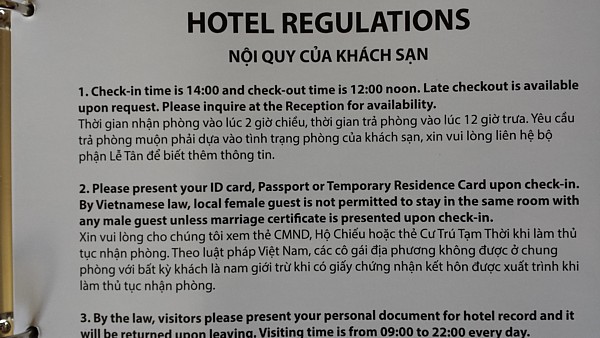 If you think you'll get lucky here, think again, this is not Pattaya!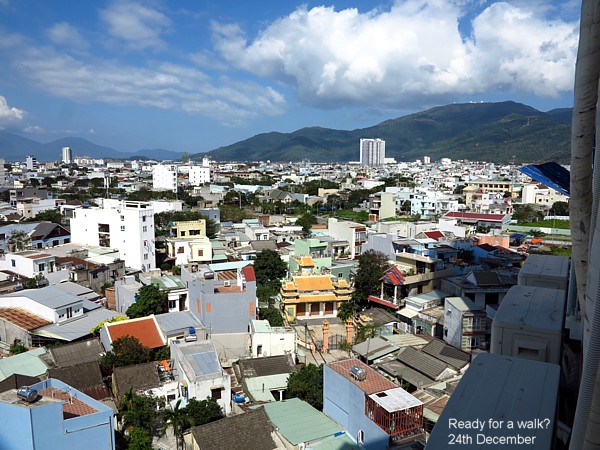 It's my habit to walk for miles and miles, and so I decided to set off into the mess of lanes in the opposite direction to the beach.
I'll walk past the little Chinese Temple and get lost within the lanes.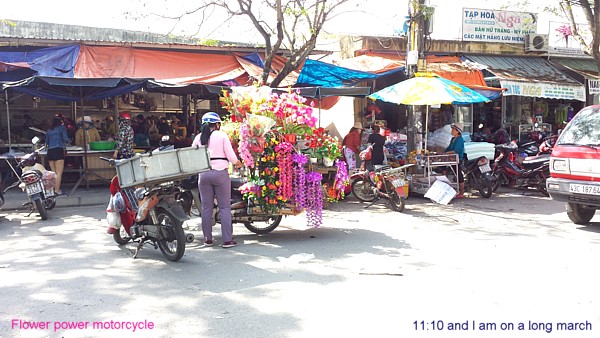 Many lanes are dead ends, and there are no [cul de sac] or [no exit] signs.
It was interesting as the locals do not expect foreigners to come walking along their lanes.
Music emitted from many houses, the occupants might be slightly deaf.
People got on with sewing, repairing fishing nets, plastering walls, or simply sitting and smoking.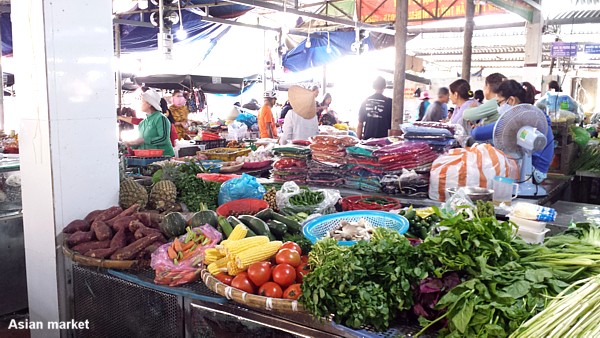 Markets are similar all around the World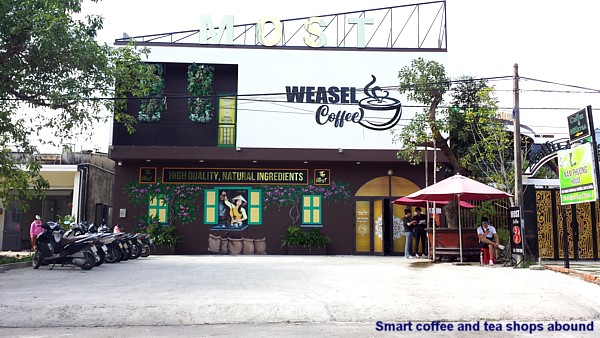 I'd been walking for an hour and a half and it was now lunch time.
The Michael can walk and walk and walk and never decide where and what to eat, and so go without eating anything at all.
It's in fact easier when I am with someone as it always seems to be easier to make the decision where and what to eat when I have company.
Nevertheless, I came across an interesting wooden building corner restaurant and decided to walk in... In there I met the couple who had sat at the next table to me at breakfast and so I joined them.
Again I would be number three!
My new friends were a chap who was a geological cartographer in Edinburgh, recently retired, and his wife who was from Hong Kong. An interesting couple to talk to.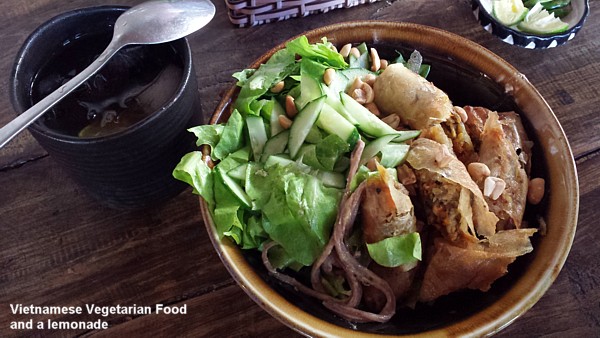 Organised trip
The evening of my arrival I decided to book one of the organised trips, this one to a marble workshop, Marble Mountain, and Hoi An (World Heritage site).
The price for this was 550,000 Dong. The tour minibus will pick you up from your hotel at 16:00 and return you there at around 21:00.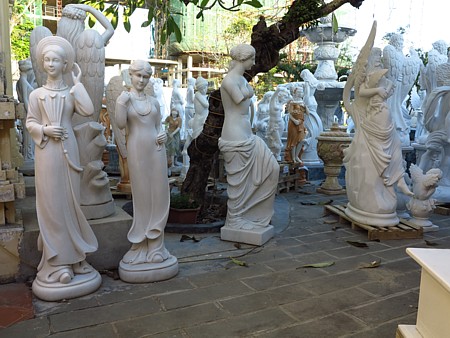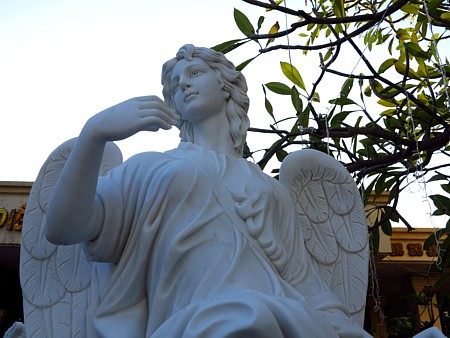 Vietnamese figures accentuated by their Ao Dais, and the angel is the European ideal.

European Jesus figure,
and Vietnamese Mother Mary figure


An army of Kuan Yins

The first stop was the Marble workshop, and sales centre.
Very fine work is done here.
Religious figures included Jesus Christ in his Greek created European image. The original religion worshipped Jesus as a child, not so impressive, and so they took the Greek God Zeus and created Jesus as a similar impressive figure. It's a bit of a racist bother that Jesus of Nazareth is portrayed as a Caucasian European figure, but I suppose, Buddha as a North Indian is equally often shown as a Chinese figure.
I suppose I am a person who likes accuracy in historic depiction.
There was an army of Kuan Yin (Guan Yin, Quan Âm, Kuan Im, Kannon Sama) statues. This bodhisattva (diety) is of the Chinese supported Mahayana Buddhist sect.
He appears to boys, and she appears to girls who are suffering. Many people worship Kuan Yin and give up something for his/her help (usually eating beef). Most often Kuan Yin is portrayed in her female form.
The woman who brought me to Thailand years ago was a believer in Kuan Yin. She gave up eating beef in favour of Kuan Yin, and in exchange for help in becoming a helicopter pilot.
Who knows, Catholics who see Mother Mary in a miracle, might actually be seeing Kuan Yin!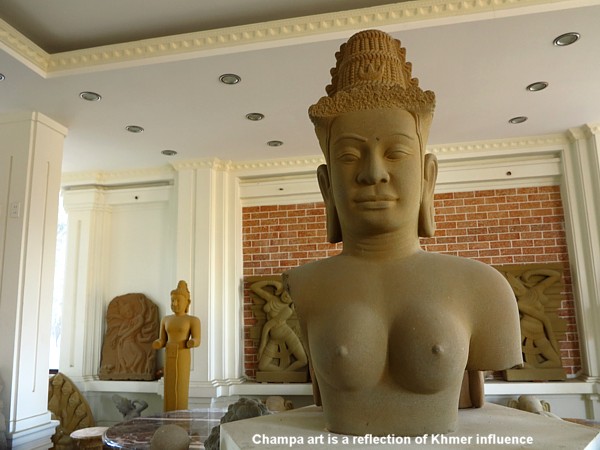 The Angkor Empire spread both Brahmin (Hindu) and Buddhist beliefs. This is Devi.
Water Mountain.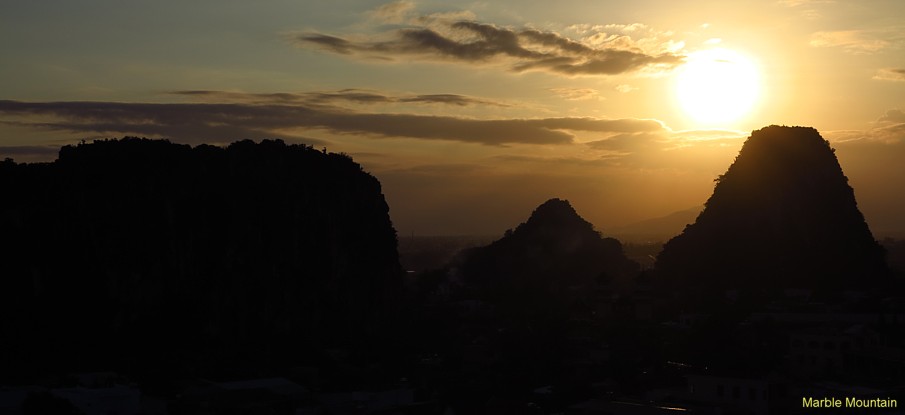 Marble Mountain has five peaks, five elements, Water, Fire, Earth, Wood, and Metal. We went up Water Mountain.
You can walk up the mountain or pay 15,000 Dong and go up in a lift. Our tour used the lift (elevator).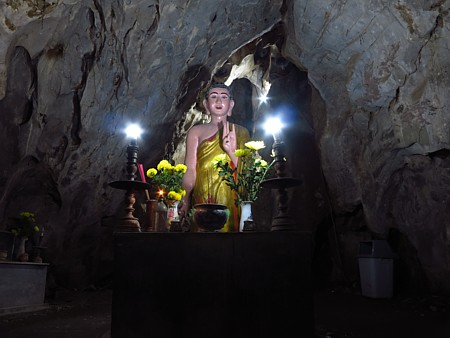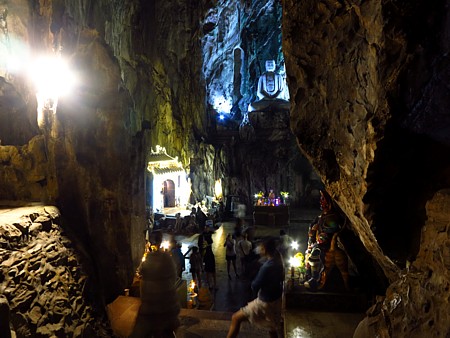 There are caves within the mountain with Buddhist statues and dieties displayed
Hoi An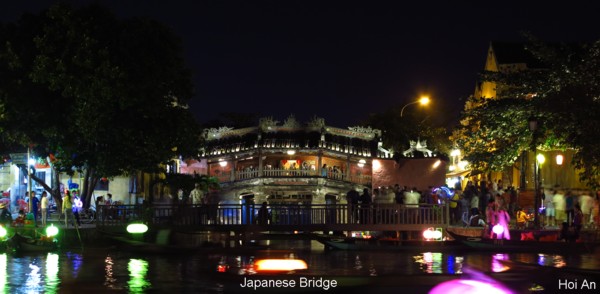 You can take an illuminating boat ride
There are rules, and the police must be paid or else, and so our minibus stopped outside the town, and we transferred to two other 'local' minibuses for the final couple of kilometres into town.
Here we were fed with the local Vietnamese cuisine, and all but the drinks were included in the tour price.
The tour guide gave me a ticket to visit the museum inside the entrance to the 17th Century Japanese Bridge.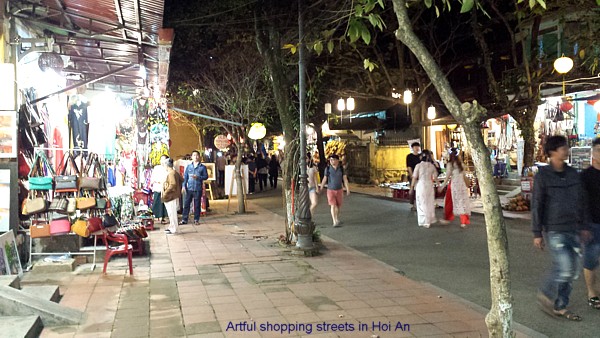 If I come here again I'd like to see Hoi An in the day time.
It was very busy in the evening with a multitude of tourists from all around the World.
Shapely girls rent Ao Dais. A quote from Simon: "Ao Dai: Covers everything, reveals all"... Asian girls are different to many North American girls, they do not care to be politically correct to be equal and same as men, they love to be women! They enjoy their lives and though they are very pretty, very fit and shapely, they know they are superior to mere men in so many ways, so why be PC?
It saddens me that the wives of people I know in Vancouver area will not travel to Asia, nor allow their husbands to, they believe the censored biased media they see in Canada. They do not know what they are missing. Canadian women I meet here are enlightened, and love it.
All Change Please

No love without money
whatever the song lyrics say.

Christmas would not happen for me again this year.
In this life I have failed terribly in my relationships, (maybe I spent too much time in unromantic Canada), and primary in this is finances. I simply can not hold onto or grow money, and it's not as if I waste money, I am very very careful in my budgeting. But I like my job, and British Columbia is wonderful for flying, but terrible for making a reasonable living.

I am often number three for dinner, couple + me! So be it, but it is not my hearts' desire.
This past year my lady friend of the time who allegedly 'loved me' took off to the Maldives in frustration and there she met her soul mate, who happened to be a pilot too, but one who has been a lot more successful than me. He left BC 17 years ago, to work in the Maldives. He has the money to give her a better life, and so once again that was me out!

These past few years have been extremely hard on me, finding romance, having a lovely time, a lot of fun and joy, and then being rejected for the reality of money.

In life I seem to be able to travel, and I can facilitate people achieving their dreams, their careers, especially those who would fly.
But money and love are not well starred, so I wander this World because I can, but I am alone because I can not accumulate the funds to maintain a relationship.
Romance is much more possible in Asia as women like men, but as with everywhere else, the money you bring is important. Thai wedding customs include the groom spreading out wads of crisp new money notes to show he has the means; this frightened the hell out of me!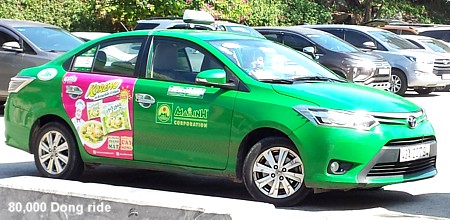 On Christmas Day I checked out of the De Lamour Hotel before 12:00 and had a couple of hours before I could check in to the Alisia Hotel a short walk further up the beach. A similar hotel, but with a swimming pool, and a higher price, $66.66 for two nights, (just under $7 a night more), and this turned out to be better value for money.
I took a taxi up to "the Lady Buddha", a huge statue of Kuan Yin with temples, a pond, and Buddha statues.
The taxi driver agreed to pick me up at 14:00, he wasn't there, but I am patient, I can wait, I can buy a cornet ice cream, and sit there a while. 'Watch the Chinese and Korean tourists march past on their guided tours.
At 15:00 a Grab driver collared me, and gave me a 72,000 Dong ride to the hotel.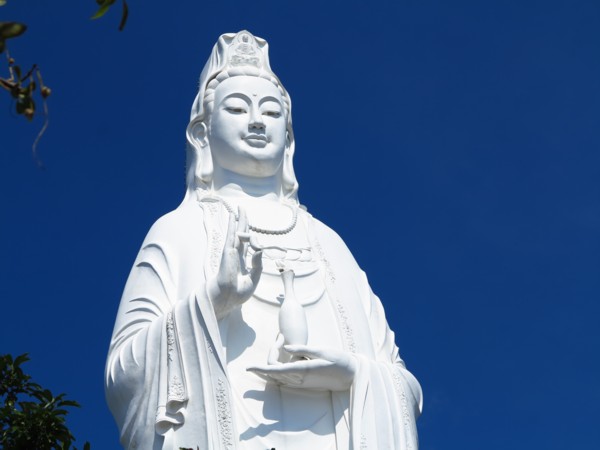 Giant Kuan Yin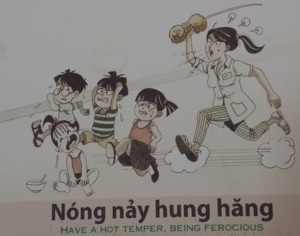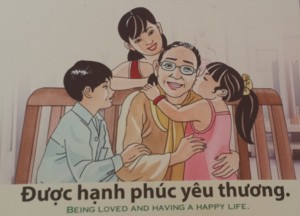 Images on the Temple walls include the ghost of Christmas past, and the ideal.
Like many of my generation I grew up with the first picture, but I am happy to write that the second image is more normal now.
(Mind you, does the second picture show a 'single mother'?)
The build standard of the Alisia Hotel is not as good as the De Lamour, I had difficulty opening the window.
The window blind was inoperative, and so would not close properly. I took it apart, and fixed it so now it would go up and down properly with it's plastic bead operating string revolving the shaft correctly.
From the outside I could see many of these blinds with similar trouble in the windows of other rooms.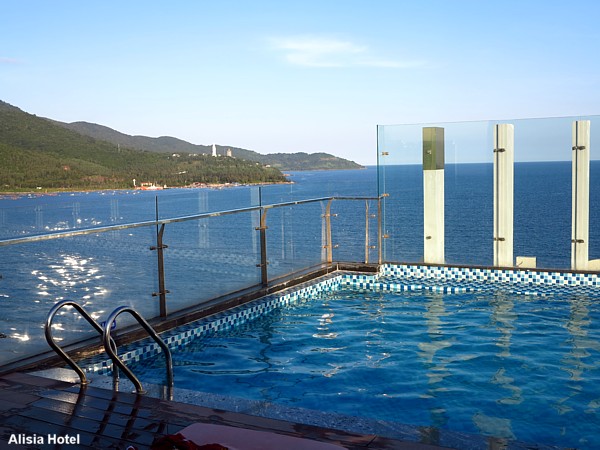 Atop the Alisia Hotel. You can see the giant "Lady Buddha" on the peninsula.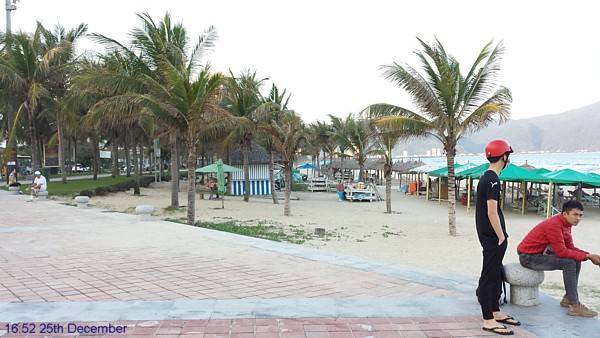 Tourist development closer to the posher hotels further south. The Alisia is the middle of three buildings just left of the palm tree.
After check in I borrowed one of the hotel's free bicycles and cycled south along the beach to the busier part.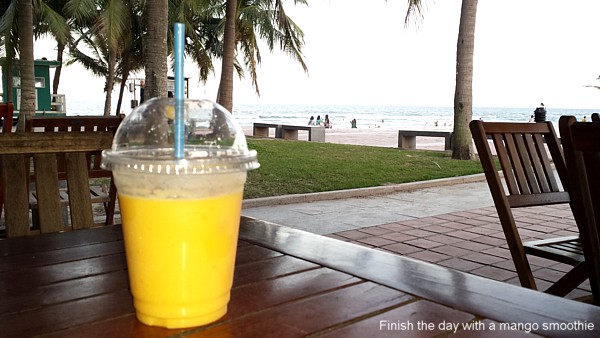 The De Lamour Hotel restaurant was short staffed in the morning and so I had not had a fried egg or a large breakfast.
Later in the evening I walked into the back streets found a well attended local restaurant and ate BBQ prawns with Bok Choy washed down with a Bia Saigon.
I did not know how to eat prawns on skewers, so I made a bit of a mess of them!
The middle aged serving lady told me she was single; I was being propositioned. The younger girl who opened my beer spoke very good English.
While there a man who had lost both legs just below his hips stopped by in his electric tricycle. He shuffled around on two wooden [ n blocks which he placedin front of each stub in turn, and collected money.
Then another disabled chap arrived on a motorcycle with a loud loud speaker, and sung karaoke style at a volume high enough to quel the restaurant's own music. He then went around selling packets of snacks before leaving.
It was cool sitting outside, and so people wore jackets, and sweaters.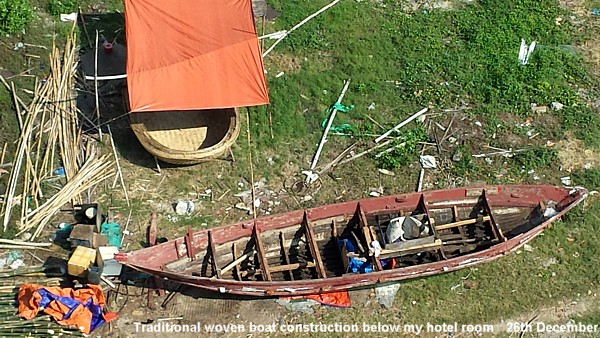 Boxing Day, I woke up to Chinese speaking at high volume to each other in the hall, and slamming doors at 06:40.
Breakfast was better at the Alisia and so I fueled up for a day out on one of the hotel's free bicycles.
I set off on the bicycle wary of the vehicles, gave way to a lorry that swung across in front of me, turning right. My right of way did not matter and the lorry will always win, so I stopped.
On the main roads be wary of cars and motorcycles coming out of side streets, the Vietnamese do not look where they are going and so the risk of an accident on a bicycle is very high.
First I went to a shop to check out some prices for a friend here in Thailand, and then I continued on to the Museum of Champa Art.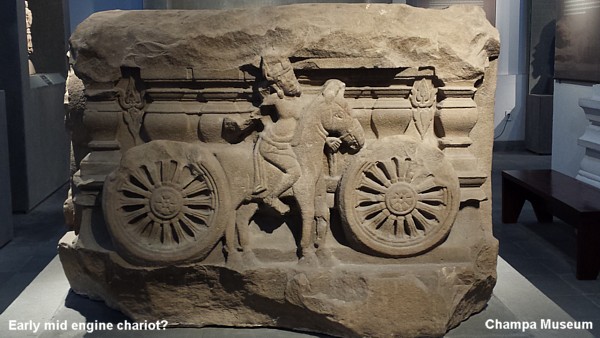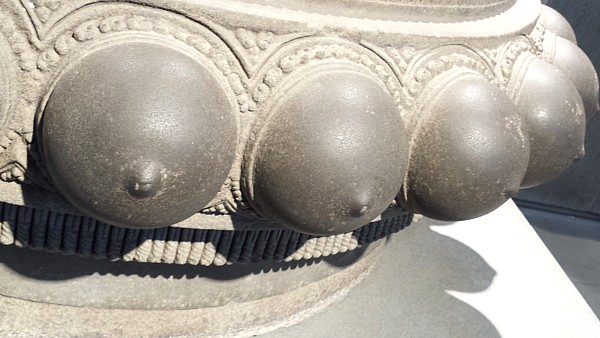 Some Indian religions prefer the strength of the phallus, but I tend to agree with the Khmers, these are better.
There were pictures of the temples in this, the part of Vietnam that once was the Champa Kingdom.
If I travel here again I'd like to stay longer and travel to these sites.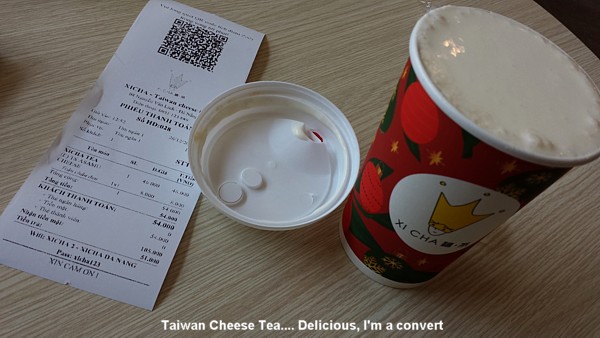 On my first day, as I sat drinking my bubble tea I saw this Taiwan Cheese Tea shop across the road, and so this was my next stop.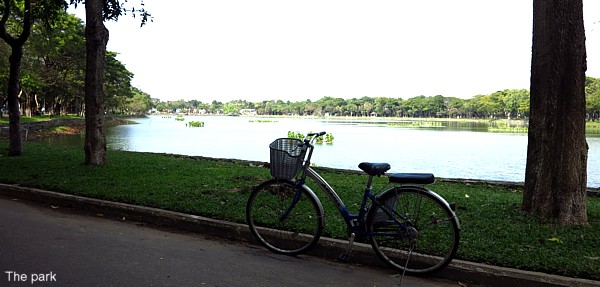 Up towards the airport and turn right to the park.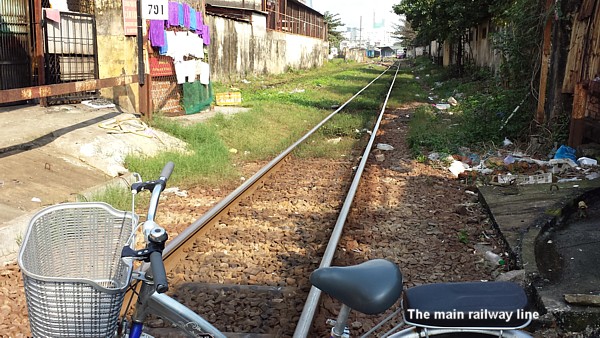 I spied a train; this needed investigation.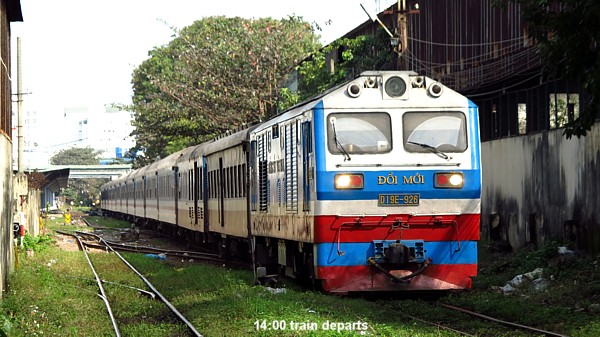 I decided to ride around to the railway station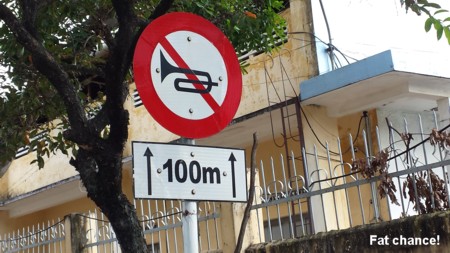 The use of the horn is at least as bad as it is in China and it is very annoying.
In comparison, the Thais rarely use their horns.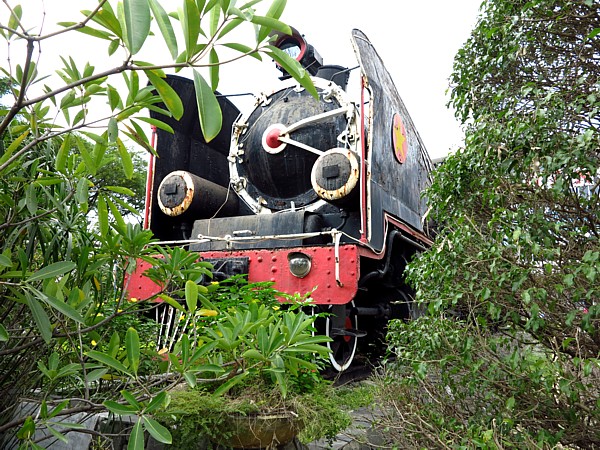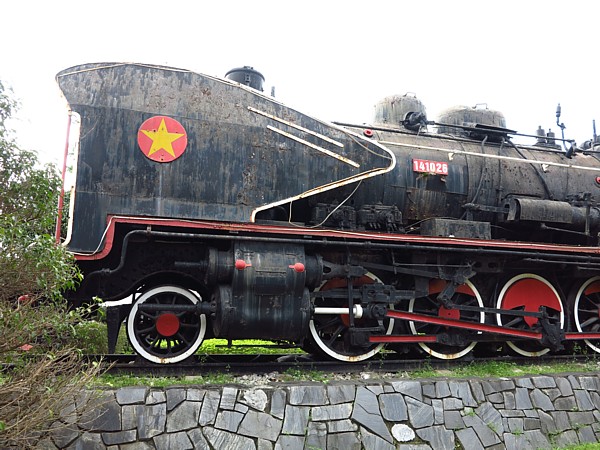 Metre gauge 2-8-2 locomotive with strong 'eastern bloc' forward side panels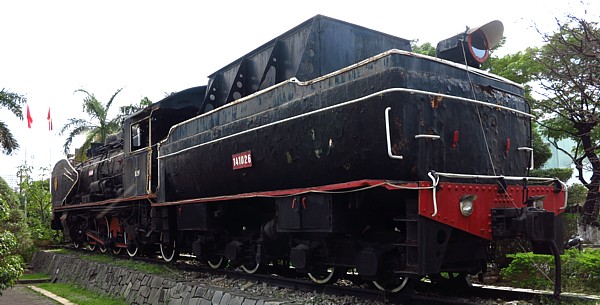 The Vietnamese "Ga" is probably a version of 'Gare' of French derivation?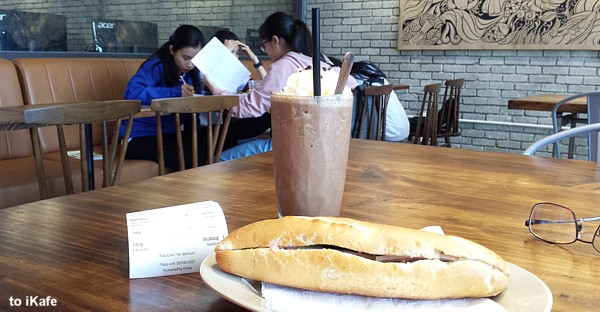 I cycled back to the main road, and across the tracks again towards the bay north of the town, turned right and stopped at the new tô iKafé where students can play online games, or study.
The girl in blue told me she was studying Carl Marx. Political indoctrination is still here, and Google shows "Political schools", though on the streets, with smiling people doing their own business without a collective thought, how 'communist' is it really, and more important was it worth the lives and destruction fighting it?
The chocolate milkshake lacked any ice, and was the best milkshake I have had in a very long time, very rich, very good. In Thailand the glass would be full of ice with a small amount of chocolate milk in it.
The baguette was filled with spicy sausage and sustained me until I had a Milo ice cream cup for dinner later.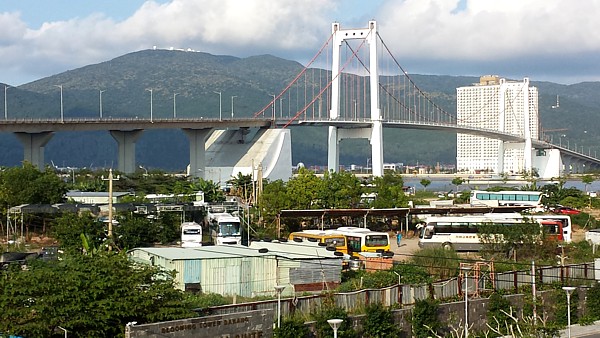 I must admit I had to get off the bicycle a couple of times on the way up this bridge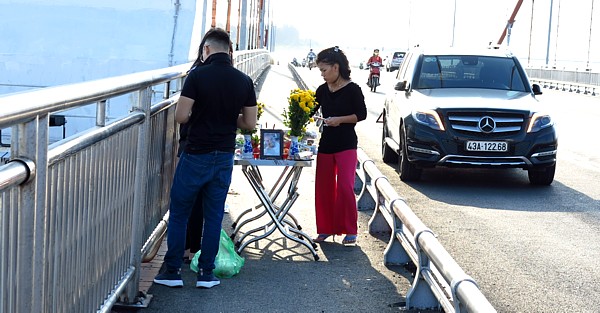 The car was stopped, its hazard lights flashing while its people prepared a table of food and flowers in memory of their lost friend.
Monks were due to visit this location where their friend had died; road accident, or a leap off the bridge? I didn't ask.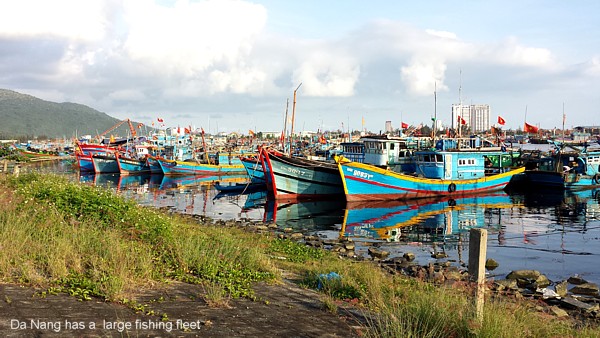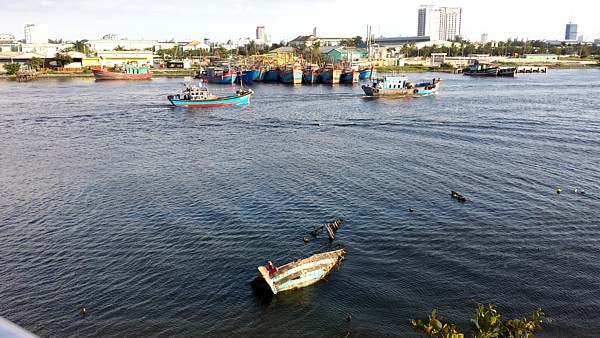 The end of a fishing boat while two re-enter port from their fishing trips
By the time I arrived back at the hotel I had completed a ride of around 22 kilometres on the bicycle
It was soon dark, and I went for a walk... Stopped by a small shop and bought a Milo Ice Cream Cup and a KitKat for dinner.
I ate the ice cream seated beside the entrance to the hotel... 'Felt a little guilty, the hotel receptionist was lovely, and so I should have bought her an ice cream as well... I gave her the KitKat.
Then I went to the top floor bar, there was nobody there, but I had a can of Tiger Beer.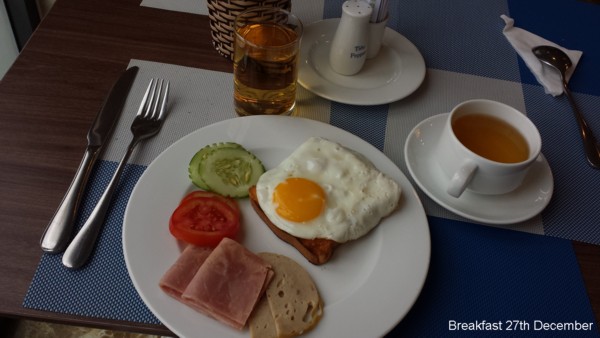 A good start to the day. The tea is Green Tea, no black tea on offer, but plenty of food to eat including cornflakes and chocolate rice krispies, toast and jam.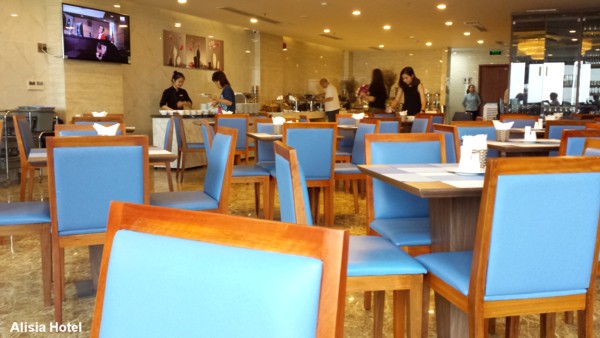 More spacious dining at the Alisia Hotel
The Grab ride to the airport was 116,000 Dong and so I had 176,000 Dong in my pocket as I entered the terminal.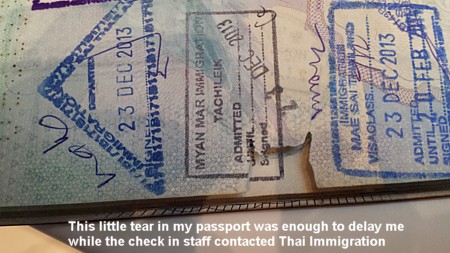 The girl at check-in wanted to see my return ticket from Thailand to Canada and I usually take a screen shot of this... Took me a while to find it.
You have to show that you have a ticket to leave Thailand, and this was the first time I had been asked to show it.
Then there's damage to one of the pages of my passport when an American border agent tore a visa waiver out of my passport with its staple. This was a big deal, and so they had to check with Thai Immigration whether I can enter Thailand with this... It happened more than six years ago, and I have been in and out of Thailand many times since then!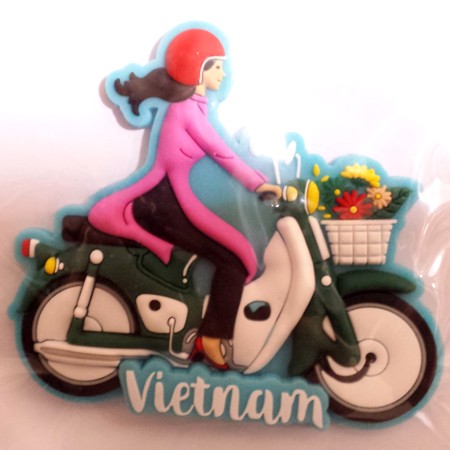 Gift shops in the airport price their goods in American Dollars, but they will accept Dong subject to an exchange rate!
I bought a couple of figurines and the above fridge magnet with it's reminder of delightful sights in Saigon of smiling girls riding their motorcycles.
The fridge magnet is still in its packet hence the interesting aura in the picture. On the back is written "My friends went to VIETNAM and all they brought me was this LOUSY MAGNET!"
The Bangkok bound Air Asia Airbus 320 pushed back from Gate 7... We were suddenly moved to Gate 4 where there was no aeroplane in sight.
It soon arrived, unloaded its passengers and after a quick turn around we were on our way to arrive on time at Chiang Mai Airport.
The morning had started with rain in Da Nang and so we transitted through the clouds to the glorious sunshine above, the clouds disappeared as we flew west over Vietnam, then Laos, crossing the Mekong north of Pakse, and then past Ubon Ratchathani. We were very high, but I could recognise places as we flew west, until after the mountains, towards Phrae I suppose where the smoke began to thicken as the farmers worked to blot the view.


We taxied by the hangars with these Mi8 helicopters, and the more sheltered hangars with SU22s parked in them.
I had my camera ready to try to snap some pictures of the SU22s.


The Thai Air Asia flight arrived on time, parked on the far apron.
I walked to Airport Plaza and had Kao Soi Gai, and then took a Sorng Taew home.
It is unlikely that I will update this website in the near future
I wish you a happy and prosperous 2020