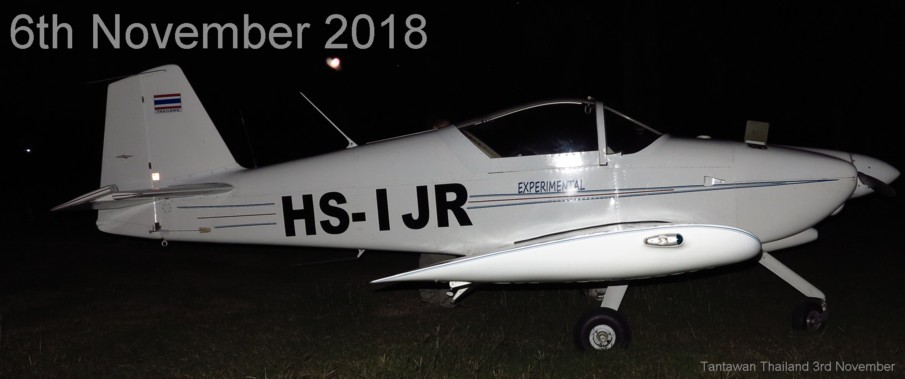 I am finally back in my apartment in Chiang Mai after wandering around the northern hemisphere again. It is time to think and to consider my next moves in this life as I have travelled and I have seen and I have learned, and now I am all but broke.
There is a pool I have managed to reserve for my old age and so I am not to be destitute yet!
My life long British PPL is valid to fly with; I was told by the CAA at Sywell.
Finally after a glitch with my credit card which had to be replaced due to the British Airways computer hacking problem the CAA have run yet another £45 fee and are requesting my information from Transport Canada.
It seems governments around the world are cutting back on the expense of their aviation authorities and so we have to wait long periods to obtain answers, licenses, and ratings.
All countries 'invented aviation' and so they do not consider the standards of license holders are as high as their own.
Today I was asked whether the Canadian Instructor Rating meets the standard of the British/European rating... Of course it doesn't!
When I learned to fly the British PPL standard was higher than the Canadian standard I saw in 1970's Quebec, but now the opposite is true in many places. The Canadian requirements for the PPL are higher now, and the Transport Canada PPL Flight Test is quite a daunting and difficult task for many candidates. It is also a subject of fear for the instructors should they have three students fail!
But I have also noticed that the standard in Ontario is different to the standard in BC as students have come to BC without the skills the local (same) flight test requires.
In my life I have been an Assistant Chief Flight Instructor in China, and a Chief Flight Instructor in Canada.
I have held all the ratings except the Class 1 instructor rating in Canada. The Class 1 instructor rating allows the holder to teach instructors, a job I have done in any case! It's a requirement of a CFI who has instructors working under his/her supervision.
In England I have nothing, I am a PPL, so how much training will I need to meet the British/European standard, and how much pain do they want to put me through?
I have to wait for the response from Transport Canada, and the CAA's assessment of my foreign qualifications.
I did a PPL revalidation flight in June to revalidate my British licence.
Here in Thailand flying has ended for me in a formal way.
I can go as passenger in aeroplanes, but I no longer have a validation to fly aeroplanes anywhere in Thailand.
Unfortunately the situation here has gone beyond the point where I will bother, besides I no longer have the money to put into it.
Thailand over the past 14 years has absorbed all of my excess funds.
Canada has no future for a low paid person like me growing old, Thailand has no future as a place for me to fly, and so I return to England in the hope of a more satisfactory end to my working life.
But Thailand is serendipity, and so I hope to come up with something soon.
'Sit under a Bodhi Tree Michael and meditate on your future'...
Bonus Week In Vancouver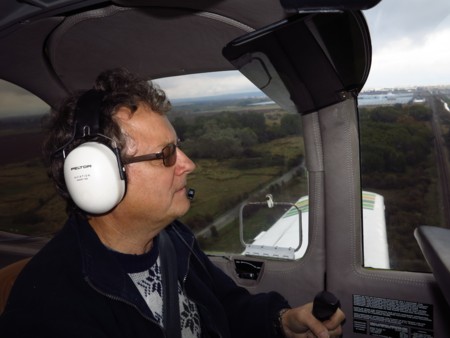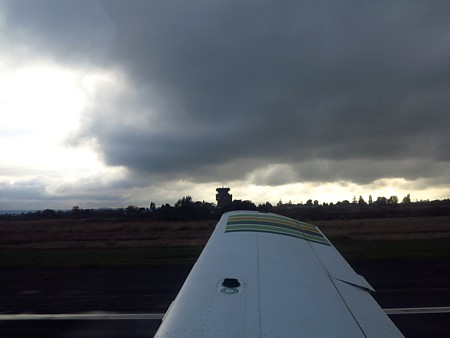 Flying with my brother Gary in the Tomahawk; 8th October. The morning was miserable and so many cancelled in the flying schools.
Originally I had planned to return to England as soon as the Chipmunk had completed its Annual Inspection, and after flying for a few days with Ted.
As it was Ted went on a trip to Quebec and so I stayed another week in Canada in order to be able to fly with Ted in his aeroplane.
This was practical as you can buy two one way tickets to and from Vancouver for little or no difference from a return price.
I had flown one way on WestJet to Vancouver, and so I booked an Air Transat flight back for a similar cost, while paying an extra $79.50 for Option Plus which allowed for an extra bag, a comfort kit, ear phones, and food. It was worth it.
Air Transat was better than WestJet on the route between Vancouver and London Gatwick.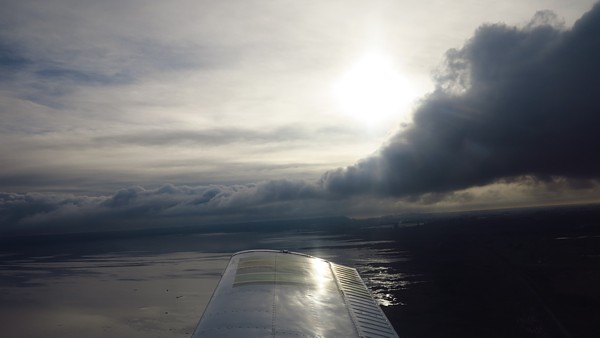 Moody sky that was left open to us
Chipmunk Travels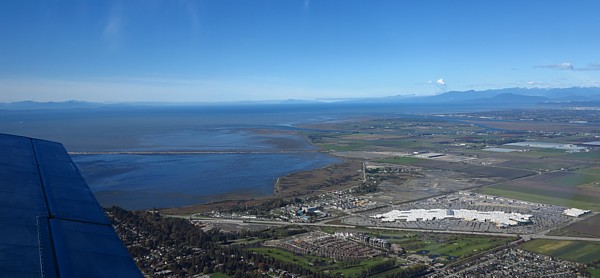 If you own a Chipmunk you must fly, it's an absolute pleasure even if you take Michael in the back.
9th October was a glorious day and so Ted and I decided to drop a handheld radio off at Boundary Bay, and then go to Victoria for lunch.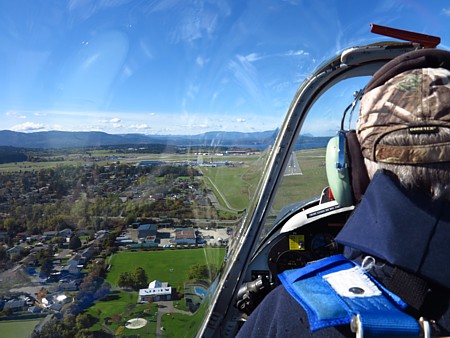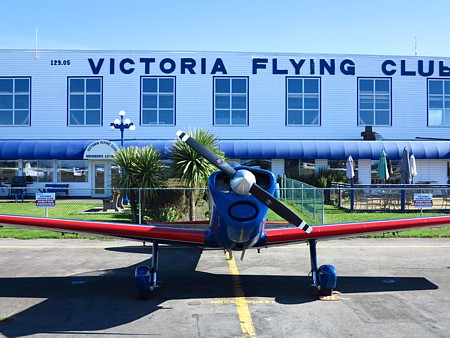 It was an easy crossing climbing up to 4,500 feet to cross the sea under the clear blue sky. East Point then Stuart Island arrival with a straight in to runway 27.
We were met by a retired Brit who looks after the fuel at the Victoria Flying Club. He was pleased to see the Chipmunk.
In his office I phoned Gordon who is also an ex-pat who was working at Derby Burnaston Airport when I visited there on a Junior School trip from Mickleover... We could hear a phone coincidentally ring in the next room!
A good lunch was had.
I chose the Asian Chicken Noodle soup. It was a delicious bowl with chunky chicken, fat noodles, and veggies... Very good, and served by an attractive Chinese woman who certainly caught my eye.
The flight back was at 3,500 feet with the D'Arcy Island departure to East Point, then over to Birch Point Wa, and back to Langley.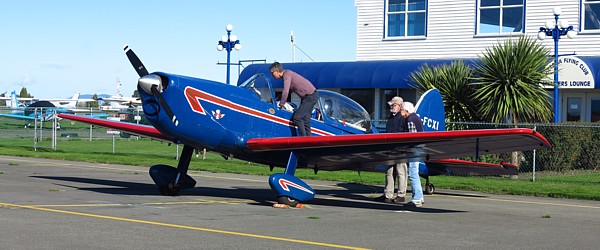 The Chipmunk always attracts people's attention
Rowena's, 10th October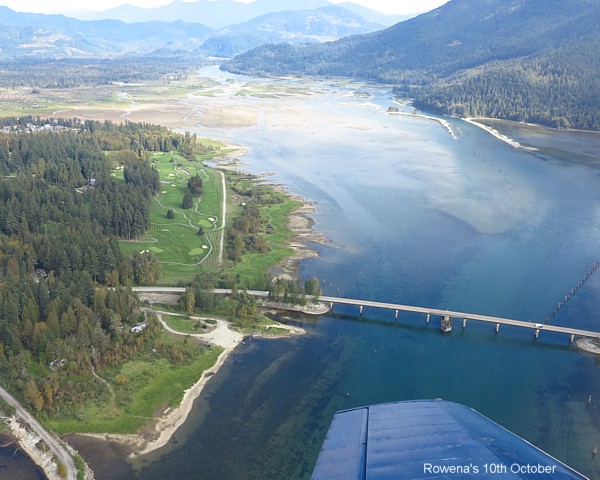 With me it's not enough to go from A to B, we should sometimes do something on the way.
And so to gain an appetite we did some exercise in the Chipmunk on the way... Steep Turns, Stalls, and Slow Flight.
Although the Rowena's, Sandpiper Golf Course, strip is straight forward for most of us, there have been accidents here in recent times. So extra care is taken by us so as not to be complacent.
Not a problem for the Chipmunk this time.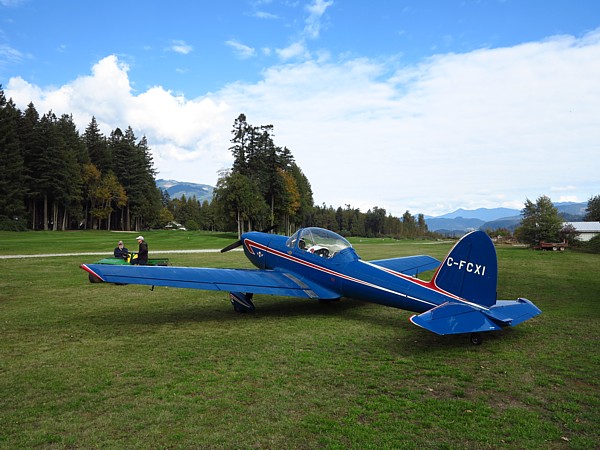 Being offered a lift to the restaurant
Rowena's is an idyllic place to visit especially on a superb day like this.
The food is good too.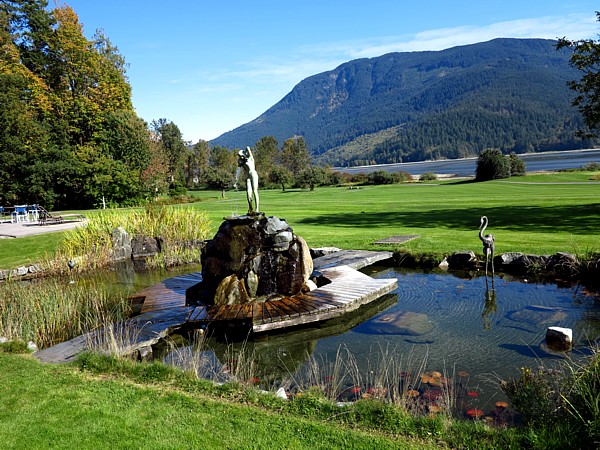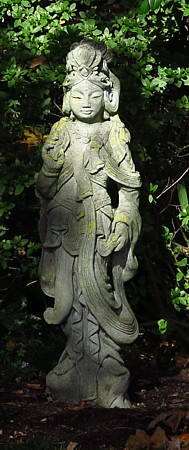 The flight back involved two loops, 2 barrel rolls, a quarter upwards clover leaf and a barreled roll...
After landing on 25 at Langley we cleared at the end on Juliet, and had to taxy very carefully as the airport has many obstacles. There are many worrying 'signs' at Langley, embedded in the ground, but dangerous to errant low wing aeroplanes.


Gloria checks the fuel
Later I did one last flight with Gloria in the Piper Tomahawk at Boundary Bay.
I discovered that the antenna connection was the problem with the transponder... It now worked, but the aeroplane was scheduled for an avionics refit with a new transponder and VHF radio being fitted as well as a GPS.
Work and investment continues into the Tomahawk.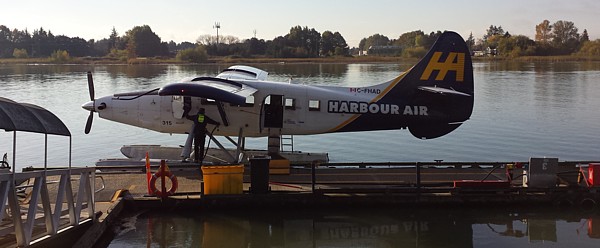 Lunch at the Flying Beaver Pub before departure to London
As the weather was still superb I felt quite bad about leaving Canada this time, but 11th October Air Transat TS494 took me back to London Gatwick.
It was a comfortable flight.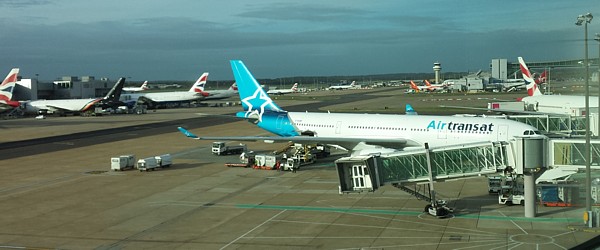 England


Beagle Pup 150 at Blackbushe
Gatwick is convenient for Guildford, you take the Reading train from the station attached to the terminal.
From memory it was £14.50 for the one way off peak ticket along the scenic route via Gomshall to Guildford.
Paul was kind enough to pick me up from the station.
The MX5 started!
During my stay in Guildford I drove around the local airfields and up to the Midlands to see an operation up there.
There are many things I can do, and many job offers if I have the European instructor rating. The hold up with the CAA makes it difficult for someone like me who is looking for a job, and for the flight training industry itself.
Harvard Aviation Redhill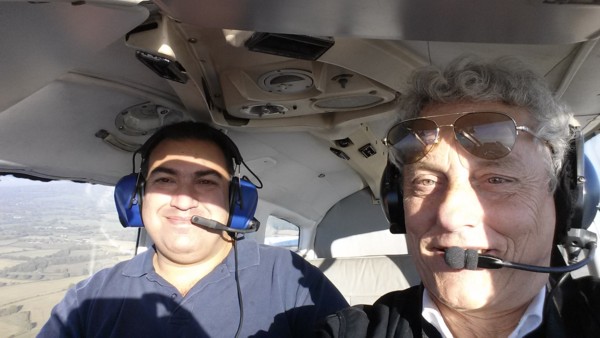 Up with Paul in the Piper Warrior, 20th October
I can rent the aircraft from Harvard Aviation and since I had a visitor from Canada to fly with in a couple of days, I went for a quick flight with my landlord Paul.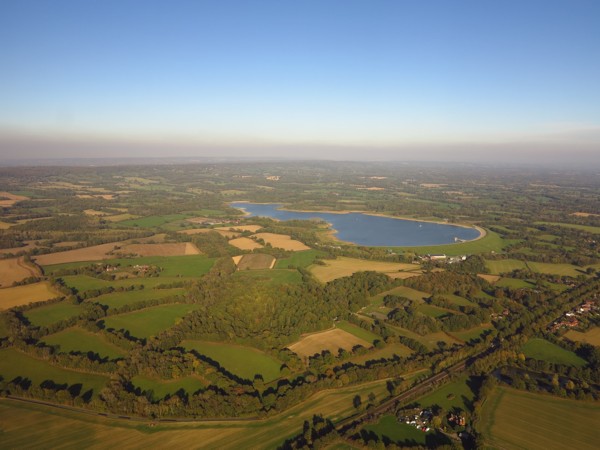 Bough Beach Reservoir. The weather was superb for my stay in England.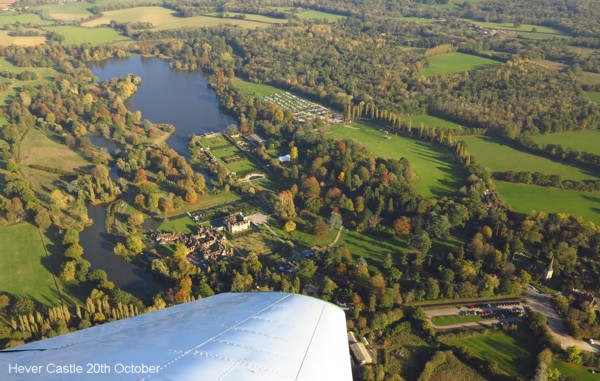 Young Anne Boleyn's old house, later bestowed by Henry VIII to Anne of Cleves.
During the late 1970's and into the 1980's I used to take people on scenic flights to Hever Castle.
IOW

There are new procedures in England that I need to review before I fly here, and so it was I carefully planned my routing to Sandown Isle Of Wight, a flight I would take for granted a few years ago.
But airspace changes, and new communication requirements have come into force in recent years.
during my planning I checked the frequency for Farnborough Radar it was 134.355 it seemed, instead of the 125.25 I remembered from years ago... Frequencies tend to stick in my brain!
In fact it was still 125.25 and I called them to request a "basic service" when over Reigate Hill. I only exchanged a couple of calls with Farnborough after that though there was plenty of traffic about, and this was spotted and avoided as necessary.
Leigh used to live in Effingham and so we flew over there to spot his old house...
I lost my T67A together with two good friends near Effingham and so I thought about them and that distressing time in 1987 which had a detrimental effect on my mind... It began the end of the Condor Club.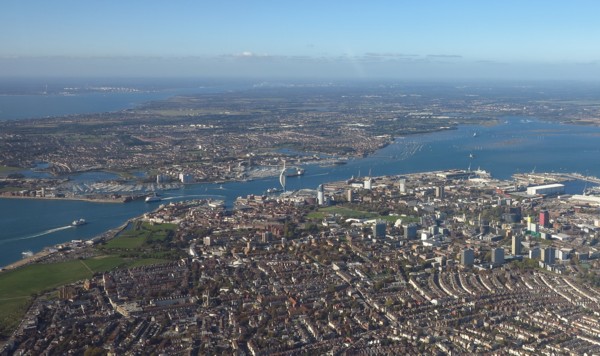 Portsmouth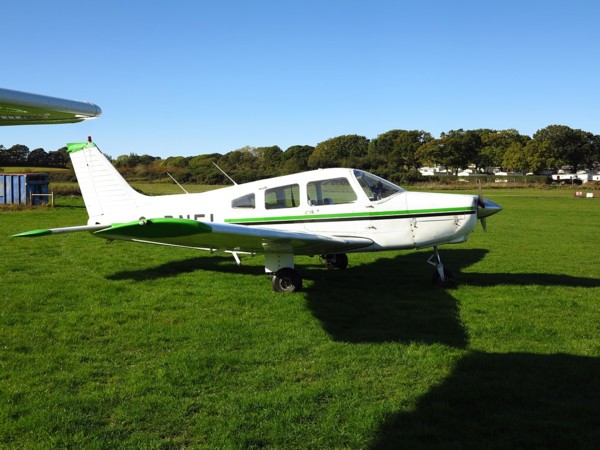 The Warrior on the grass at Sandown Airfield
There were three of us and so we had food in the airfield restaurant, and then took the walk down to the seaside for an ice cream.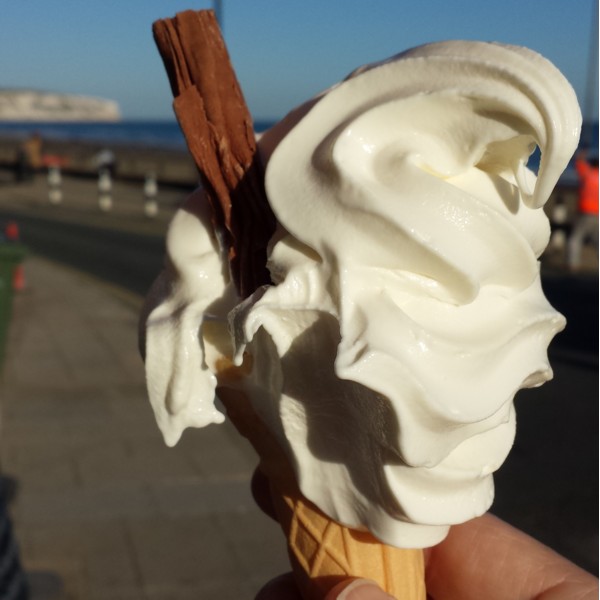 "99" Ice cream. No longer 6d ice creams at the seaside.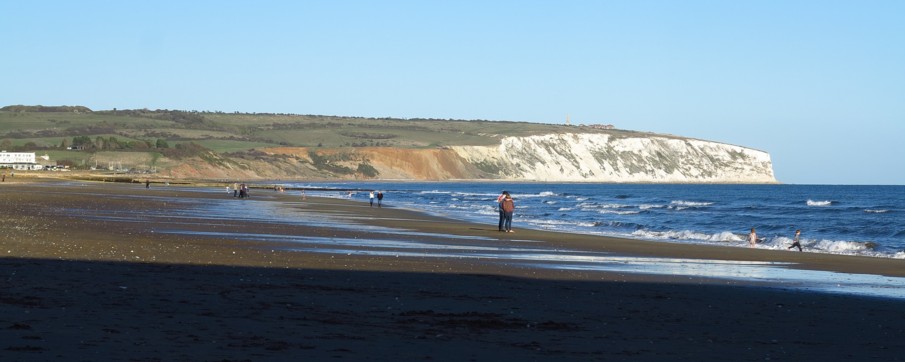 The beaches are clean and in excellent condition, better than I have seen here in Thailand in recent years.
Time was running out fast, and so we took a taxi back to the airfield and took off for a near direct flight back to Redhill.
New procedures meant flying around to the north of Redhill Aerodrome to loop back via South Godstone Railway Station for a right base join for 36.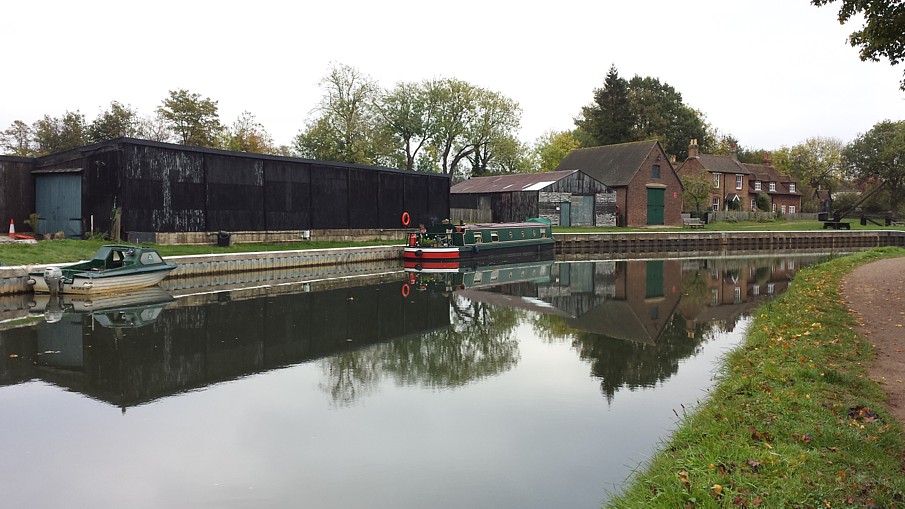 24th October, a final walk into and around Guildford, Autumn is apparent, but yet again I was leaving with superb flying weather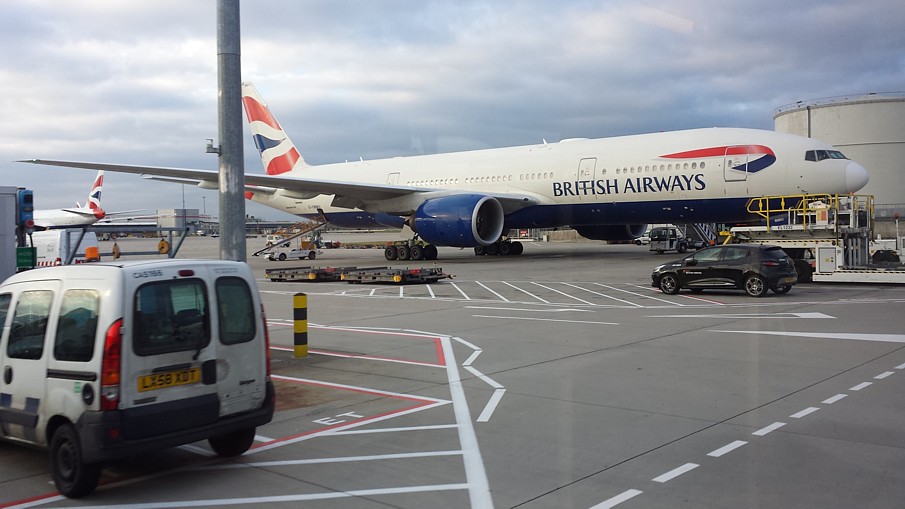 25th October and we bus out, Thai style, to British Airways 009 to Bangkok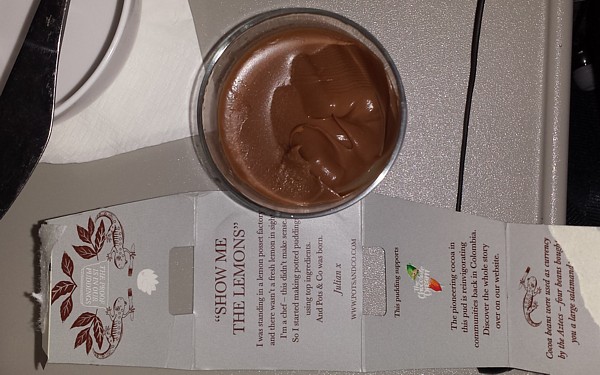 British Airways was a little better this time. I was given both a blanket and earphones unlike the last time, and they did not run out of food.
It was a 'new' cabin crew who's PA announcements were er, em, ah, longer than they could have been if they had been practiced... Even though the old screens were poor, I did not like the long interruptions.
But the crew did their best.
The first meal included the chocolate pudding above... I was concerned about the quality of this pudding and so gracefully volunteed to try another one to see if the whole batch was as good, I mean bad...
The flight arrived at Suvarnabhumi Airport on time, and we were given a gate rather than being bused in...
I went through Immigration, and then Customs and then took the Airport Train to Makkasan (35 Baht) and the underground to Phahon Yothin and Central Lad Phrao shopping mall.
Stayed there a little while and then took a 26 and a 95 bus to Ram Intra and the apartment.
It seems I am quite able to get around Bangkok using buses and trains.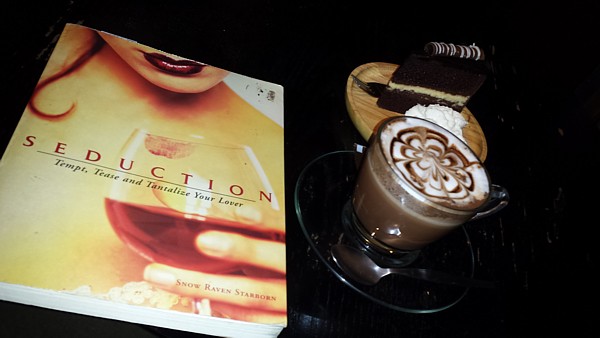 Naughty hot chocolate and chocolate cake in Bangkok
I spent just over a week in a close friend's apartment on Ram Intra Road... Not a good place for me; there's a continuous traffic jam as they are building a skytrain line in the middle of the road... Pain now but gain later.
It's also not within easy walk of pleasant places... Krungthep is not a place for me to be.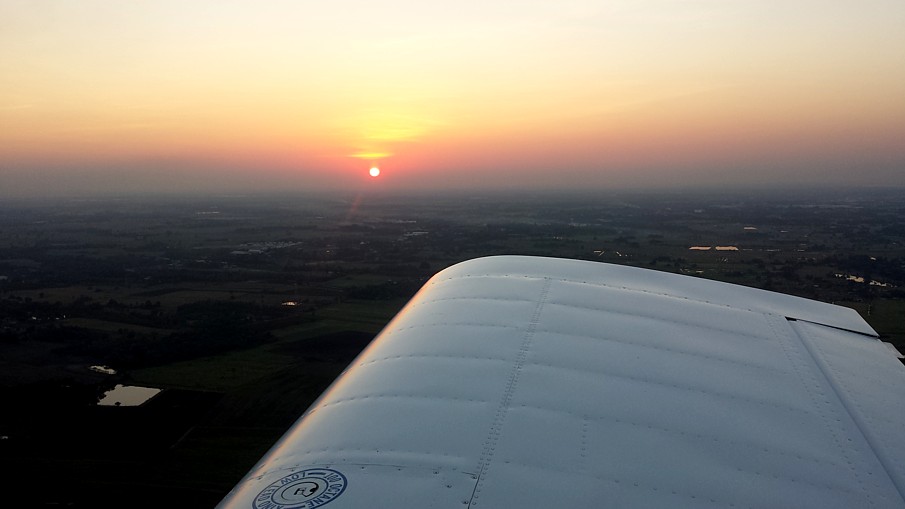 On Saturday I went flying with Khun Chamrat in his RV6A just before sunset.
Back to Chiang Mai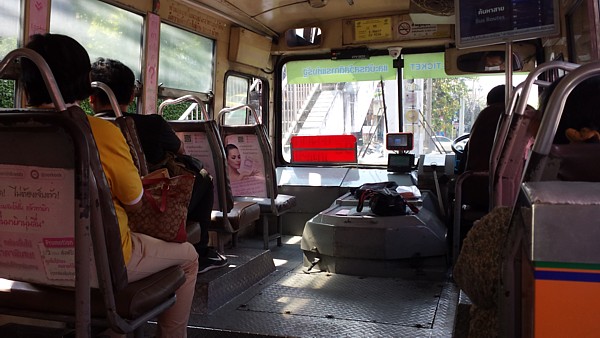 I took a 95 bus followed by a 26 bus to Chatuchak MRT Station, 13 Baht the two buses.
Manual transmission with 'crash' gearboxes, and no aircon, so they're called 'Hot Buses' by the Thais.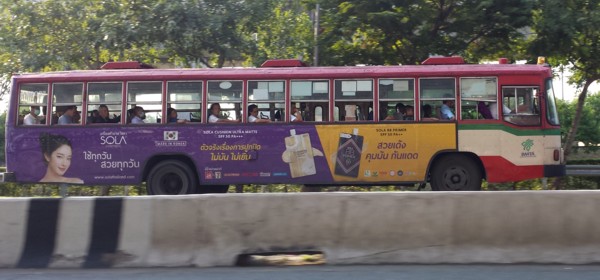 Sturdy and reliable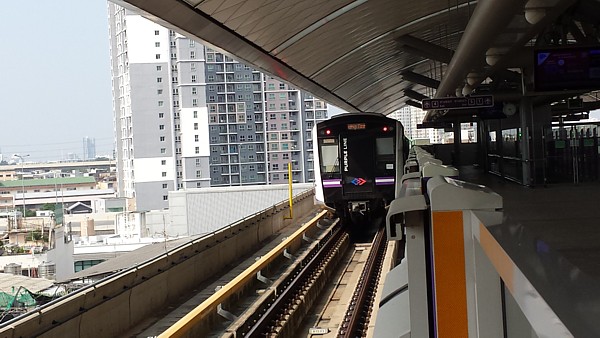 Infrastructure is being built in Bangkok to allow commuters easy travel in the future.
Many new 'skytrain' lines are opening such as the new Purple Line I took to complete my journey.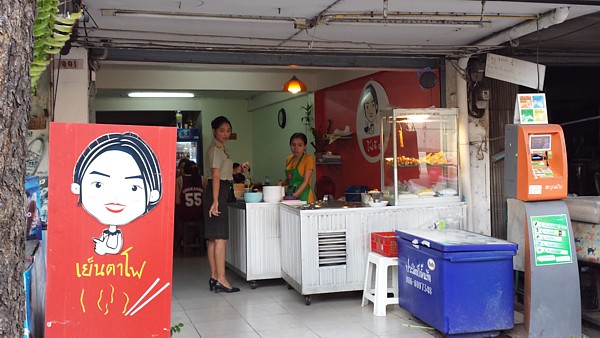 I ate and waited at the Yen Ta Pho noodle restaurant, near Bang Som (Purple Line) station.

Flights are not delayed in Thailand, merely 'retimed'!
Last night I flew back to Chiang Mai on Nok Air, took a taxi home (200 Baht), and then a Tuk Tuk into town to meet Khun Koi and to pick up my car.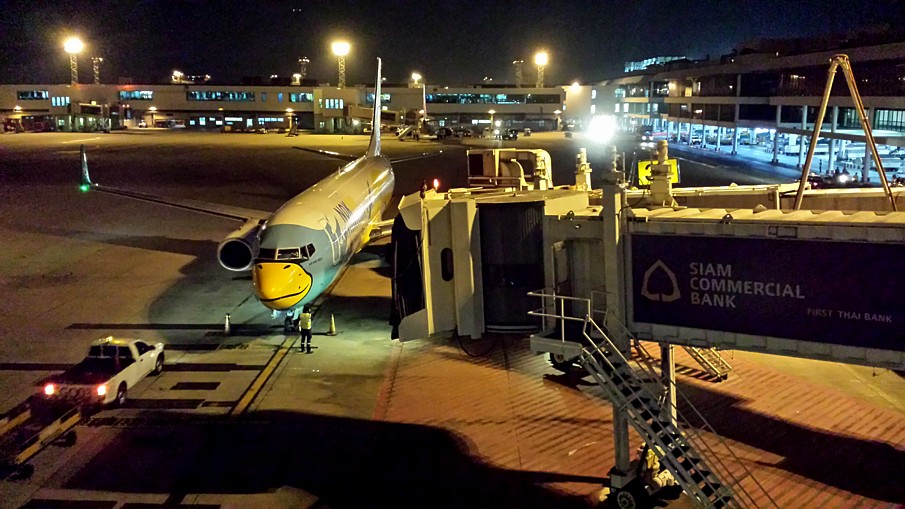 Nok Air late to the gate at Don Mueang, then had to change a nosewheel, and then was only 10 minutes late arriving at Chiang Mai.
It's been a month since my last update, now I have to think of what I should do next while not spending any money.