Last week in England, for a while
It's stressful at the moment.
I still need to organise my self isolation for fourteen days in Vancouver, something I am not looking forward to.

It's a shame as this garage provided good service and was very busy.
I am aware of many more struggles due to Covid (which is a polite way of putting the "Wuhan Virus")
In history such viruses were named for their apparent origins, but we're politically correct these days
As far as my opinion goes, China has become a World enemy with their actions around this virus
They are certainly making many undesirable gains for themselves in territory, law, and human rights
In history this would have lead to war

'Went to the Brickies Pub for the first time in months to meet two friends for social distanced dindins
We were the only people in the pub as many people are afraid to go out these nights
Over Dover Over
The Mazda MX-5 has been reliable for over seven hundred miles and so I decided to drive over to visit John and Hanna in Dover and put another couple of hundred miles on it.
The car performed faultlessly along the A3, M25, M26, and M20 as speeds reached 80mph at times... Just keeping up with traffic!
After the usual Czech feast at lunchtime, we dragged our bellies over to Maypole Airfield to look at aeroplanes... Then Nicky took her Aeronca Champ out for a flight and this left the way out of the hangar clear for the Vagabond...
Oh, dear, I soon swung the propeller and John took me for a flight over Kent a day after Battle of Britain Day, maybe after 80 years we'd meet the ghosts of Dorniers, Junkers, Heinkels, and Messerschmitts.

Canterbury Cathedral; remembering Geoffrey Chaucer


Something odd down there; will need a ground reconnaisance in the morning


Trucks set sail for Europe


History is everywhere you look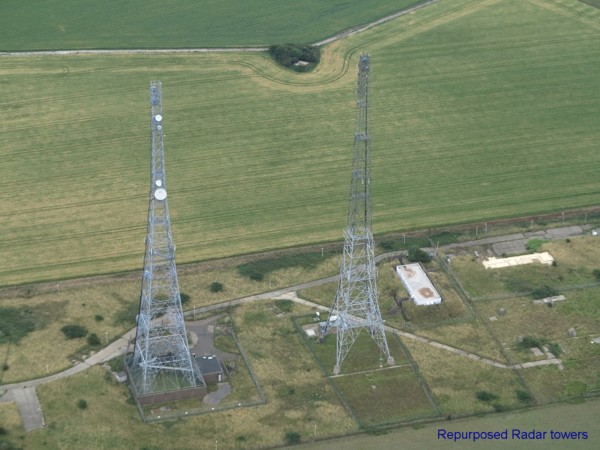 Apparently the Germans had even better radar, and so did not take these towers seriously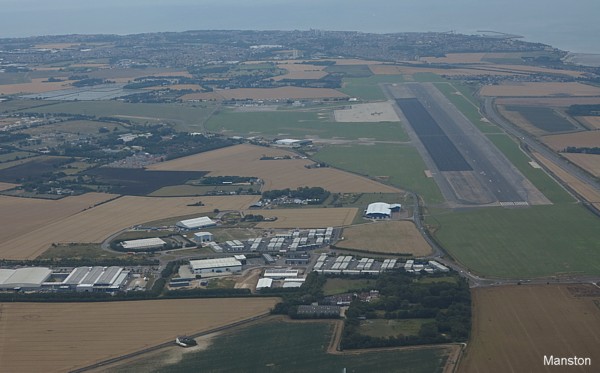 Historically this runway was able to be foamed for emergency landings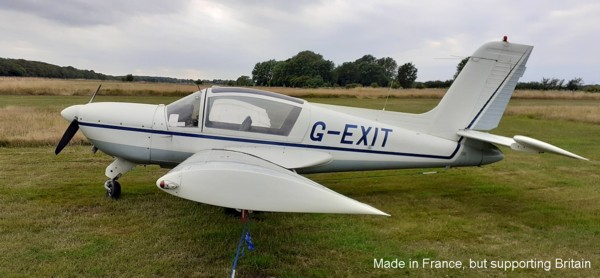 Friday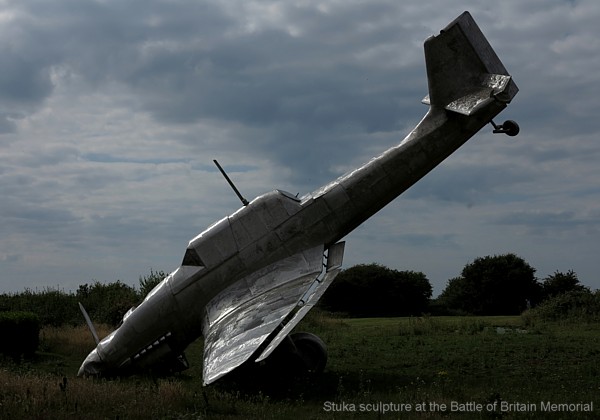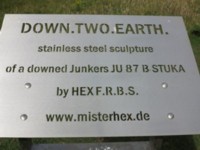 The exposure is deliberate for atmosphere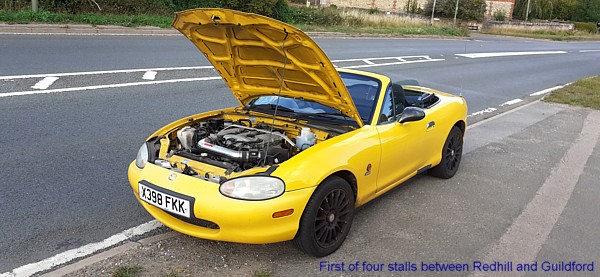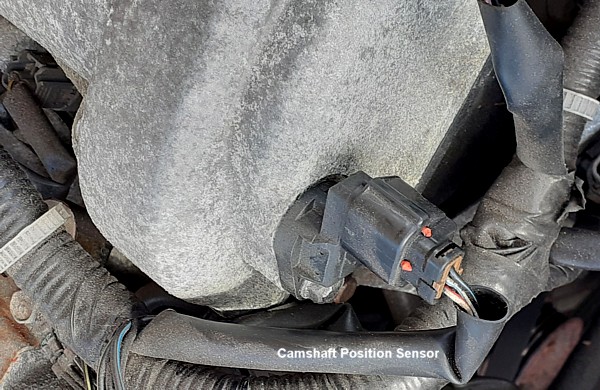 On Friday afternoon I drove from Dover to Redhill Aerodrome, and again the Mazda performed well racing along the motorways, off at Godstone, along the A25 and down the familiar lanes.
I had lunch with Martin on the deck outside the Pilot's Hub, and then set off for Guildford... I got as far as Brockham and the engine failed in the same way it had before, thereby proving that the B5B4 Relay was not the problem (unless I bought a duff one).
Alastair sent me a message: his wife's MX-5 had the same problem and it turned out to be the Camshaft Position Sensor at fault. I ordered a new one last week...
With this in mind I took a bottle of cold water and sponged water around this sensor to cool everything down. This seemed to work and I was able to start the engine again.
The next stop was on the hill from the roundabout on the A246... Cooled it down again.
I bought petrol at the Shell Station in East Horsley after which the third stop was just after the Street/Shere Road roundabout. The final stop was on the roundabout at the eastern end of Stoke Park, after which I made it all the way home. At each failure I sponged water to cool the sensor down and it would last a few miles before getting too hot.
Back in Guildford I received an email that the sensor had been dispatched on Saturday with 3 to 4 days delivery.
The MX-5 Miata in Canada was superbly reliable, but not this one, Michael is unlucky in the Metal Rat Year.
Back on the farm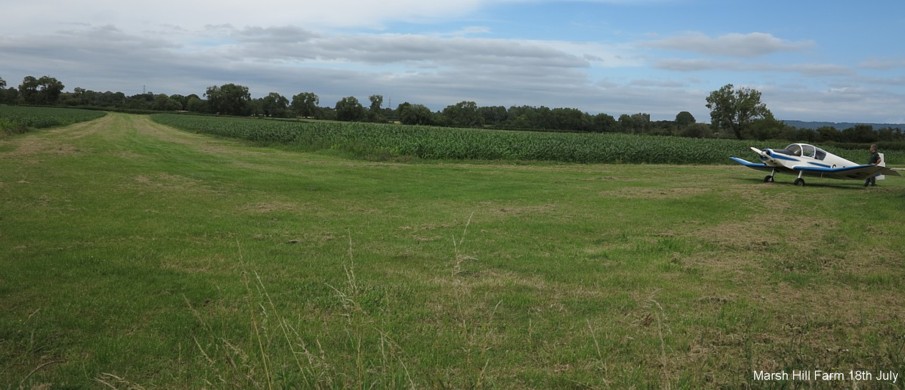 Needless to say, driving the unreliable MX-5 to Aylesbury would be risky.
I considered driving to one of the parts dealer's sites at either Heathrow or Reading as they had the sensor in stock, and I could buy another one to get going now. This providing I could drive there without too many stalls. In the end I rented a Skoda Fabia from Hertz at £57.98 (+£15.90p petrol) for the weekend.

Since I can not instruct in England, all I could do was to give my advice on the way I do things which may or may not be EASA compliant, but which has worked for me over the past 46 years or so.
My interest is in promoting safe operations of aircraft.

Safely over the hedge to land up the hill.
Sunday
The plan had been to go and cut the grass around Pauls' Bulldog at Popham, but Sunday morning was wet with rain and drizzle as a front went through.
The afternoon was looking good, and I had the rental car... I drove via Farnham to get onto the M3 motorway near Odiham... There was a policeman with his car on the roundabout and he could have diverted traffic from the motorway slip road, but stupidly he didn't.
So once the turn had been made I was faced with a massive traffic jam due to an accident.
Eventually I arrived at Popham, borrowed the airfield mower, and built up a sweat mowing down the tall grass and weeds.
This will be the last update for a while as from Wednesday I will be imprisoned in my isolation for fourteen days.
This is not ideal as there's an emotional, as well as a financial cost involved... If I was smart I'd realise that perhaps going to Vancouver at this time is not a good idea as I begin to pick up work here in England, as I do anywhere I'm about for a while, and now I pause it to go somewhere else on obligation and loyalty.
One thing I sense now is that I must start to look after myself first, and take life a bit more easily. I have watched people go through their health issues through life whilst at the same time I have carried on without too much trouble.
Recently I have had bad back trouble, very painful, but I believe the body can heal itself as long as you don't give in... I walked my back back to health and it's not painful now except for the occasional twinge. There is no doubt that age is catching up with me, and the stress that I know affects us all in this horrible year will have an affect on my lifespan.
Stay healthy