March goes viral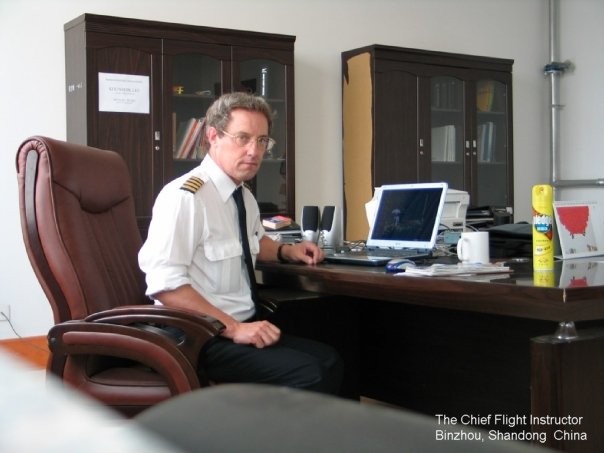 I am typing on the same computer you see in the picture; bought in Shijiazhuang
In 2006 I was working in China and it was a stressful time.
There was a disagreement between me and the head of training who first allowed instructors to descend on the downwind leg against the Standard Operating Procedures. The meant a power on approach, and a reduction in safety in my opinion.
The next disagreement involved the forty five degree join to the downwind at the uncontrolled airfield where I was based; Binzhou in Shandong Province. Like many around the World I consider this joining procedure to be very dangerous where the visibility is poor, China, and where the students fly the G1000 video game rather than looking outside (VFR).
Both of these are approved in the USA I was told, and so they should be approved in China!
As CFI at Binzhou I was responsible for safety, and I would be the one to go to a Chinese prison! Safety was the most important aspect of my job.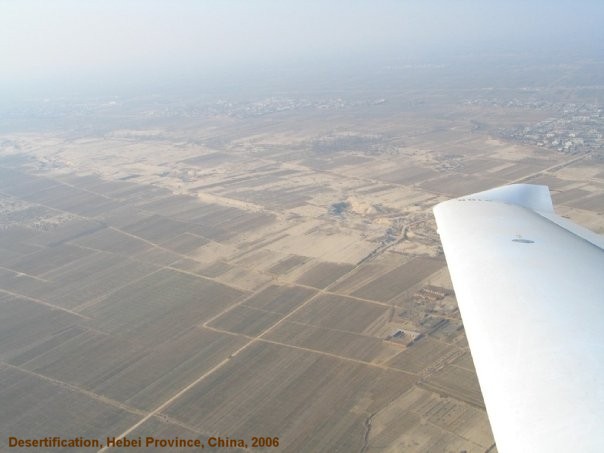 Sandstorms were common, but not from the Gobi Desert!
The end came for me over these arguments. I was sent back to Shijiazhuang, and replaced. Another instructor was sent down to work out how to impose the forty five degree join on Binzhou.
He was not successful in doing this as even the FAA instructors at Binzhou had come around to the procedure I had put in place for aircraft to enter the circuit from the practice areas. These had specific call up points so everyone on frequency knew where the incoming traffic was; this included the occasional Dragon Air flight inbound to Shanghai!
Like many who worked at the flight training academy in China I was more than a little overstressed working there. This combined with Shijiazhuang being the most polluted city in the World at that time meant that I suffered for my health.
In June I was booked to go to Japan for a break... At the same time I was very very ill, and really I shouldn't be going anywhere.
My illness was with similar symptoms to the present Wuhan Corona Virus!
There was a stop over in Beijing on my way to Japan and so I walked into a clinic where a Doctor took good care of me; his English was excellent. I was given pills, but still I should not have got on that plane to Tokyo.
However, Japan was a good place for me to recover, and a week later, though still a bit poorly I complied with my own SOP by logging a (dual) flight in a Grob 109B motor glider out of O-Tone airfield in Chiba Prefecture.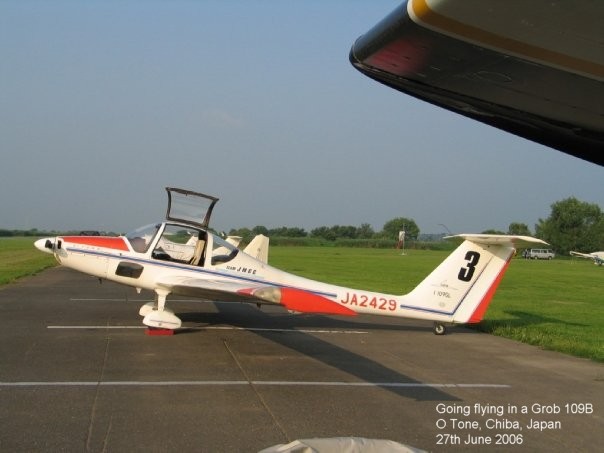 Upon my return from Japan I was sent by train to Baotou in Inner Mongolia to help them set up a new base there.
Baotou was in fact a good location in China to set up flight training, its climate was similar the Manitoba and Saskachewan with much better visibility than Shijiazhuang and Binzhou, plus empty territory; The Gobi Desert.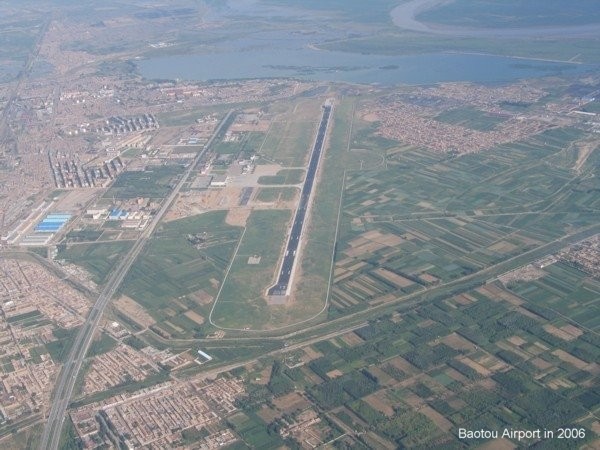 But still there were arguments over how flight training should be carried out.
Classically a student should be solo at 12 to 15 hours, this is important as from then on the student knows he/she can do it, and becomes better motivated to learn.
Typically students went solo at 35 hours at the academy, and by this time they were like spoiled fruit!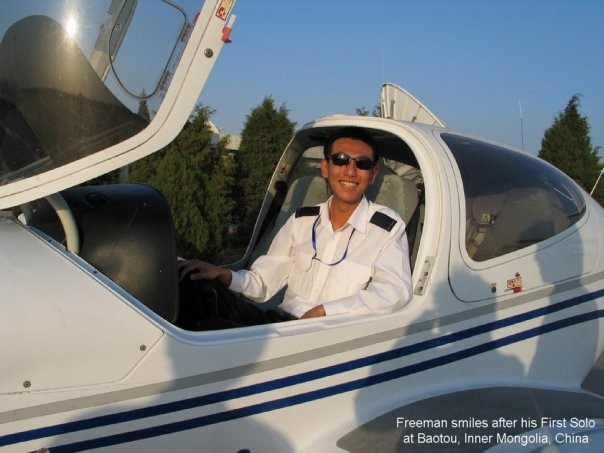 At Baotou we were still Part 61, an unapproved school, and so I decided to rebel and send a student solo at 17 hours without the rigmarole involved for the 35 hour solo students. He did very well, and the whole of his class had a huge rise in morale. Yes, they could do it !
That was the end of my time at the academy.
While there I repeatedly told them that as with the forty five degree join, their joining procedures would lead to a midair collision, and this unfortunately proved to be correct.
A Diamond DA40 collided with a DA42 in the circuit, and fortunately the occupants all survived after both aircraft crashed. "What did Michael say?" was quoted by someone at the meeting afterwards.
.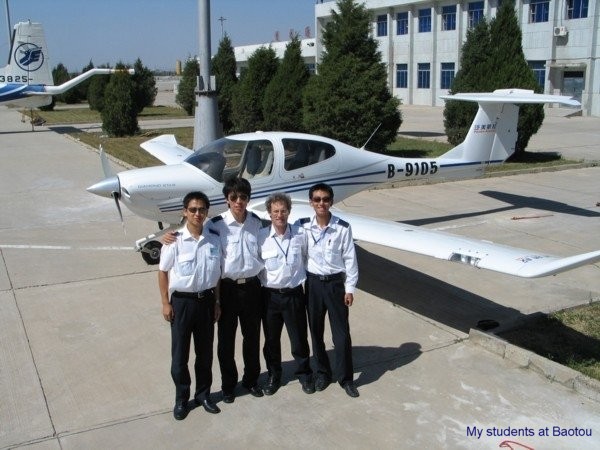 China in 2006 was a dirty place, the air quality was deadly, and basic hygiene for the people who lived there was very poor.
We were accommodated in relatively good hotels, while a walk in the streets showed abject poverty, and poor conditions.
Mao had brought in the Cultural Revolution during the 1960s and this destroyed the cultural identity of the Chinese, robbing them of many human considerations.
A group of instructors who were walking in the village near Shijiazhuang Airport witnessed the slaughter of a pig in the street! They told me the pig was screaming and still alive as its trotters were hacked off. Many instructors came, saw, and left in the night, catching a train and a flight home to their civilisations.
SARS, and Covid 19 originated from China, it's still a cruel and unhygienic country it seems, and now we in the global community suffer for the unsavoury practices in China.
I suffered there, and now I might suffer here if I am not careful.
On a September day in 2006 I stepped off a plane at Bangkok, and felt all the stress fall off my shoulders, I drove to Chiang Mai and was home again.
The next day I drove the hire car back to Bangkok with a night stop in Nakhon Sawan. I wondered why there was so much military about?, and tanks on Rangsit Road! Mai bpen rai! Sabai sabai.
Popham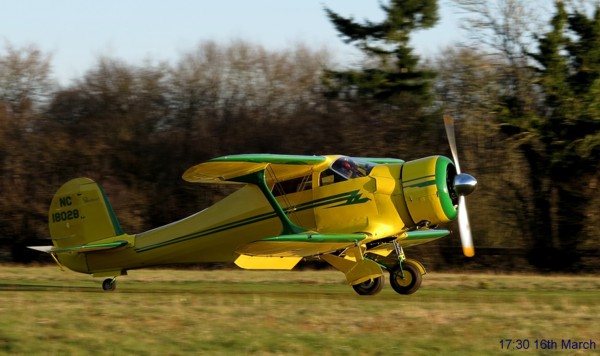 While I was waiting for Paul this Staggerwing did a nice neat three point landing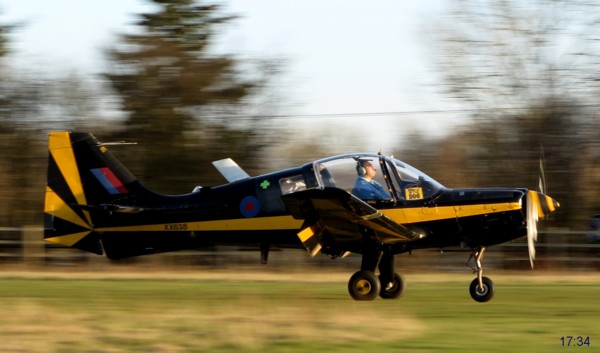 Paul arrives in the Bulldog, a refugee from Bourne Park where the strip is to have a house built on it
Since I arrived back I have been through two tanks of petrol and I am a third into my third as I have driven about a lot, visiting Biggin Hill, Redhill, Blackbushe, and Popham.
There's no business for me being in England at the moment, but I am glad to be in a country where freedom still exists albeit with some recommendations, and restrictions.
I could still be earning a little in Vancouver, but there they are on the same timeline as here in England with flight training about to be restricted, and general flying under pressure to stop along with many things we do and hold dear in the 'free' World.
So today, Monday, I am writing this website update while wondering how we are going to survive the next few months.
If the virus was created in the laboratory in Wuhan that would be one thing, almost expected perhaps? If it was simply China exporting its bad hygiene and taste for eating unusual things, then that's something else. Either way, they could not have created a better weapon against the whole World. After SARS why weren't they more careful with their hygiene?
It's perhaps surprising that such pandemics have not originated from India or deepest Africa.
The World is busy fighting the pandemic now, but what about afterwards?
Like the panic buyers in supermarkets here, the Chinese are said to be buying up stock at reduced prices as the economies of many countries suffer. Is this an act of war?
I think that we are in for troubling political times after the pandemic is over, if and when China is held to account.
Flying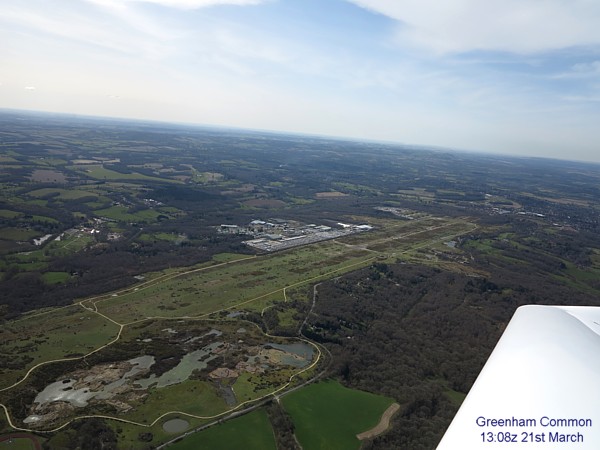 When faced with something final on the horizon I always try to get one last flight in before the dead-line.
Thanks to Airbourne Aviation at Popham I can fly a Katana from Popham, and so it was I took Mademoiselle Aourhegan for a flight in the aeroplane on Saturday and she took me for a ride on Sunday.
I flew a triangle to Draycott Farm, Compton VOR, and back to Popham with some steep turns and stalls on the way back.
In not one of my finest demonstrations of a slip the Katana demonstrated how one can lose control in the gusty turbulent air if you are not paying attention. Fortunately I am still quick in my correct response, but I feel ashamed of myself for getting into such a situation. Very un Michael! Sometimes we need a little slap to wake us up and take care.
I must admit to not being as well as I ought to have been on Saturday. Cold easterly winds seem to set me up with a slight, 'grey', sinus headache, not as bad as it was in my 20's but enough to bother me. The Corona Virus is a distraction to one's mind, making one question why you're out and about flying for fun when the government recommends you stay at home.
On a gusty windy cool day you need to be fully concentrated on the flying you are doing, and/or at least not do anything stupid where superior skills are required!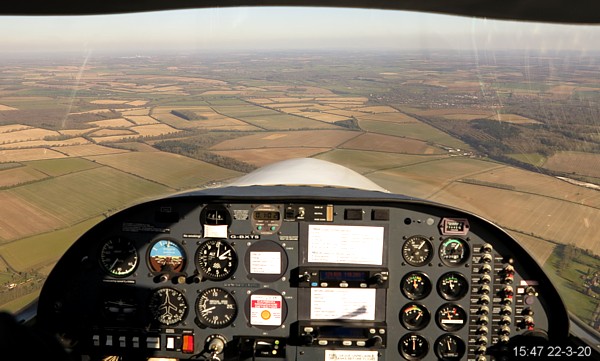 On Sunday we had a much more relaxed flight.
Took off and went to the west for some more steep turns and stalls, and to learn how to operate a Constant Speed Propeller.
Stall recovery with a Rotax 912 engine requires gentle initial application of the throttle to load the reduction gear before full power application. This prevents gear slap, a violent contact between the gear teeth that can be very damaging. We reviewed a lot of things.
We flew to Thruxton to do two circuits.
ATC told us that 'Prior Permission' was required... This is something I must get used to as in the past only private strips needed PPR, now it seems nearly all British aerodromes are asking for PPR!
After two landings we flew back to Popham for two landings there before putting the Katana to bed.
The Katana needs to be flown more often, it's the only aeroplane available for hire at Popham, so if you want to fly it sometime when the present crisis has passed; let me know.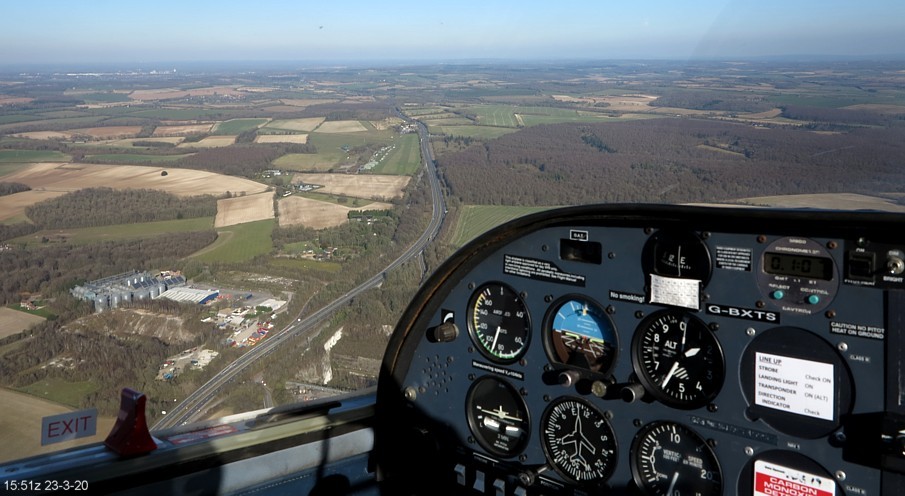 Approaching the dead side for runway 08 at Popham