Back to the usual stuff...
Three years ago I had egg on my face.
I'd invited Daren to come to BC to do some flying, and we had plans to do many things here, but these plans were curtailed somewhat due to forest fires in the interior of BC causing Instrument Meterological Conditions.
This morning as with the past few mornings I wake up to a 'Nuclear Winter' where sunlight is blocked by dust and smoke from the explosive forest fires across the border in Washington and Oregon states.
It was a very cold night and so I added layers to my bedding to keep warm and snug throught the night...
The air quality is as bad as it is in Chiang Mai during the burning season, so perhaps BC should be added to the places I avoid at certain times of the year.

All of the flying practice since I returned here has brought me back to the efficient and effective state of flight training I try to give to my students... I make fewer mistakes, and miss fewer opportunities to improve my customer's abilities, but I also need to be correctively critical and also a little distant to view a person's progress from a rational remote point of view.
The Commercial Pilot Flight Test can be long and arduous, and it takes stamina to get through. It's too easy to make a serious error as fatigue takes hold towards the end of this marathon. And so coaching a pilot towards the successful completion of the test is one that also involves improving the students' stamina.
Abilities as simple as short or soft field landings need to be especially brought to an extremely high standard, well beyond the acceptable, this because the flight test will probably end this way. As each test item has been achieved the next might be less than optimal as the fatigue increases... It's no good completing a passing test only to fail with a tiresome botched landing.
I have two students working towards their CPL flight tests and the first flight after my return from the Winnipeg trip was with Brian in the Cessna 172.
There's a hornet's nest of a practice area here, The Glen Valley, and most flight tests from Boundary Bay are commenced in this direction... Worse is the test includes planning and commencing a cross country through this area together with a distracting Groundspeed Check which involves the candidate in In Cockpit distraction just when you need to be looking out!
The answer is to plan your route from Boundary Bay in two ways... 1. Get a clearance from Vancouver Terminal to climb well above the traffic, or 2. Fly via Ocean Park and get a clearance through the Abbotsford Control Zone where their radar is looking out for you.
The second flight was after the distasteful drive from Boundary Bay to Pitt Meadows... This is the worst place for me to drive a car, it is so frustrating red light to red light, spending time behind stationary exhausts. Vancouver is the second most congested city in North America because of the poor design of its road system. Everywhere takes an hour most of the time.
Just over three hours after we landed at Boundary Bay in the Cessna 172 I took off in the Valentin Taifun 17E motor glider to give it a test flight after it had been on the ground for the past 10 months.
I decided to stay in the zone above Pitt Meadows Airport just in case there was a problem. Flying an aeroplane after maintenance has been done is the most dangerous time, until that maintenance has proven to have been done correctly.
The northwest part of the zone is above a rail yard and even though it was 18:15, this was still producing a thermal, and so I throttled right back and sat circling in the rising warm air for a while.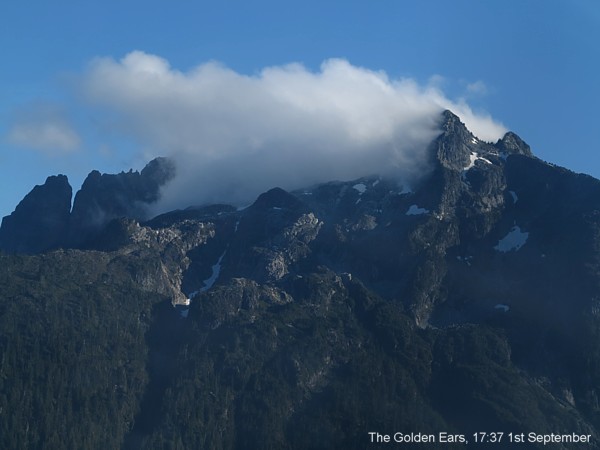 I have a tendency to be too honest, and if I write some things about the qualities of some aeroplanes these can be reinterpreted and passed on to people who do not understand these things and used to get back at my customers. It's childish.
There are some malicious people who stir things, and so one of the aeroplanes I have been flying in recently will not be reported on here. It's a shame as I like completeness.
Nevertheless, I flew some circuits in a newly rebuilt aeroplane in the morning of the 31st and the next day I was in trouble for comments I made on Facebook! Lesson learned, do not post pictures on FB or any comments whatsoever as a 'Friend' may use it to cause trouble, I haven't posted on my Facebook page since.
All aeroplanes will have a few snags when they are flown for the first time, this is normal. As long as they are not serious snags; serious snags on new aeroplanes should be left to Boeing!
The Taifun's fuel tanks have a capacity of 11.9 USG on each side, 23.8 USG total. But when we fly this motor glider we typically use less than 2.0 USG/hour. Soaring typically we use 1.7 USG per hour which is also what shows on the ground with the engine idling. As power pilots we are not allowed to switch off the engine and feather the propeller for true gliding flight; you need a Canadian Glider Pilot Licence to be allowed to do this.
We had a nice soaring flight on the 1st September after my one hour drive between airports...
2nd September I took the Chipmunk over to Abbotsford for some maintenance. Please do not construe this as being a serious incident!!!! I'm joking, but you get the drift I hope.
This enabled me to have lunch with Bob Salway who like me has provided flight training in the funny aeroplanes people buy for themselves, especially the ones with the little wheel at the back.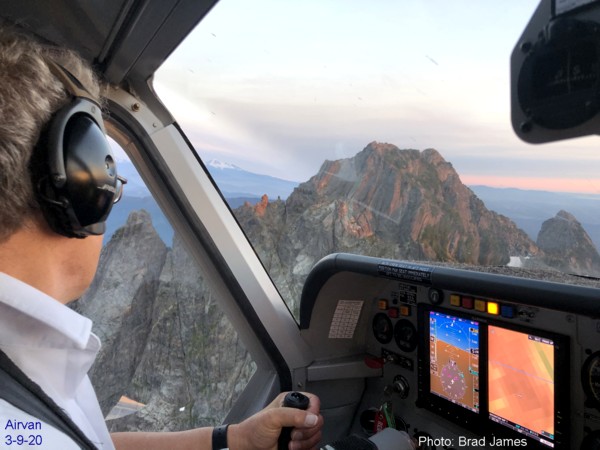 3rd September began with some CPL training with Marilyne in the RV6 and then later I had a meeting with Brad who is one of the excellent aircraft mechanics I know.
The Airvan's Annual Inspection is due this month and so I showed Brad around it, and then we went for a flight in it into the Pitt Lake area, and then between the peaks of the Golden Ears.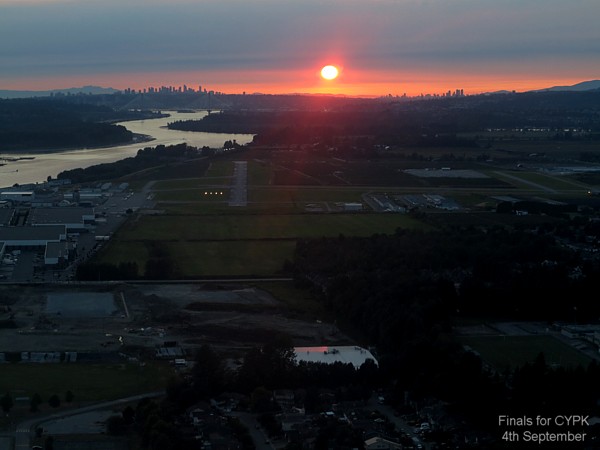 We took the Taifun to Chilliwack for pie. Looked for lift, little to find, but 2.1 USG used there, (1 hour),
and 1.4 USG used on the way back (28 minutes in the air) to land into the setting Sun.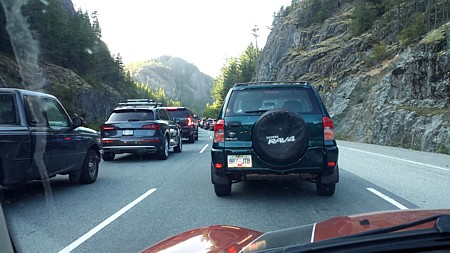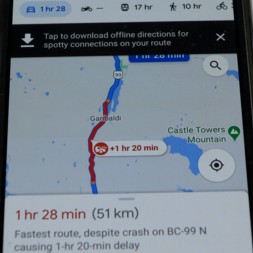 The actual delay was far longer than that shown on the Google Maps screen
I drove to Squamish on Saturday 5th, the intention was to stop for tea there, and then to carry on to Whistler...
After picking up the usual milk, biscuits, and muffins to share at Glacier Air I drove onto the 99 highway. There was a 'Super Car', black Ferrari, sitting at the red light as I swung onto the slip road.
That super car caught up with me at the next light very quickly... There was a rally of these super high performance cars going up the Sea To Sky Highway which is a fun drive when you do not get a speeding ticket!
After tea the intent was to go to Green Lake, Whistler, to fly the Volmer Sportsman. Unfortunately a couple of the super cars were involved in a serious head on collision with a southbound car, and this resulted in a very very long traffic jam. I realised this would not move for many hours, (six I believe), and so I U-turned and headed back to Squamish.
BC's roads are generally poor, with relatively low speed limits, and sometimes aggressive policing. Owning fast cars here when you are not going to a race track somewhere is irrational.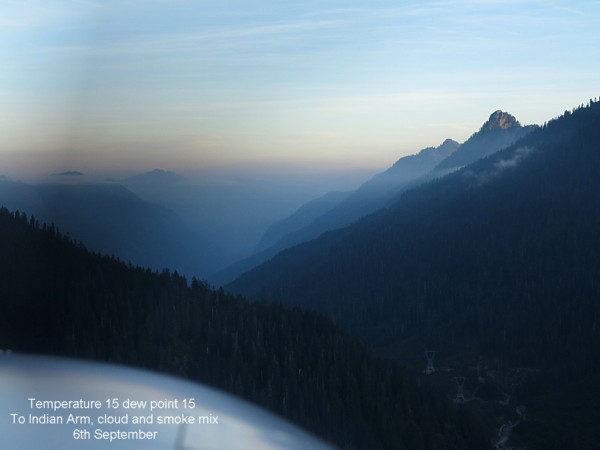 On Sunday I put Brian through a simulated CPL flight test... In this case we were planned to go to Port Hardy for the purpose of the ground work prior to the 'flight test'.
With the approval of Vancouver Terminal ATC we did some air exercises over Sechelt followed by a practice forced landing into the airfield below us. The diversion was to Squamish...
I put Brian under the hood over Howe Sound for the instrument portion of the test, and then we did a short field landing at Squamish.
The air time was 1 hour 27 minutes of flying which is fairly representative of the time taken on the real test.
There's a 'Radio Navigation' element to do in the CPL Flight Test, and this was carried out via the Pitt Meadows VOR during the 39 minute flight back to Boundary Bay.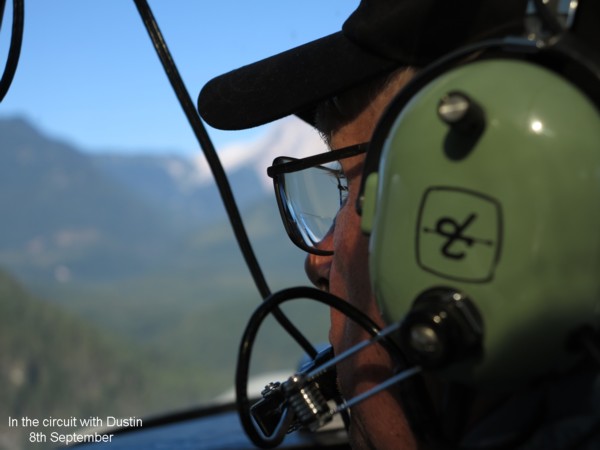 With tailwheel aeroplanes in short supply at flying training schools these days, Glacier Air gets many students from far and wide to train to fly 'real aeroplanes' or to refresh their previously attained abilities.
And so Dustin came from the interior of BC to refresh his tailwheel techniques in the 7GCBC Citabria. Of course this was an opportunity to do some spinning as well.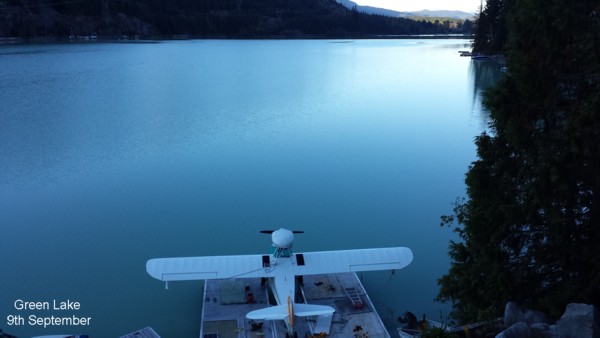 For the summer the Volmer resides on a dock out of the water.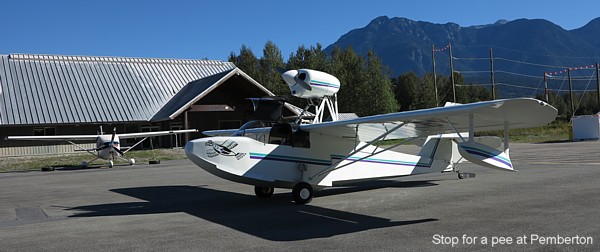 I spent a night at Bill's place on Green Lake to be able to go for a flight in the Volmer early in the morning.
We took off from the water in the morning to fly over to Pemberton where overhead at altitude we did a few stalls and calibrated the Angle Of Attack indicator on his 'glass cockpit' display.
Then between parachute drops we managed a couple of circuits on the runway before returning to Grean Lake to splash down wheels up on the water.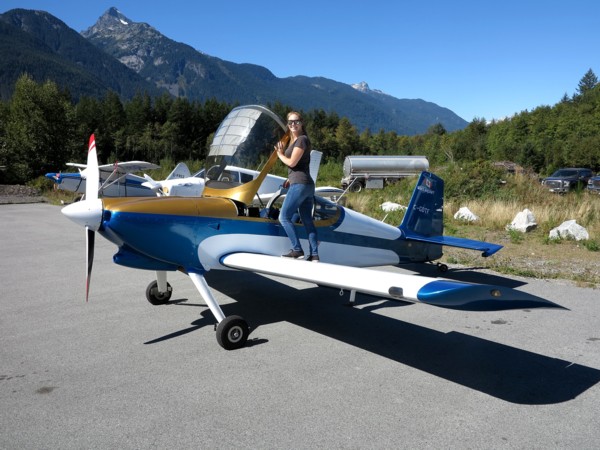 Marilyne with the RV6 at Squamish
Wednesday was a busy one...
After alighting on Green Lake it was in the BMW Mini to drive back to Squamish where Marilyne arrived in the RV6 for another CPL lesson.
Of course, we should take advantage of every fašet a place has to offer. In this case it was to carry out short field landings and takeoff with obstacles.
I did a further six circuits with Dustin in the Citabria and he left well satisfied with his time at Glacier Air.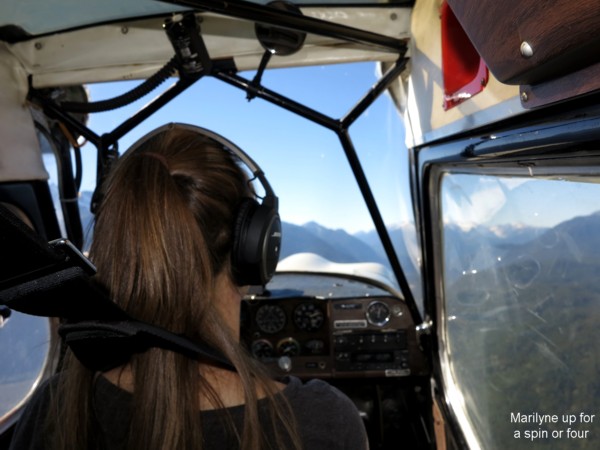 The tailwheel RV6 is very different to the Citabria... Spinning is part of the CPL requirement, and though I have spun RVs as part of carrying out their individual aerobatic approvals, this is not recommended. So I put Marilyne into the Citabria for some spins, and to give her experience in another type, she said this was "a humbling experience", and she enjoyed it very much.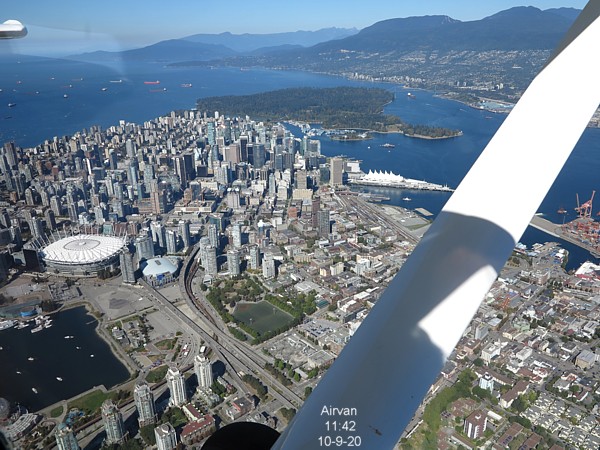 My last flying before the smoke filled the air and reduced the visibility to below VFR was in the Airvan and in the Taifun.
The Airvan flight was over Vancouver with Emidio and some friends who wanted to take some pictures. We carried on from the city into the mountains to overfly Widgeon Lake and the Golden Ears.
Spectacular sights to see.
Later I flew with Daryl to Chilliwack, then to Abbotsford, and back to Pitt Meadows for a few landings... I do not want to do circuits in this aircraft, it's not built for it.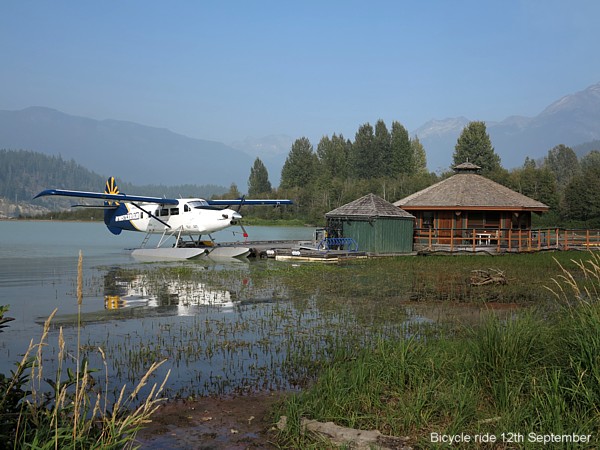 At Green Lake there was a lot less smoke than at Squamish where, when I stopped by for tea, it was just good enough for a few tight circuits (but I didn't fly). Vancouver was socked in with the smoke meaning instrument flight conditions. There are many light aircraft grounded at places away from home while the smoke infests the air.
On Saturday I went for a bicycle ride with Bill around to the spit on Green Lake and back... Decided some ladies I passed were Kon Thai and so said "Sawasdee krup" to them as I passed, they both responded with a happy "Sawasdee Ka"... Gave them a pleasant surprise. So I end this update with a Thai smile or two.