End of February and a leap into March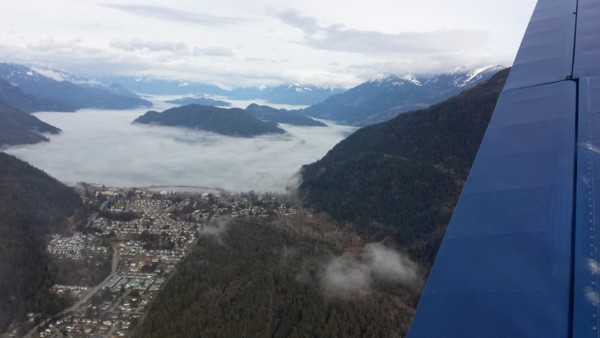 28th February, up in the Chipmunk with Ted looking at Harrison Hot Springs.
The café at Chilliwack was full of local people, many of them aged from this mainly retirement community, and so there was no room left for us visiting aviators.
We added 60 litres of 100LL from the pump at Chilliwack which had been NOTAM'd out of service for maintenance... But maintenance had not turned up!
Lunch would be at Adrian's at Langley Airport instead and so we returned there.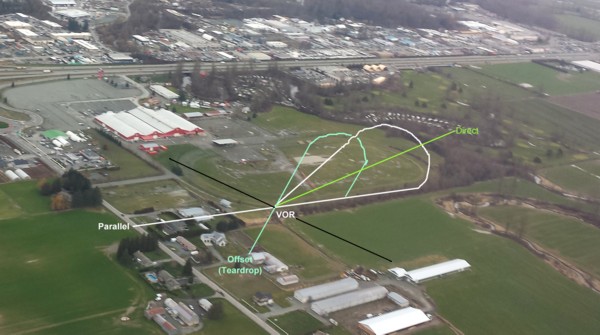 Out of Chilliwack I noticed this racetrack.
I've been teaching holds recently so the illustration wasn't lost to me.

Weekend Aerobating at Squamish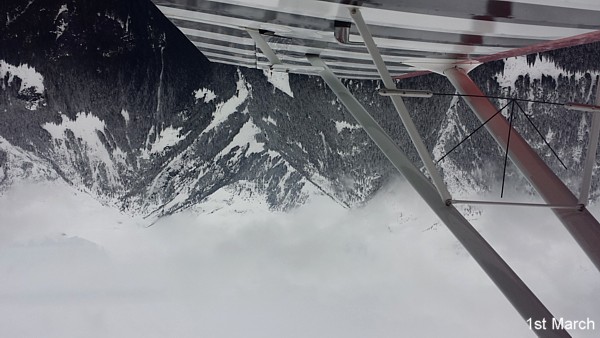 The proper perspective of the mountains.
I had three pilots to coach in aerobatics, circuits, and spins this weekend.
Aerobatics with Ali on Saturday afternoon, then with Harald on Sunday morning, followed by Ernie in the afternoon.
The final flight was spinning with Ernie who had flown up in his RV6 for the pleasure. He also wanted to experience half reverse Cubans. But the snow came along to spoil our fun.
Then a snow storm in Howe Sound turned Ernie back in his RV6, preventing him from flying to Pitt Meadows. I gave him a lift in the car back to the Horseshoe Bay ferry terminal... By now the weather was perfectly flyable all the way down Howe Sound as we discovered while driving down the Sea to Sky highway. I offered to turn around and go back to pick up the RV6...
It was retrieved a couple of days later.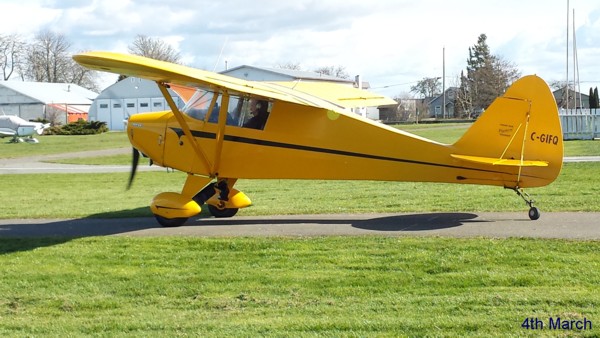 Off to do a flight test review with Sam in the Vagabond.
2nd and 3rd March were drizerable days.
The 4th dawned bright and beautiful, and so I flew four flights from 11:44 through to 21:00: Piper Vagabond, Super Decathlon, Cessna 172 M, and Cessna 177 Cardinal.
In the Vagabond we went up into the Pitt Lake Practice Area to do the exercises that will be required for a Recreational Pilot Permit Flight Test.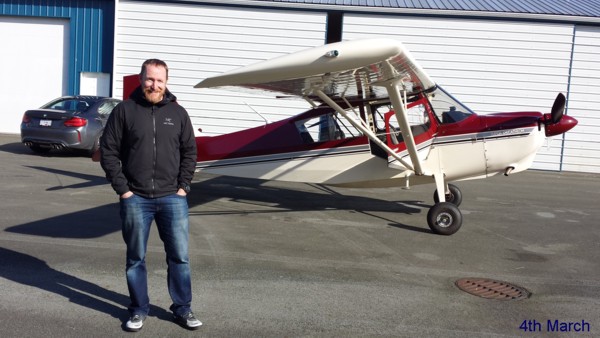 Bi-annual recurrency check with Christian in the Super Decathlon, Fun Bee.
When I fly with people I am sometimes told: "I don't know what you expect of me" or words like this.
As an instructor I go in to each flight without assumptions, and I judge what I see without preconception.
Even with Christian who is an ace of the base Extra 330 owner... Every now and then he will ask me to fly with him for a recurrency flight, and thankfully I find something to teach and to enable learning that justifies my fee!
No pilot is perfect, and we all have something to learn.
This time I sat in the front of the Super Decathlon to give Christian practice in back seat flying. He may do some check flying himself in the future so this is a valid use of the time.
We did steep turns, stalls and spins, and I threw in a Practice Forced Landing.
Of course the aeroplane became unstable for a short while; those Half Reverse Cubans I didn't get to do ('wanted to do more than one) up in Squamish due to the snow shower.
In the Cessna 172 Brian and I flew over the Pitt Meadows VOR to do a series of exercises I constructed to enable the pilot to practice intercepts, tracking, and a procedure turn.
Rory and I flew the ILS into Abbotsford, then VOR tracking, and finished with two circuits and landings in the dark.
On the 5th March I flew with Sam in the Vagabond again... Rudder operation was a problem and so I recalled another practice I have used in the past: Trim the aeroplane, take your hands off the controls and fly usiing the rudder only. Height adjustment is done with small changes in the power setting using the throttle. This develops the ability to use the rudder, and the ability to relax with your hands.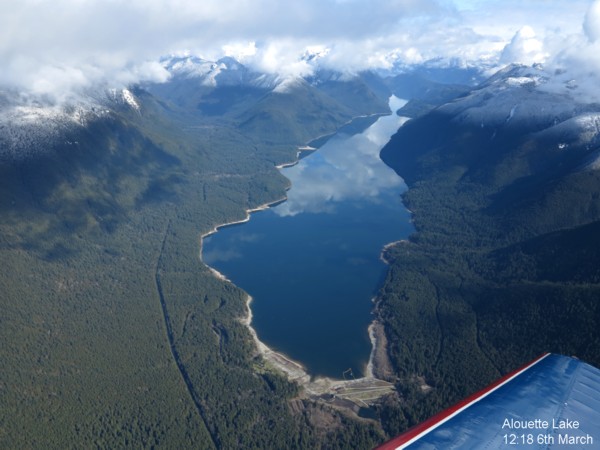 Up in the Chipmunk for some fun with Brian
The Chipmunk needs a bit of flying and so we took the opportunity to give it a fly up the the Golden Ears.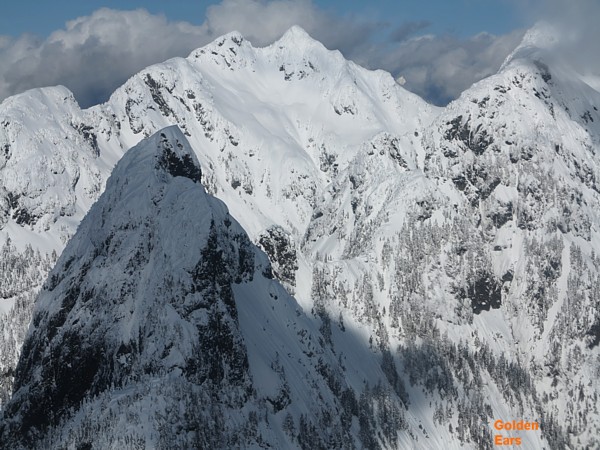 Spectacular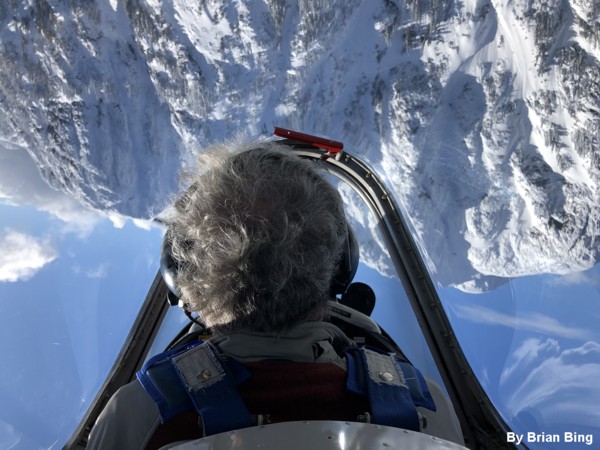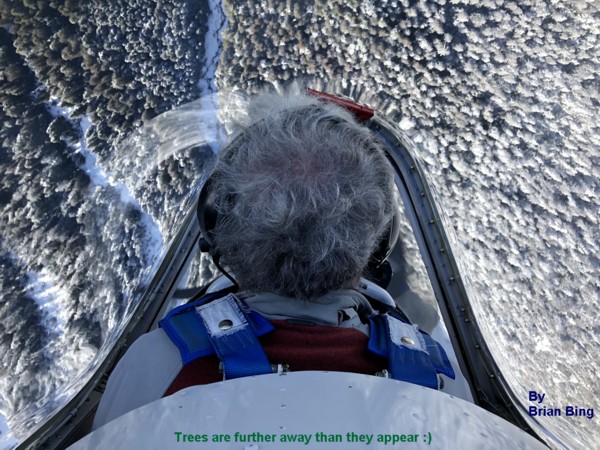 Looping west of Mount Blanchard
Brian took a few good shots with his phone while I did some gentle aerobatics which are a necessary method when needing to lose height.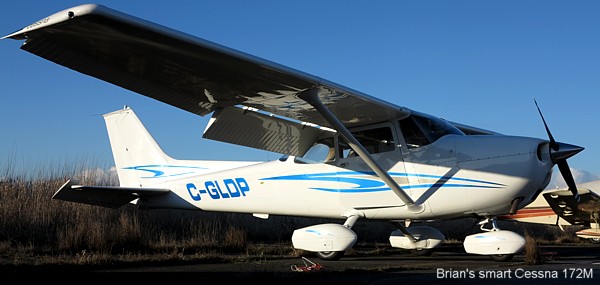 Preparing for some more instrument flying
After bimbling around the mountain in the Chipmunk it was back to work in the Cessna 172 with another ILS into Abbotsford followed by a Commercial Pilot standard practice forced landing and visual diversion.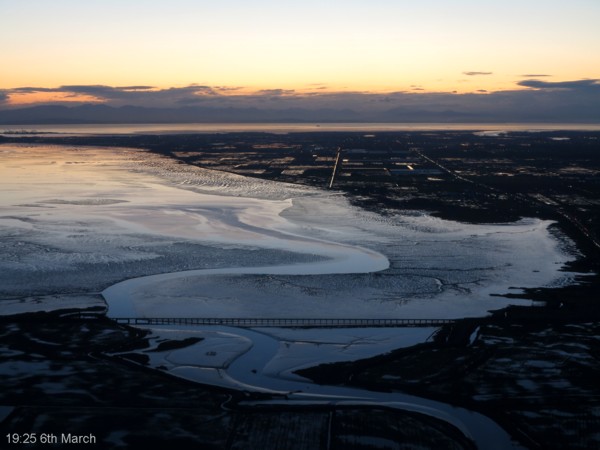 Evening light.


Preparing for night cross country, CZBB - CAM3 - CYCD - CYYJ - CZBB
There's a two hour dual night cross country requirement for the Night Rating and so far Rory and I had only logged 0.9 hours doing this.
I like the pilot to find Sechelt Aerodrome in the dark, and point out where it is before using the transmit button to activate the lights (ARCAL). Often I will also land here, backtrack, and depart again if we have time available.
Then it's up to 2,400 feet, call Vancouver Terminal and obtain a clearance to 4,500 feet to fly to Nanaimo for a touch and go followed by routing to Victoria for another touch and go, before returning to Boundary Bay.
Celebrating and encouraging Women in Aviation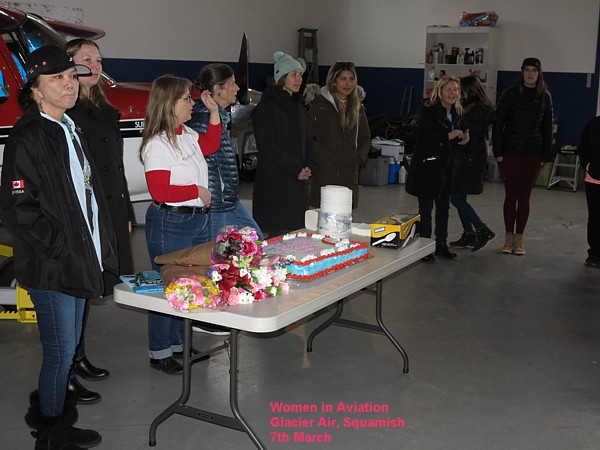 I am a supporter of Glacier Air at Squamish, and I have had more than a few female students in my time. Women generally like me for my patience, and I do my bit to encourage all of my students without gender bias.
If you are enthusiastic about flying why would you do otherwise?
Colette at Glacier Air played host to many local women and girls who took the opportunity to go for a free flight with Glacier Air and with a couple of volunteer pilots with aeroplanes.
There were seminars in the classroom given by inspirational women pilots too.
I bought a new kettle, muffins, and biscuits, and made pots of tea.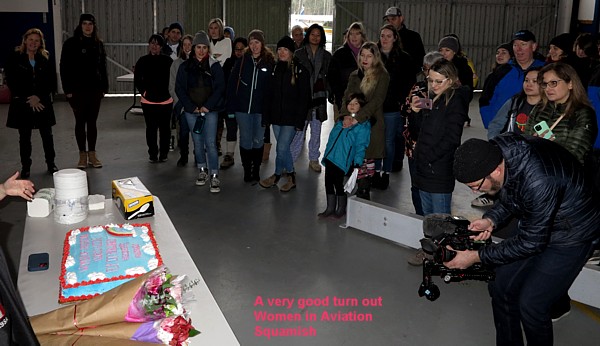 A warm reception in a cool hangar.
Back to Boundary Bay for some more instrument flying.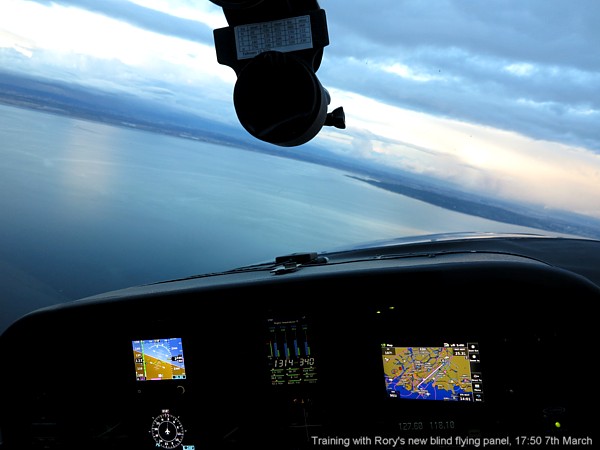 Operating off Point Roberts while the weather to the east is too bad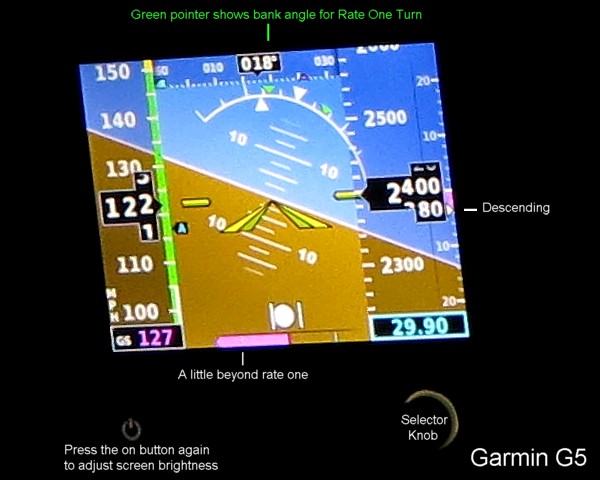 Every bit of important flight information in one instrument.
Rory needed the required five hours of instrument flying before I left Vancouver and so I departed Glacier Air in the afternoon to drive the Sea to Sky Highway back to Vancuver and then further to Boundary Bay where we did a 1.1 hour flight with 0.8 under the hood.
The flight started with what seemed to be a flat battery, and so I had to swing the propeller to start the engine. After starting the charge rate did not suggest a flat battery, and voltage varied between 13.8 and 14.0 volts.
Once again we flew instruments using the rudder only. The aeroplane was trimmed and gentle turns were made to headings using the rudder, and climbs and descents were made using the throttle and trim.
A second electrical glitch manifested itself when the navigation lights were turned on; the radio flashed off, start screen, and then back to normal.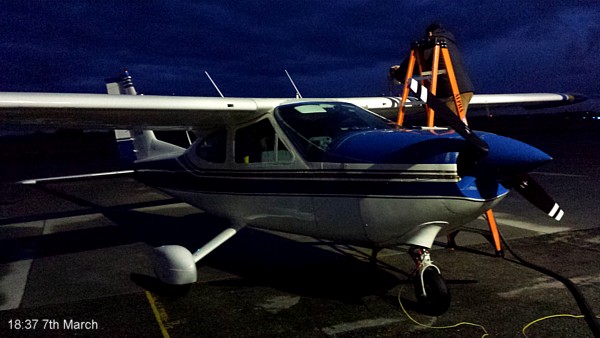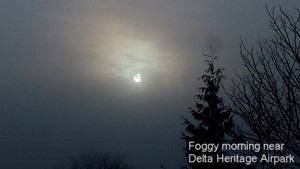 Enroute to the breakfast.
My intent was to attend the Delta Breakfast in the Chipmunk, but alas the Lower Mainland was flooded by fog, and so I drove to Delta Heritage Air Park instead.
This breakfast is the major social activity for sociable flyers in the Vancouver area, and takes place on the second Sunday of each month.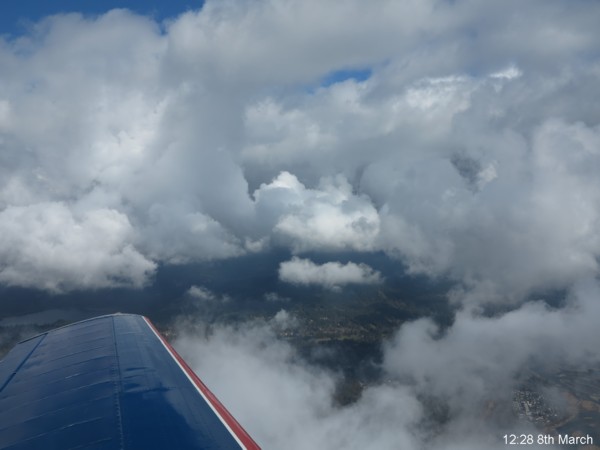 Over the Glen Valley in the Chipmunk with Mark
The fog clearing it was now time to cram in as much flying the rest of Sunday had to offer.
And so first was a short flight in the Chipmunk after which the tanks were refilled. Then, again with Mark, it was up in his Maule amphibian to go and do some splashing about on the water.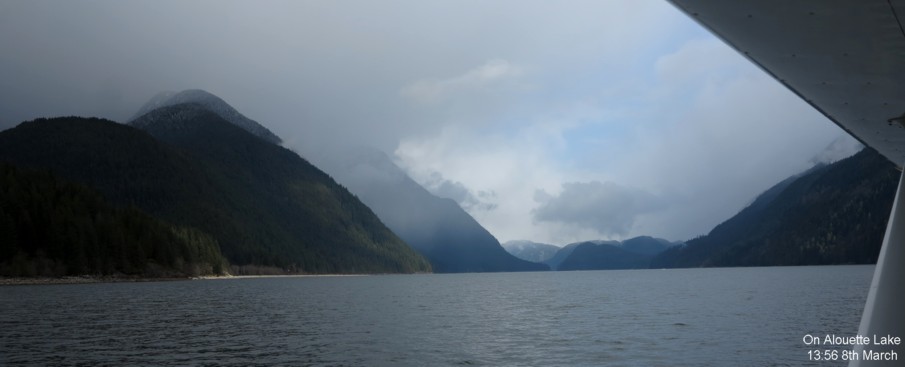 Three alightings here, and then two more on the Fraser River. Five splashes; good for another six months.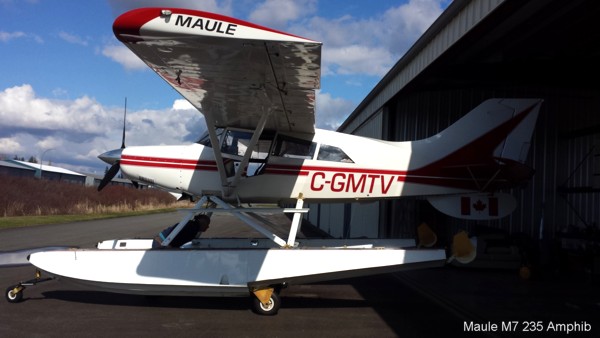 There was still 1.3 hours of instrument flying to do with Rory, but there was the unresolved electrical problem in the Cardinal, and so it was decided not to fly this aeroplane until the snag was investigated and solved.
Brian stepped in and offered Rory the use of his Cessna 172 to do the remainder of the instrument time.
We flew the ILS at Abbotsford again, and then straight out to the Sumas Practice Area before a touch and go at Chilliwack with instrument exercises enroute to Langley.
I wanted to check that the Master Switch was switched off in the Chipmunk. It was!
Then we shuttled back to Boundary Bay with a bit more instrument flying on the way to comfortably exceed the total of 10 hours of such training required for the Night Rating.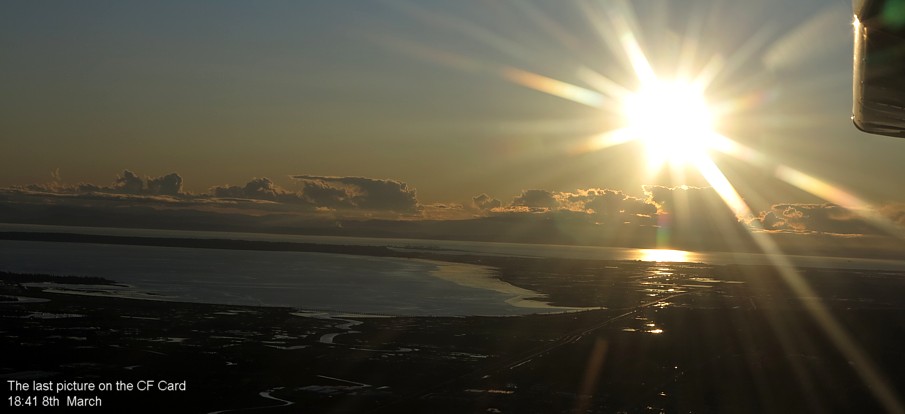 The SD card actually... How very passé of me!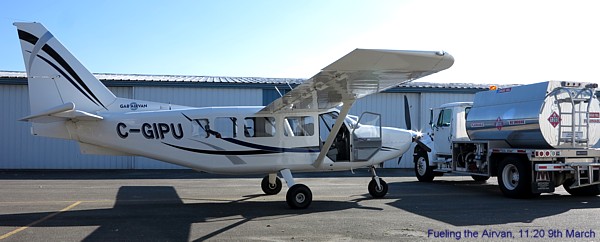 One last flight before I catch a WestJet Boeing 737 to Calgary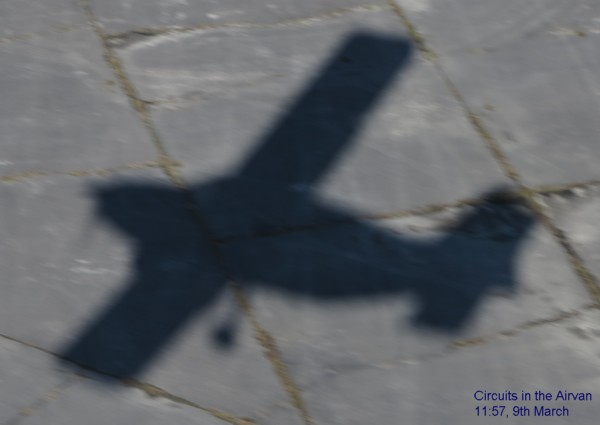 Just three with Brian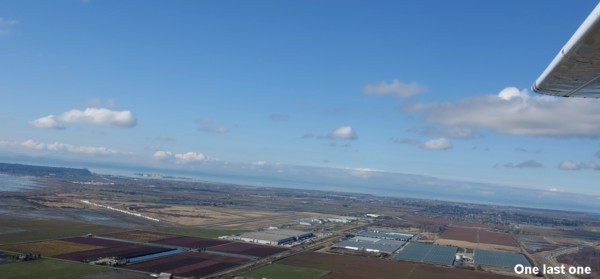 Bright and clear; forecast rain the next day.
It's important that all aeroplanes are flown regularly and so we put eighty litres of fuel into the Airvan and gave it a quick airing before a quick run to Vancouver Airport to catch my flight.
WestJet to Gatwick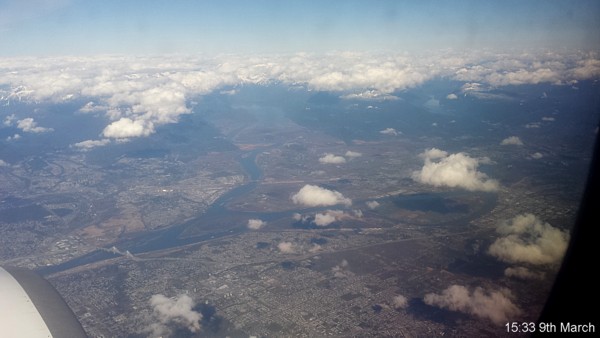 High over Surrey BC; Pitt Lake top middle and the Golden Ears right beside it.


Final for Gatwick in the WestJet Boeing 787 from Calgary.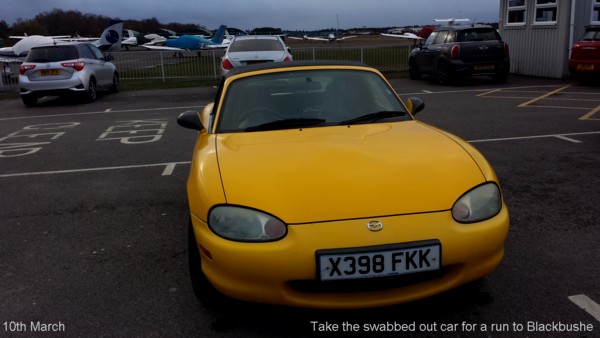 The car was full of water and mould and so I had a lot to do to sponge it out, and clean the cockpit.
The car failed its MOT when the licence plate illuminating lights failed to work. Both of them had burned out, and so a quick trip was made to Halfords to buy two new lights for £3.95p, fit them, return to the testing station to show they work, and obtain the MOT certificate.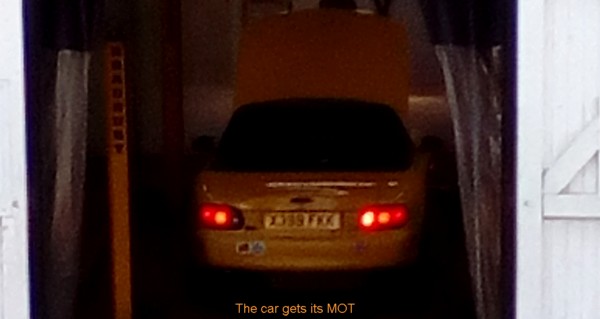 Failed due to the licence plate lights. Took 20 minutes to go to Halfords, fit them, and get a pass :)
Now I am in England to try to sort out my future.
Maybe I am being ageist as at the grand old age of 65 'future career' is no longer an option, so I must sort out where I exist out my dotage.
Vancouver is too expensive, frustrating, and too lonely. Thailand is lovely except when the farmers are out to choke everyone with smoke. England is the better place for older people.
But I still need to make a living; to work until I get sick and die.
Perhaps it's still in me to work in Canada flying instructing until the medical certification is no longer possible. I am fit, but for how long?
Let's continue to ride this life, and see where it takes us.